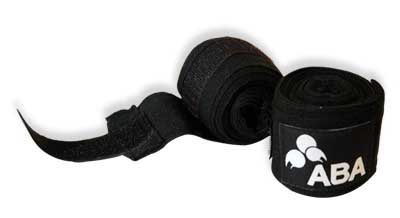 From Friday 16th November 2012 to Thursday 22nd November 2012, DeepBlue Fightwear are offering these Adidas Black Hand Wraps 255cm ABA Logo for just £3.50!
Adidas ABA Hand Wraps are made from a 100% soft low strechable woven tape. The Adidas Hand Wraps are the only Offical Amateur Boxing Association approved hand wraps for competitive Amateur Boxing. These hand wraps have the offical ABA Logo on each of them along with the famous Adidas logo.
Save £2.49 off the original price of £5.99 by ordering your Adidas Black 255cm Hand Wraps with ABA Logo today for £3.50 and get FREE DELIVERY by entering voucher code FREE-WEB-POST9 at checkout.
Click here to shop for boxing gear and more martial arts clothing and equipment at DeepBlue Fightwear.