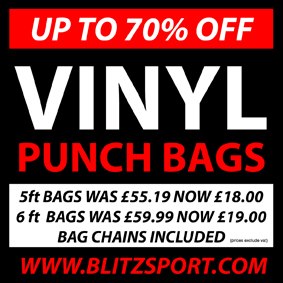 The UK's leading martial arts equipment store Blitz Sport have unveiled their latest special offer, this time 70% off vinyl punch bags.
Martial arts enthusiasts can pick up the Blitz Sport punch bags, including chains, for the following prices:
4ft vinyl punch bag – £20.40
5ft vinyl punch bag – £21.60
6ft vinyl punch bag – £22.80
All these prices include VAT and mainland shipping to the UK costs £7.20.
Check out these punch bags and Blitz's other special offers now!