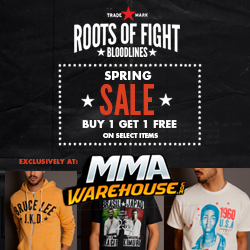 For a limited time only, MMAWarehouse.com are offering a superb buy one get one FREE offer on selected Roots of Fight items on their website.
Roots of Fight pays tribute to the rich history and tradition of martial arts from regions around the globe and connects the history and images of iconic fighters like Muhammad Ali and Bruce Lee with the contemporary global scale of Mixed Martial Arts (MMA).
With a variety of hoodies, t-shirts and swetashirts incorporating BJJ, Boxing, Jun Fan Gung Fu and Jeet Kune Do designs, there's plenty on offer.