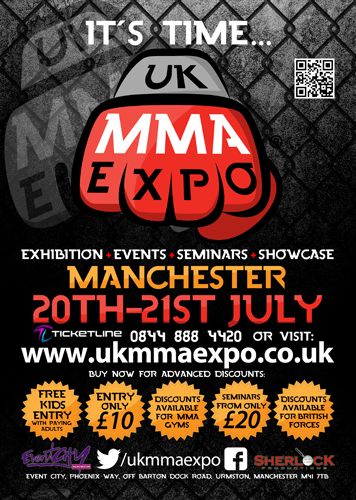 The UK MMA Expo is the UK's first Mixed Martial Arts Expo and is being hosted at Event City in Manchester July 20-21st from 10am-6pm daily and an evening show on the Saturday night. EventCity is the UK's second largest exhibition space outside of London and is adjacent to the famous Trafford Centre shopping complex. It's going to be a major event in the UK Mixed Martial Arts calendar.
The Expo aims to help raise the profile of the world's fastest growing sport and it's fighters in the UK. Those involved in the sport will know that MMA training offers many benefits such as fitness, discipline and self-confidence as well as being an exciting spectator sport. As well as a yearly get together for those already involved the Expo will also be a showcase for the sport helping shatter some of the misconceptions that the general public may have. It will help raise the profile of our UK fighters and get more people involved in the sport; whether as fans or actually training in MMA. We are also keen to push the health, fitness, knowledge and participation aspects of the sport.
This showcase weekend includes exhibition stands from companies in the industry, with spaces being taken up by businesses from all facets of the MMA world sampling & selling their products. There are plenty of things for visitors to see such as training seminars, star photo/signing sessions, open workouts and live events.
Another important area of the Expo will be the KnowledgeBase Theatre/Forum. In here we will be hosting free talks on all aspects of health, fitness, wellness and competition. These are to include nutrition, hydration, psychology, media interaction, Strength & Conditioning, injury management, injury prevention etc. It will also host a number of free Q&A sessions such as: "Pioneers of UK MMA" with a panel including Mark Weir, Ian Freeman, Lee Hasdall, Leigh Remedios, "Women in Combat" with Rosi Sexton (the UK's first female UFC fighter), Helen Currie (first female in Europe to hold a black belt in Jiu Jitsu), Jojo Calderwood (Ex high lever Thai boxer now undefeated in MMA fighting for US based Invitca promotion) and Julie Kitchen (14 times World Champions, and undisputed queen of Muay Thai), "It's a TUFF life" (about life in the TUFF house) and much more. UFC Referee Marc Goddard is hosting an "Understand the judges for fans & fighters" talk in here also, then running his official Judges and Referees full days training course on the Sunday.
Competitions including the Open British Grappling Championships, Kickboxing tournament, Muay Thai Interclub and the Ring Girl of the Year 2013 Competition will all be free to watch inside. We also have an interactive gym zone in operation over the weekend where the 2013 Male Fight Fit Awards will partly be conducted too.
We will be hosting training seminars & professional instant photo/signing sessions over the whole weekend with top level UK fighters & coaches. Seminars we have booked so far include Wolfslair Coach Dave Jackson (who has coached Chieck Kongo, Rampage Jackson, Michael Bisping), Rob Sinclair (BAMMA Champion recently signed to Bellator), Che Mills, Ian Freeman, John Maguire, Jimi Manuwa and there are still more to be announced.
In the adjoining hall we have a full professional evening promotion with some great pro fights as well as some unified amateur rules fights on the undercard. The show will be one of the best the UK has seen (outside of the UFC) in terms of entrances, effects, set up, production and of course fights too. It will be a great evening out even for those without a keen interest in MMA. The award winning "Fight Ikon" brand is returning after two years away and will really raise the bar for UK shows, becoming a highly anticipated, once yearly MMA extravaganza. For the event we have UFC Referee Leon Roberts as well as UFC official doctors, hand wrapping and cut men. It will be held in a full sized 32ft cage with walk around platform. We also have the team responsible for the X Factor Live running the sound, lighting, lasers, Co2, pyrotechnics, etc. The same set up (possibly minus the pyros) will be used during the daytime for an amateur event continuing to showcase the rising talent we have in the UK.
Entry cost to the Expo is just £10 per day or £15 for the weekend, available from www.ticketline.co.uk . Further discounts are also available on this already incredibly low price for gym owners and British Forces. Children under 14 also get free entry with paying adults.
Seminars start at just £20, evening show standard tickets start at £30 with cage side seats also available as well VIP tables with 3 course meal.
Visit the website for more details or Follow on Twitter and Facebook under UKMMAEXPO