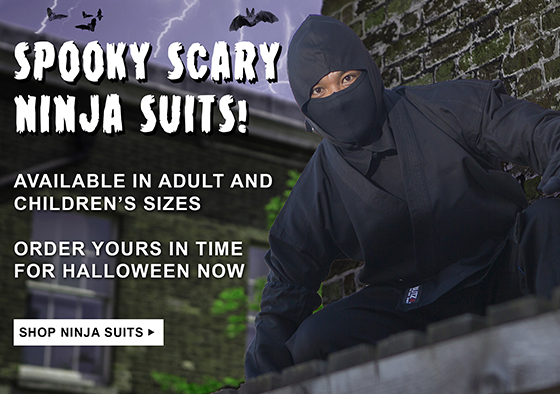 It's that time of year again. Yes, Halloween is just 14 days away and if you're planning on going to a Halloween party, there's always the question of what outfit to wear. Well, if you're a martial artist or not, what better costume than a ninja costume from Blitz Sport!
Available in adult and children's sizes, the Blitz Sport Ninja suits are made from 100% cotton and feature the gi jacket, pants with calf ties, the inner and outer balaclava hood, gauntlets, hand cover gloves and finally a sash to keep the uniform together.
The ninja tabi boots are sold separately and are available in two styles: soft sole indoor tabi boots, and harder rubber outdoor tabi boots.
And if you really want to finish off the ninja look, you might fancy arming yourself with ninja weapons, be it some rubber ninja stars, a wooden bokken or a toughened PU plastic ninja sword.
The kids ninja suits start from £22.50, and adults ninja suits are £30.64.
Use our exclusive discount code S4R10OFF at checkout to receive 10% off your order. The discount code expires on 31st December 2014.