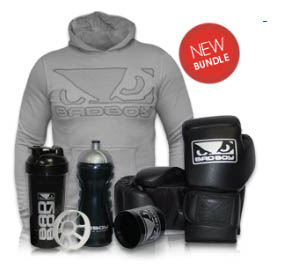 Fancy getting your mitts on a Bad Boy Grey Carbon View Hoodie, pair of Bag Gloves, water bottle and shaker for just £40? Well, you're in luck as Bad Boy launch the Bad Boy Combat Bundle!
This bundle would normal cost £82.96 so you're saving £42.96 by buying the bundle in which you can choose your preferred size of hoodie and gloves.
It'd make a great present for Christmas or maybe an indulgent treat for yourself! Go on, you know you want to.
The Bad Boy Combat Bundle will also be shipped free within the UK.