Until 30th August 2012, DeepBlue Fightwear are selling the White Hayabusa Mizuchi Long Sleeved Rashguard for £29.99 – that's almost £10 cheaper than it's original price of £39.95!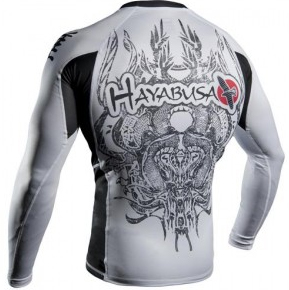 Ideal for grappling, the White Hayabusa Mizuchi Rash Guard provides advanced Thermawick technology to diffuse sweat and keep muscles warm. The cutting edge tensile strength of the Hayabusa Rash Guard provides perfect shape retention and optimal comfort. Antimicrobial effects built into the fibers for unprecedented skin protection inhibits the groth of bacteria and fungi to protect against serious skin infection. The Hayabusa Mizuchi Rashguard is engineered with supreme durability, functionality and complete breathability to maximize performance.
The Hayabusa White Mizuchi Long Sleeved Rash Guard is available in sizes Small to X-Large.
Take advantage of this special price and get your Hayabusa Mizuchi Rashguard in White with Long Sleeves for just £29.99 from DeepBlue Fightwear!