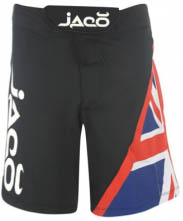 Discount MMA are offering these Jaco Resurgence UK Fight Shorts, decorated with the union jack flag on the left leg, for just £22 this week only.
Available in black or white, the Jaco Clothing UK Fight MMA Shorts feature ultra-durable STR-X™ fabric that stretches effortlessly in all directions and wicks perspiration rapidly. This fabric was specifically developed to provide the technical needs that are essential in MMA: durability, exceptional 4-way stretch, breathability, moisture wicking and comfort. The patent-pending compression waist-tightening system can be tightened without creating "scrunching or cinching" around the waist while providing a comfortable, no-slip fit. This system provides a compression style fit internally to the garment that allows the external look of the product to remain unchanged.
There's an internal stretch pocket located at the bottom of the shorts' leg opening so that you don't have to untie your shorts every time you want to stow your mouthguard. This compression style pocket is designed to hold the mouthguard (or locker key) so that it does not "flop" around while working out.
The fly backing panel construction to prevent rubbing and chafing from the fly's hook and loop material.
The shorts also feature a raised "Tenacity" Icon logo on the rear, center of the waistband (patent-pending).