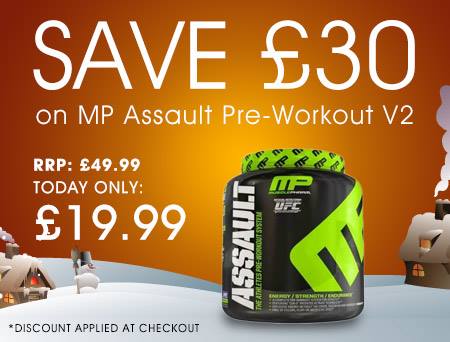 DeepBlue Supplements are offering a tub of MusclePharm's preworkout supp MP Assault V2 290g for just £19.99 TODAY ONLY as part of their Xmas daily deals.
Specially formulated to provide you with the most intense power, concentration and strength, Muscle Pharm Assault V2 is not for the faint hearted-delivering an instant, explosive surge of energy guaranteed to make you perform to the very best of your capabilities… and then some!
Muscle Pharm Assault V2 differs from many pre-workout formulas on the market as it is completely devoid of all banned substances, making this a safe product to use even when competing in professional competitions.
Available in a range of delicious refreshing flavours, including fruit punch, watermelon, pineapple/mango and raspberry/lemonade, just one scoop of Muscle Pharm Assault V2 20-30 minutes prior to your workout will ensure that you train like never before.