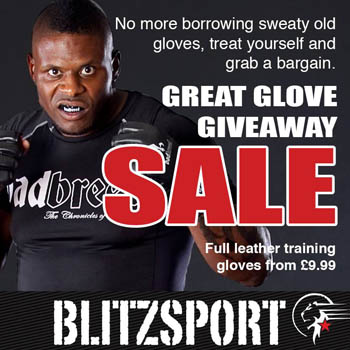 The Blitz Sport sale is still raring on, with plenty of price  reductions on Judo and BJJ gi's to UFC T-shirts and hoodies and even Opro gum shields.
The martial arts sale is the ideal time to pick up some bag gloves or MMA gloves of your own, instead of using the sweaty and stretched gloves at your club, that are usually the wrong fit for you.
With leather bag gloves and leather MMA gloves from just £9.99 and others for even cheaper, now is the best time to own a pair for yourself.
Take a look at the martial arts gloves available in the Blitz Sport sale!

Raging Bull Gel Handwraps
Were £10.20, Now £4.79
When your knuckles need that little bit extra, the soft gel in these hand wraps will do the trick. Light and easy to put on, they consist of a neoprene glove with extra padded gel protection (9mm) and a 38 inch stretchy cotton wrap to securely keep your fists snug, yet comfortable, within your boxing gloves.

Pink Bag Gloves
Were £13.22 , Now £7.19
A high quality leather mitt type bag glove. Sports a grip bar with enclosed thumb and stitched knuckle areas with air holes to palm of glove. An elastic strap is located on the inner wrist for a snug fit. It is recommended that you strap your hands first using the Blitz boxing hand wraps for added protection.

Box Fit Leather Bag GlovesWere £16.33, Now £9.99
Part of the Raging Bull range of products. The 'Box-Fit' glove is especially designed for bag work with a little bit extra padding. Soft leather with stitched palms and thumb area.

Bad Breed Sinner MMA Gloves
Were £29.99, Now £9.99
As used in Ultimate Challenge by UK's toughest mma fighters! New release from Bad Breed, just enough padding to protect your knuckles yet little enough for your opponent, excellent for training and competition use, for both padwork and sparring, triple stitch, hard wearing yet comfortable, with Bad Breed signature trademark.

Bad Breed Punish MMA Gloves
Were £39.00, Now £9.99
Attention to detail is what makes a great product and these gloves are no exception. The inner finger section of these gloves are leather however are coated with neoprene ensuring your gloves don't restrict the movement of your fingers. The inner knuckle and wrist area are suede lined giving you maximum comfort. The wrist has an elastic strap and leather velcro strap supporting your wrist when you perform the hardest of blows. All encased in a soft leather Bad Breed design glove, these 4oz pro gloves will seriously damage someone else's health!