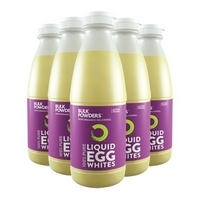 Bulk Powders is one of the top supplement brands in the UK, supplying their sports nutrition direct to customers via their website. With the website being the only means of purchasing Bulk Powders supplements, the company regularly run voucher codes to get some awesome freebies and money off deals on your favourite supplements.
New customers only can use either one of these special voucher codes to get money off their first order at Bulk Powders.
Use NEW5 at checkout to get £5 off £25+ spend, or LDP10 to get £10 off £50+ spend.
Both of these voucher codes expire on 31st January 2014.
If you've shopped with Bulk Powders before now, check out these awesome special offers and voucher codes that are live until 14th January 2014.
20% off Liquid Egg Whites (6 x 1kg)
When you use voucher code EGGW20 at checkout
Expires January 14th 2014
20% off Complete Pre-Workout Gels
When you use voucher code GELS20 at checkout
Expires January 14th 2014
15% off ALL Nut Butters (peanut, almond, cashew, pistachio)
When you use voucher code BUTR15 at checkout
Expires January 14th 2014
10% off D-Aspartic Acid (research proven strength gains)
When you use voucher code DAA10 at checkout
Expires January 14th 2014
FREE 500g Goji Berries superfruit over £35 spend
When you use voucher code GOJFREE at checkout
Expires January 14th 2014
FREE 400ml Mini Blender over £10 spend
When you use voucher code BLDR at checkout
Expires January 14th 2014