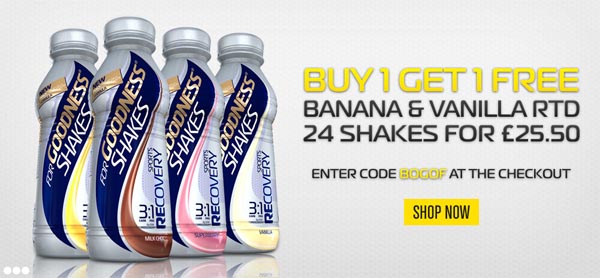 We'd like to welcome Athlete Store, a nutrition online e-store, to Shop4 Martial Arts. To celebrate the launch of their new website, they've got some fantastic offers on for those who take sports nutrition and supplements to aid their training and to get the most out of their body.
» athlete store is the official retailer of For Goodness Shakes® and NECTAR®, offering world class sports nutrition, designed by athletes, for athletes. For Goodness Shakes (FGS) is the UK's number 1 sports recovery brand, whilst NECTAR is the simple resolution to optimising hydration and energy levels to improve performance and endurance capacity.
Check out these very special offers which are live now at » athlete store. Remember, if a code is neeeded, use it at checkout to apply the offer.
Buy 1 Get 1 Free For Goodness Shakes Recovery!
We've extended our BOGOF deal on the #1 seller For Goodness Shakes Recovery, vanilla & banana flavours only.
Using Voucher Code: BOGOF
Valid until Sun 10th Feb 2013.
20% off until Thurs 28th Feb 2013!
Using Voucher Code: AS20
Shop Now at » athlete store

Save 1/3 on NECTAR Fuel Cell (energy gels)
Now just £24, these energy gels come in packs of 24, so at £1 per gel they're so competitively priced!
NECTAR Sports Fuel Cell is a unique Dual Carb source energy gel that delivers over 20g of fast absorbing carbohydrate in each 40ml sachet. This is the first compact LiquiGel that's both easy to carry and to drink. Previously when selecting your energy gel, you've had to choose between 1. Easy to drink but big & bulky; 2. Small & compact but sticky and hard to consume. Right now NECTAR Sports Fuel Cell combines the best of both worlds, compact and easy to drink.
No code required.
Valid until Sun 10th Feb 2013.
Free Delivery on orders over £30!
As an ongoing promotion, » athlete store offer free UK mainland delivery using express DPD courier service on orders over £30
Shop Now at » athlete store