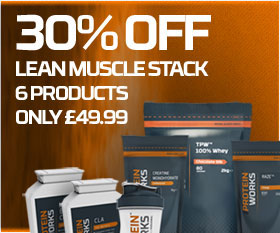 Are you looking for a lean, cut body, with defined muscles and a reduction in body fat? The supplement brand and online store THE PROTEIN WORKS have just the offer you're looking for!
For just £49.99 (reduced from £71.44), their Lean Muscle Pack contains 6 of their premium products and includes market-leading sports supplements that have been shown to promote lean muscle growth without the need for creating an extreme calorie surplus.
The Protein Works' Lean Muscle Pack contains:
You can choose from a variety of flavours: Apple Cinnamon Swirl; Banana Smooth; Butterscotch Ripple; Cherry Bakewell; Choc Mint Brownie; Chocolate Silk; Lemon Shortcake; Strawberrys and Cream; Vanilla Creme.
The Lean Muscle Pack was originally £71.44, but you can save 30% now and get this whopping bundle for just £49.99, whilst stocks last.
By purchasing, you'll also receive 100 Loyalty Points, which can be saved and accumalated to gain discounts on future orders at The Protein Works.