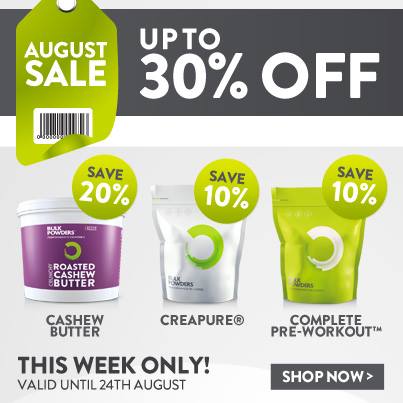 For this week only, customers of Bulk Powders can get up to 30% off some of the most popular supplements on their website from the Pure Series™, Complete Series™ and Active Foods™ ranges which include the Complete Pre-Workout™, Cashew Butter 1kg, Creapure, Vitargo and CLA.
This sale doesn't last long though and is only valid until 24th August 2013.
However, that's not all! Bulk Powders are even offering 3 awesome voucher codes to get freebies and money off supplements too, and they expire a couple of days later on the 26th August 2013.
Get FREE Apple & Lime Instant BCAA (100g) worth £6.99 when you spend over £30 at Bulk Powders
Use voucher code FLAV30 at checkout to get the freebie.
Offer expires 26th August 2013
Get 10% off vegan and vegetarian protein at Bulk Powderswhen using voucher code VEG10 at checkout
Offer expires 26th August 2013
Get 15% off all Creatine supplements
when you use voucher code CREATINE at checkout
Offer expires 26th August 2013