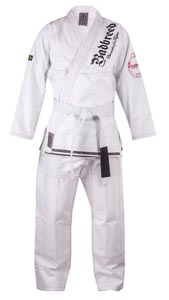 Until midnight 7th February 2016, get the Badbreed Signature Competition BJJ gi in white for just £25.68 (adults) or £12.60 (kids) at Blitz Sport. They also have a black version on offer for £16.28 (kids) and £32.60 (adults).
The Badbreeed Signature Competition BJJ gi is made from lightweight 550 gram, 100% Cotton pearl-weave fabric. A super-soft and incredibly strong pearl-weave material, combining the most effective features from both the double and single-weave Gis, creating a breathable and durable fabric for heavy usage and comfort. Jacket constructed without back seam, together with reinforced shoulder, collar and sleeve seams, ensuring strength and durability. Trousers produced from a Ripstop fabric and heavily reinforced on all seams, including the knee areas, for ultimate comfort and protection. Embroidered Badbreed graphics are kept to a minimum, allowing you to personalise your gi. Specifically designed to withstand intense grappling during competition. Rash guard and belt not included.
I've personally have had this gi for a while and I love using it in class. It's such a beautifully made gi and feels really nice to train in. Its tapered pants ensure your opponents feet don't get stuck inside when your rolling too. The only thing I'd say is that the pants come up shorter than I'd usually expect so the jacket fits correct for the size I buy but the pants are half mast (just above ankle). If you'd prefer longer pants, then I'd suggest to buy a size up than you'd normally purchase.
Also check out the Blitz sale page for other bargain goodies including the Badbreed Baseball Cap, Vale Tudo Shorts and Blitz MMA gloves!