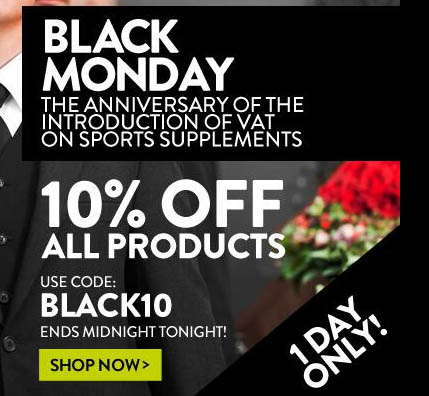 It's been a year since 20% VAT tax was added by the British government to sports supplement whey protein, aminos and creatine – products which help athletes, martial artists and fitness enthusiasts achieve their fitness goals and strengthen and repair their muscles in a bid for a healthier body and lifestyle. Many supplement consumers and nutrition businesses found this tax a kick in the teeth for those who wanted to improve their lifestyle and not become overweight couch potatoes that develop obesity related illnesses that require thousands of pounds worth of treatment on the NHS.
Supplement company Bulk Powders are recognising today as #BlackMonday and encourage Twitter users to discuss their thoughts and feelings on the tax that effects #3million people in the UK – 3 million who use sports nutrition to aid their fitness.
People not in the know about sports supplements think that sports nutrition, even like whey protein, are laced with steroids and one mouthful of the stuff will turn you into a muscular monster. Of course, we know this is complete rubbish but people need to be educated that sports supplements are not bad, they are positive products promoting a healthy lifestyle, unlike the pasty who's planned tax was abolished after a public outcry. Most of all, the government needs to be aware that taxing supplements is making the #3million fitness enthusiasts in the UK suffer, when they themselves are doing all they can to remain active, healthy and out of hospitals.
Bulk Powders urge you to get in contact with your local MP and for today only, are offering 10% off all products when you use voucher code BLACK10 at checkout on their website.