Venum MMA Fightwear are known for their striking designs that are neither plain or over-the-top, just wicked designs and the Venum Wanderlei "The Axe Murderer" Silva MMA Fight Shorts are definitely an example of this.
For THIS WEEKEND ONLY, DeepBlue Fightwear have reduced the Venum Wanderlei Silva MMA Shorts from £44.99 down to an amazing £29.99! What a steal!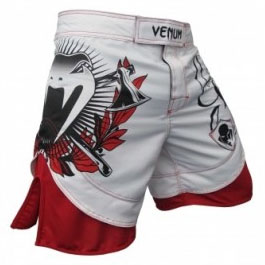 Venum pay tribute to Wanderlei Silva with this pair of  "The Axe Murderer" Fight Shorts. The design of these shorts illustrate two axes behind the famous Venum logo while the other leg illustrates "Wanderlei Silva" script. The shorts are mainly white with a rideup style completed with red to give a great illusion cut.
The Venum Wanderlei Silva Fight Shorts are made from 100% high quality, ultra lightweight microfiber and feature the new Venum anatomical cut. The shorts include side slits, system flex with the between-legs for better mobility and velcro waist fastener, adorned with Venum text logo.
These really are a pair of magnificent MMA shorts and for the special price of £29.99, they're definitely worth snapping up!
Grab your pair of Venum Wanderlei Silva MMA Fight Shorts now from DeepBlue Fightwear for £29.99. Special price offer ends midnight 27th August 2012.