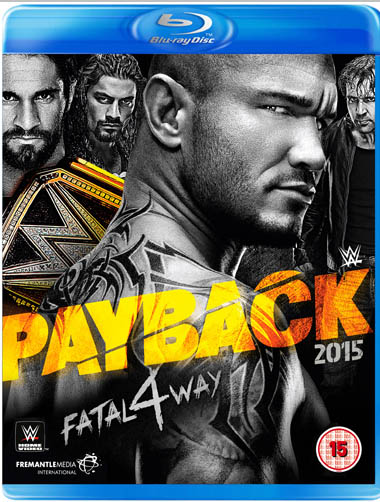 Feuds and scores are settled and careers hang in the balance at the 3rd annual Payback event, WWE PAYBACK 2015, coming to DVD and Blu-Ray in the UK on 13th July 2015.
Match ups include Sheamus vs Dolph Ziggler & Bray Wyatt vs Ryback, The New Day put their tag team championship on the line against Tyson Kidd & Cesaro.
John Cena and Rusev in an " I quit" match for the USA title.
The main event sees a Fatal 4-Way match for the WWE World Heavyweight Championship; between, Seth Rollins, Roman Reigns, Dean Ambrose & Randy Orton with the future of Director Operations Kane depending on the outcome!
★★HIGHLIGHTS★★
WWE World Heavyweight Championship Fatal 4-Way Match
Seth Rollins Vs Randy Orton Vs Dean Ambrose Vs Roman Reigns
U.S. Championship I Quit Match
John Cena Vs Rusev
Tag Team Championship 2-Out-Of-3-Falls Match
Cesaro & Tyson Kidd Vs The New Day
Neville Vs King Barrett
Monday Night Raw – U.S. Championship Match
John Cena Vs Neville (Blu-Ray Exclusive)
SmackDown
WWE World Championship Match Contract Signing (Blu-Ray Exclusive)
Plus more action, extras and exclusives!