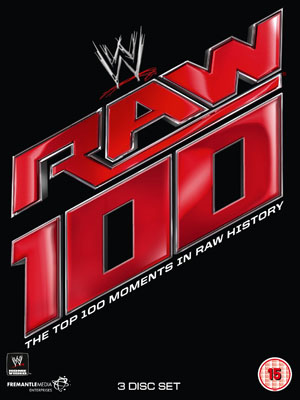 With WWE's flagship television programme celebrating its 20th Anniversary this year, Raw 100 counts down the top 100 moments from over 1,000 episodes of the longest running weekly episodic television programme, Monday Night Raw. From shocking, to hilarious and emotional moments, this is a title that needs to be in your collection and can be on DVD and Blu-Ray in the UK from 4th February 2013.
Since 1993, Monday Night RAW has delivered non-stop thrills, action and controversy to the WWE Universe. Now, after hitting 1,000 episodes, WWE counts down the definitive 100 moments of the longest-running, weekly episodic programme in US TV history. Fans of all eras can enjoy the most memorable exploits of all their favourite WWE heroes…
FROM THE SHOCKING…
CM Punk drops a pipe bomb
The new RAW GM… Eric Bischoff??
John Cena drafted No.1
TO THE HILARIOUS…
Mr. McMahon and the bed pan
The Rock concert
DX impersonates the nation
TO THE EMOTIONAL…
Bret "Hit Man" Hart returns
Shawn Michaels loses his smile
Edge's retirement ceremony
TO THE UTTERLY OUTRAGEOUS…
Tea time with Santino
Mae Young gets powerbombed
Stephanie's wedding in Vegas
…and so much more! Plus, own the entire 3 Hour RAW 1000th Episode that marked history and launched a new era in WWE. This collection also includes exclusive, never seen before, backstage footage of the WWE Superstars, Divas and returning Legends in the making of this monumental celebration.
Blu-ray Exclusives include
6 bonus RAW moments along with a 90 minute Legend Roundtable Discussion of RAW's illustrious history featuring Jim Ross, Road Dogg and more!