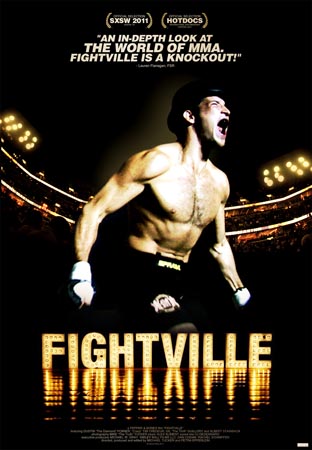 Fightville (2011)
Available on Netflix
Documentary Fightville follows fighters Dustin Poirier and Albert Stainback as they both thrive to become successful MMA fighters. The documentary spends a lot of time at Gladiator Academy in Lafayette, Louisiana, the gym in which both fighters train at, run by Tim Credeaur who isn't shy on making his opinion known, especially if you've been missing training and have a fight coming up.
The documentary also focuses on independent fight show USA MMA run by former wrestler Gil 'The Thrill' Guillory. With the help of his wife and children, Gil does everything from financing the fight event to setting it up and even promotion. With each event costing around $50,000, Gil has to make it work otherwise he looses it all. Some of the MMA events take place in rodeo venues but wherever they are held, families seem to flock to watch the fights, bringing their children with them too.
Fightville is a truly fascinating piece of filmmaking and shows what it's like to be a fighter on the independent scene. What makes this documentary that more interesting is the fact that Dustin Poirier is currently 18-4-0 fighting out of the UFC, so we already know he's made it to the big leagues. Finding out how he got there is such an inspiration to everyone out there, whether you're training to be a fighter, to compete or just for fun.
It's plain to see these young men really want to be fighters. Dustin is a self-proclaimed fighter, having gotten into trouble with the law growing up because of his passion for fighting. Whilst Albert feels as though it's the only thing he's good at and works as a waiter at a local restaurant to supplement his income as he works his way to becoming professional. These are real people who have to put the hard work in to get to the top. It's not handed to them on a plate. This is the reality and it isn't for everyone.
Martial arts fans will no doubt enjoy this documentary as I did as it opens up the MMA world for everyone to see. At 85 mins long, the film showcases the training, fights, interviews and behind-the-scenes action that you don't normally necessarily see, for example when a fighter feels as though he's not ready for a fight and withdraws from the fight card. This is something which affects everyone involved: both fighters, instructors and of course, the fighting promotion. Fightville isn't here to gloss everything over. It's here to show the reality of the sport on a ground level and I think it achieves this very well.
Fightville is definitely worth a watch for MMA fans.
Rating: