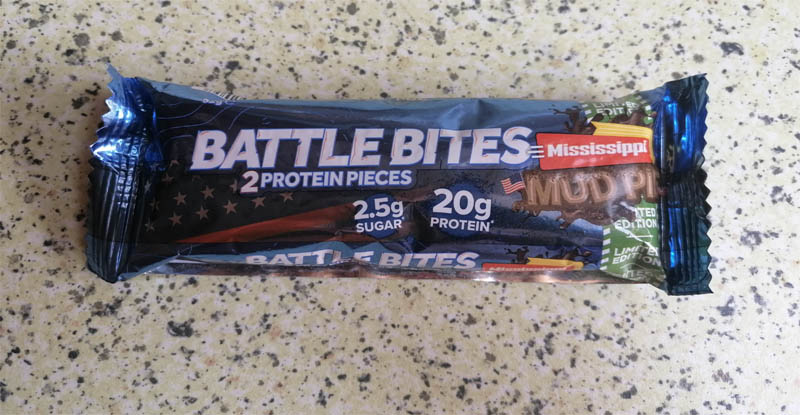 When a chocolate fiend, such as myself, comes across a protein bar labelled as Mississippi Mud Pie flavour, you betcha it's going straight in the basket! And that's exactly what I did with the limited edition flavour of Battle Bites 2 Protein Pieces! In this review, I share my thoughts on the bar and whether it lives up to its name!
Battle Bites Protein Pieces – Mississippi Mud Pie Taste and Appearance
In its metallic blue wrapper, subtly featuring the stars and stripes of the USA flag, Battle Bites Mississippi Mud Pie limited edition protein pieces stands out from the other bars on the shelf.
Opening the wrapper, I was pleased to find two chunky protein pieces that certainly lived up to its namesake. In fact, I may go as far as saying it's the tastiest-looking protein bar I've had yet. Tantalising my eager tastebuds with its brownie appearance, with knobbly chocolate coating, topped with a sprinkle of white chocolate stars, the Mississippi Mud Pie flavoured bar isn't shy about making a statement, and that statement is "eat me now".
The packet contains two protein bites, each measuring 2 inches in length, 1.5 inches in width, 0.75 inch in depth. The Battle Bits have a rich, chocolatey aroma and thankfully look gooey rather than dry.
Biting into the pieces, the bar has a thick and chewy texture. As predicted, it's moist, but the chocolate flavour is more subtle than what I imagined it would be from the smell and appearance. It's almost like a soft, chewy biscuity texture inside the bar which will be the chocolate caramel flavoured layer. There's a layer of chocolate on the top and bottom of each piece that is soft and gooey biting into it, whilst the lighter biscuit inside has more of a soft chew to it with some chocolate bits.
The taste of the Battle Bites piece is quite nice, not rich or sickly, just subtle and smooth. The pieces are really quite filling, even after one bite, which is perfect for a snack during or post training to get the hit of protein.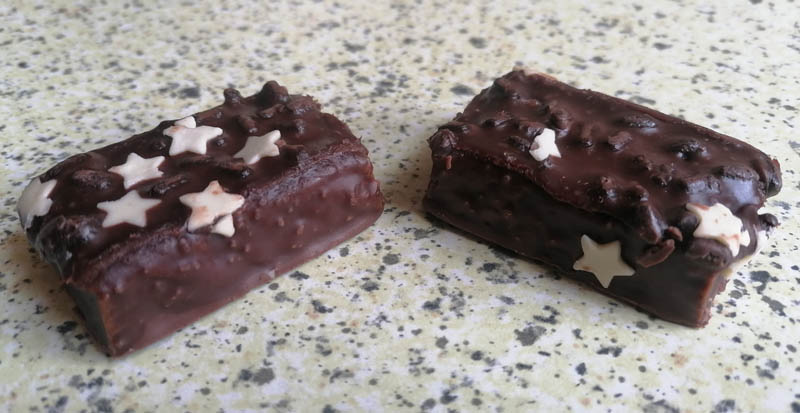 Ingredients and Nutritional Value
Battle Bits Mississippi Mud Pie contains Protein Blend (38%) [Milk Protein Concentrate (Milk), Soy Protein Nuggets (Isolated Soy Protein, Cocoa Powder, Tapioca Starch, Emulsifier (Soya Lecithin), Collagen (Bovine Hydrolysed), Whey Protein Concentrate (Milk), Calcium Caseinate (Milk)] Corn Fibre, Caramel (13%) [Chicory Root Fibre, Humectant (Vegetable Glycerol), Palm Kernal, Water, Butter (Milk), Sustainable Palm Oil, Emulsifiers (Mono- and diglycerides of fatty acids, Sorbitan Tri- Stearate, Rapeseed Lecithin), Gelling Agent (Pectin), Cocoa Powder, Salt)], Humectant (Vegetable Glycerol), Milk Chocolate Flavour Coating (8%)[Sweeteners (Isomalt, Sucralose), Sustainable Palm Oil, Cocoa Powder, Whey Powder (Milk), Flour (Wheat Flour, Calcium Carbonate, Iron, Niacin, Thiamine), Emulsifiers (Soya Lecithin), Natural Flavourings] Rapeseed Oil, Cocoa Power (4%), White Chocolate Stars (2%)[Sugar, Cocoa Butter, Whole Milk Powder, Emulsifier (Sunflower Lecithin)], Natural Flavourings, Thickener (Acacia Gum), Emulsifier (Sunflower Lecithin), Sea Salt, and Antioxidant (Vitamin E).
For those with Milk, Soy, Soya, cereals containing Gluten, or Wheat allergies, you'll want to avoid this flavoured protein bar. It may also contain nuts and peanuts, so if you have a nut allergy it's best to avoid too.
Each piece of Battle Bites weighs 31g. With each packet containing two pieces, it totals 62g of Mississippi Mud Pie goodness.
Each 31g Battle Bites Mississippi Mud Pie piece provides 407.5kJ/112.5kcal of energy, 4.35g of fat (1.85g of which are saturates), 7.45g of carbohydrates (1.25g of which are sugar), 10.25g of protein, 4.65g of fibre, and 0.16g of salt. Each piece provides 33.06% of protein.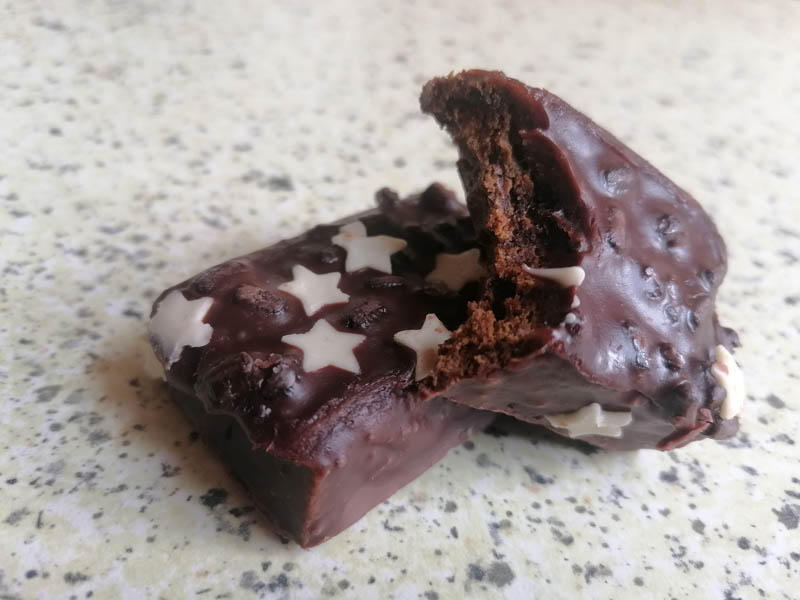 Overall Opinion of Battle Bits Mississippi Mud Pie
This was my first Battle Bites bar and it hasn't been my last. The Mississippi Mud Pie edition really hits the spot for any chocolate lover, and is a tasty treat post-training which will fill a gap between meals. The protein content is high which is what you want from a growth and recovery perspective, and the fact that it comes in two pieces rather than one bar means it's easier to have a piece now and another at a later time. Compared to a full protein bar, it's easier to resist eating the whole packet all at once!
Whilst I picked up my Battle Bites from Home Bargains, you can order the entire range, including Mississippi Mud Pie flavour, over on their website.