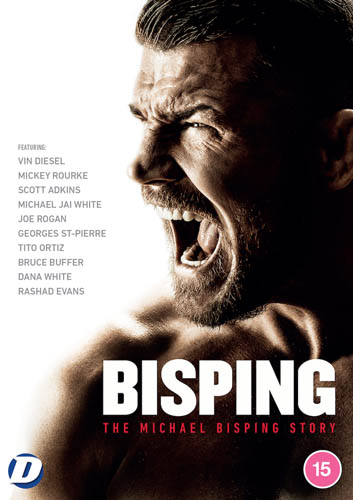 BISPING – The Michael Bisping Story
Available on DVD, Blu-Ray and digital now
BISPING – The Michael Bisping Story charts Michael Bisping's humble roots in Clitheroe, Lancashire to becoming a global mixed martial arts star and UFC champion before his eventual retirement where he became a commentator for the UFC.
Opening with his induction into the UFC Hall of Fame, the documentary takes a step back in time and looks at Michael's youth in Clitheroe. Interviews with his parents and sister give insight into what sort of young man Michael was. He'd find himself getting into fights so perhaps it was inevitable that he'd find a career in pugilism. At age of 8, he started training in Japanese Ju-Jitsu where his impressive talent caught the eye of his coach who predicted great things for young Bisping. His success in martial arts tournaments put him on the path of MMA but it came with its own sacrifices, made not just by him but his now-wife Rebecca who gives plenty of commentary too on the documentary, having been with Michael since they were teenagers.
Featuring interviews with his trainers Daz Morris and Jason Parillo, as well as fellow MMA fighters Rashad Evans, Luke Rockhold, GSP and Miesha Tate, and actor pals Vin Diesel, Mickey Rourke, Michael Jai White and Scott Adkins, there's plenty of talking heads to provide context to Michael's life and mindset during his time spent honing different disciplines, be it training, fighting or acting.
As far as documentaries go, I'd say BISPING – The Michael Bisping Story is one of the best. We get to see how Michael Bisping, as a young man, got into the sport which, at a time, was quite taboo. Everyone thought MMA, more commonly known at that time as cage fighting, was brutal and violent without rules. We even see Bisping having a disagreement with a host of a radio show he was speaking on about this. Charting his time as a youngster, pre-MMA, with his family then into mixed martial arts and The Ultimate Fighter, we get to experience Bisping rising up the ranks into the big leagues.
The documentary highlights his MMA fights with various opponents, his wins, his losses and the turning points in his career. It goes into detail about his first fight against Hendo and then his loss against Vitor Belfort which resulted in a detached retina and the beginning of his eye problems. How he continued fighting, and winning, with essentially one good eye is jaw-dropping and you cannot believe the grit and determination Michael Bisping had to fight for himself and his family. It's clear from this documentary that he's a man who's passion for fighting means everything. His talent and hard work secured him a career doing what he loved rather than being stuck in the jobs he clearly disliked (Bisping mentions working as a door-to-door salesman and at a slaughterhouse before making a career in MMA).
By the end of BISPING – The Michael Bisping Story, you'll feel as though you have a better picture of the man that is Michael Bisping and his motivations, trials and tribulations he's experienced to become the UFC Hall of Famer he now is. This fascinating, hard-hitting documentary shows the highs and the lows and makes you appreciate everything that he went through as a fighter, as well as an appreciation that behind all the glitz and glamour of global MMA promotions these are real people putting their health on the line for a career and our entertainment.
BISPING – The Michael Bisping Story is an absolute must-see documentary, not just for MMA fans.
Rating: