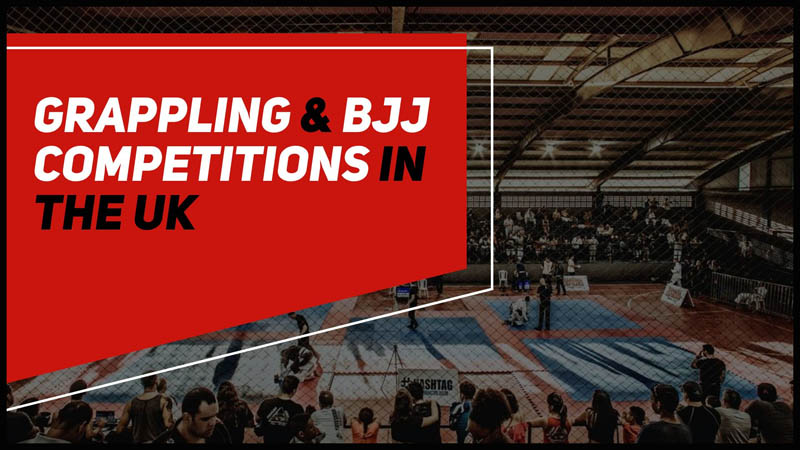 Whether you train no-gi or in the gi, many grapplers who train in BJJ, wrestling or other grappling arts look to test themselves against opponents from other gyms.
Over the last decade, more and more BJJ competitions have appeared on the scene in the United Kingdom. Kids and adults can pit themselves against members of the same sex, weight bracket and experience/rank to see how their grappling and submission skills fare against others. Some do it for fun, others for glory and the chance to become the next big name on the grappling circuit.
If you're looking for a BJJ competition in the UK to enter, take a look at a few of the leading promotions below.
Empire Grappling
Empire Grappling wasn't always known under that moniker. It started out as a no-gi only competition called Sub-North at Fighting Fit martial arts gym in Manchester. It resembled more of an interclub and the rules were modified so that competitors could gain experience in competing. At this time I was training at Stealth BJJ and went to their second event to cheer on some of the guys competing there. Though it was a small event, there were plenty of competitors and skill on display and the event was well run.
After a few events, Sub-North evolved into a proper BJJ event called GrappleNation which ran for a period of two years from 2014 to 2016 before transforming into the name it goes by now, Empire Grappling.
Empire Grappling organiser Jake Cross has gone on to host Empire Grappling BJJ competitions all over the UK including Wales, Yorkshire (Leeds) and Northern Ireland (Belfast) featuring gi and no-gi divisions.
In addition to the grappling events open to all competitors, Empire Grappling has also put on super fights and team-based events.
The Empire Grappling BJJ competitions in the UK are slick and professionally run. They have recently joined the UKBJJA so competitors are now being officially ranked at their events (as of 2nd July 2022).
The divisions are based on gi or no-gi, age, sex, weight and experience, and there's also absolute divisions with cash prizes up for grabs.
Empire Grappling adheres to IBJJF rules set with tweaks so make sure to check their website to see the full ruleset.
If you place first, second or third, you win a great-looking medal and get to stand on the podium, where there's often a photographer to take your photo but you can always get your friends, teammates or family to take pics too. There's official photographers also in attendance on the mat who often take great action shots however there's no guarantee you'll star in them. All photos taken by Empire Grappling associated photographers are usually published on their Facebook page.
All Stars BJJ
All Stars BJJ is another leading BJJ competition in the UK that holds events throughout the mainland including Coventry, Cardiff, Birmingham, Manchester, Liverpool and London.
They offer matches in gi and no-gi divisions based on age, sex, experience and weight with the opportunity to win a medal. Cash prizes are up for grabs for those who enter the Absolute division with runners up receiving prizes like a BJJ gi or rashguard. There's even the chance to take home a belt if you're the Absolute winner.
I've attended a couple of All Stars BJJ competitions in Manchester, both as a competitor and as a spectator, and found them to be a well-run event.
BJJ All Stars run many events during the year with UK Nationals and European events as well.
Their ruleset adheres to the IBJJF rules however all blue, purple, brown and black belt fights run for 6 minutes rather than 5 minutes.
Roll Models
Roll Models is a BJJ event in Stoke-On-Trent, Staffordshire and is open to white belt and blue belt BJJ competitors only in gi and no-gi divisions.
The Roll Models BJJ competitions are run to IBJJF rules with tweaks and is great for those looking to gain experience before venturing to a larger event.
The events tend to cater to adults only with men and women's divisions based on experience, sex and weight.
Whilst it may be a smaller grappling competition, it provides a great opportunity for white and blue belt competitors to gain some experience live sparring with people from a variety of clubs around the UK.