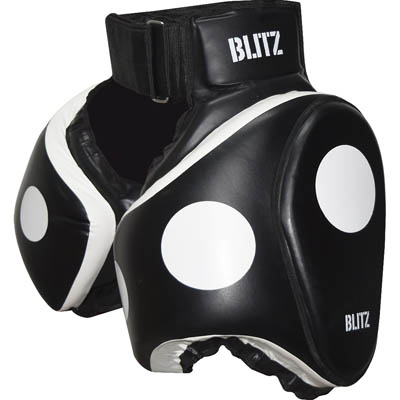 As a martial artist, being skilled both stood up and on the ground is important to me. Training in Japanese Ju-Jitsu at Leigh Ju-Jitsu, we do a healthy bit of both, whilst my CSW classes at MC Kali Group and my dabbling in Muay Thai help me to expand knowledge in both areas.
Whilst I'm probably more fond of grappling, that doesn't mean I don't like to stand up and "bang". One of my favourite parts of the class is padwork and it's even more fun when we go down the sport Ju-Jitsu route and don the gloves and shin guards to spar with each other with a bit more contact.
When training in MMA, Muay Thai, Kickboxing and even Sport Ju-Jitsu, there's some important equipment you'll need to train with. Most coaches will utilise focus mitts for punching and more accurate striking whilst thai pads are used to really work those explosive, powerful kicks. A lot of trainers, especially those training fighters one-to-one, will usually don a belly pad so that front kicks and teeps can be practiced, and combined with thigh pads (essentially thai pads wrapped around your legs), even leg kicks can be trained.
Thigh Pads for martial arts are probably used most in Muay Thai training and for a long time it was the Muay Thai brands such as Fairtex that manufacturered them. Whilst Fairtex produce high quality gear, it can be a bit pricey for those on a budget so imagine my delight when martial arts equipment supplier Blitz Sport brought out their own set of Thigh Pads.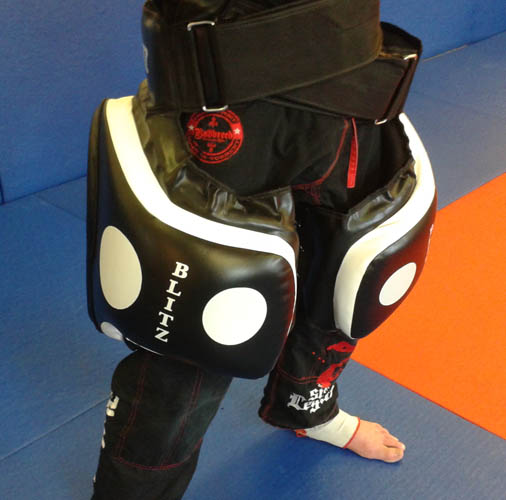 Blitz Sport Deluxe Thigh Pads
At under £100, the Blitz Sport Deluxe Thigh Pads are an eye-catching piece of kit. To look at, you definitely get more than your money's worth. The synthetic leather thigh pads come in two separate parts, each with their own velcro straps and waistband strap to attach to each leg. Each of these thigh pads come with three target areas: two smaller targets working from the inside thigh out and one larger, extra-cushioned target on the outside of the thigh for those killer leg kicks.
To ensure the thigh pads are securely fit to the trainer, each part of the pads comes with velcro straps. The main jumbo strap is at the waist, measuring 4 inches in width and threading through a metal buckle trim (without prongs) and faux leather loop. The part of the waistband from which the rest of the thigh pad hangs off is well padded for comfort and protection with approx 0.7 inch of padding. This section is also decorated with Blitz text print. The thigh pad section themselves have a set of three alternatively fixed velcro straps with metal buckle trims to strap around the thighs themselves. This allows the trainer to gain a proper fitting of the pads around their legs so the targets sit correctly around their thighs. Each of these three straps measure 2 inches in width with a length of 16.5 inches. The top of the three straps, nearest to the groin, is longer at 26.5 inches in length and has two metal buckle trims which it threads through. This is due to the points of the two edges of the pad being the furthest apart due to being at the top of the thigh.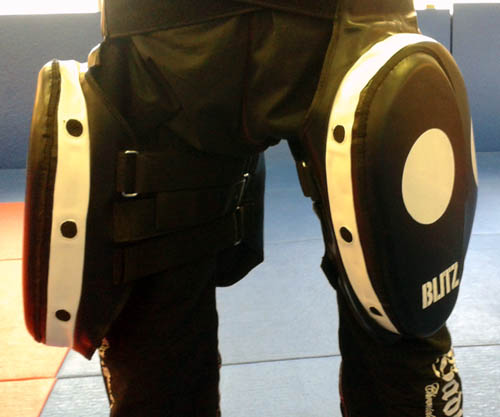 As a Thai boxer or martial arts practitioner will be laying in some power into their kicks, the thai pads have to be properly cushioned so that the trainer/coach doesn't feel the full impact of the blow. The thigh pads are well padded with approximately 3.5 inches of padding reaching as much as 4 inches in certain sections such as the targets. The main larger target protrudes from the rest of the thigh pad and has three 50p sized circular holes down the side, covered in mesh. This is to help allow the pad expel air and essentially breathe. The thigh pads themselves are lined with a soft, breathable, moisture wicking fabric, providing comfortable, non-abrasive contact with the skin which helps keep the trainer fresher and drier during the padwork session.
The Blitz Thigh Pads measures approximately 26″ in width, that's plenty to wrap around the coach's legs. The largest target area measures 15″ from the top to the bottom of the pad whilst it narrows to 8 inches for the smaller end of the thigh pad, most of which will be facing inward, tucked towards the inner leg. The thigh pad consists of soft padding with a tougher padding on the larger, main target whilst each target is defined with a white circle. Care is taken to provide a neat, comfortable finish with the thigh pads hemmed with no sharp or rough edges for the kicker to hurt themselves on.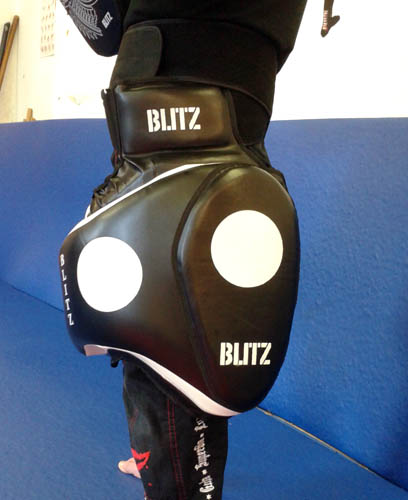 Using the Blitz Sport Deluxe Thigh Pads
We've all been there. It's time to practice leg kicks and you precariously hold a thai pad against your leg as your training partner unleashes a mighty kick that completely kills your leg and by the end of the session after a dozen or so kicks you're practically crawling off the mat. There's gotta be a better way and the Blitz Sport Thigh Pads are the solution. At first the Thigh Pads can be a bit of a maul to get on, what with all the straps. You'll most definitely need your training partner to help you fasten them between your legs however the jumbo velcro waist strap is simple enough. Once the leg sections have been strapped up, you can usually slide yourself out of them after use which makes it much easier to step into and slide on next time as they're already fastened (you may want slight adjustments though). The pads themselves sit differently on different people depending on your size, height and build. They fit and sit in a much better position on someone who's 5'6 than they do on little ol' me for instance who's a skinny 5'2″ however regardless of the size of the wearer, they seemed to serve their purpose well.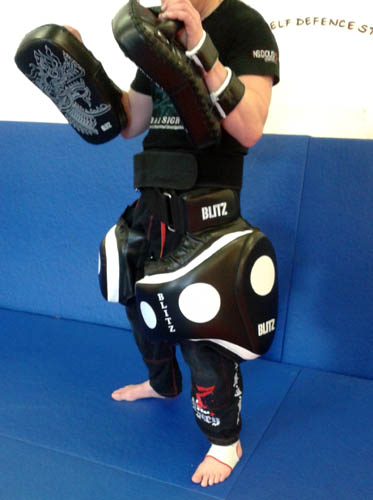 As someone who loves leg kicks, I thoroughly enjoy using these pads. With my training partner fully kitted up and fastened into the Thigh Pads, I was able to practice my kicks with relative full power. The padding is sturdy enough to give a good feedback to the kicker and holds up after an onslaught of kicks. However, the coach wearing the Thigh Pads won't suddenly become the Man of Steel and be invincible to the kicks – they will feel it to some degree, depending on how hard you kick, but the power and impact is lessened a great deal thanks to the pads. Absorbing much of the power leaves the impact managable and the coach without a dead leg.
You could be thinking to yourself, why not use a giant kick shield for leg kicks? True, you could do, but that is basically like an oversized thai pad and whilst it would absorb the impact of the kick better, as your leg isn't supporting it as such, you're hindered as to providing a realistic experience for your training partner. With one or two hands holding a giant kick shield, it leaves you pretty much in one spot. The beauty of the Blitz Thigh Pads is that they're a completely hands-free affair once fitted. Arm yourself with a pair of focus mitts or thai pads and suddenly you're a walking target, ready to punish your training partner and allow them to give you some abuse whilst honing their kicking power and skill. You could even fit a belly pad around your waist too to provide the full works – hands, thighs and stomach- for all the striking, leg kicks, teeps and front kicks you can handle. Training combinations with the Thigh Pads is much better because you can simply strike the hand mitts and kick as fast as you like without having to wait for the coach to react fast enough to have the pad in place for the leg kick – the Thigh Pad targets are already there, ready and awaiting punishment. Plus, the coach can move around the mat with the thigh pads on, putting extra pressure on the striker to get their kicks powerful and accurate whilst staying on their toes.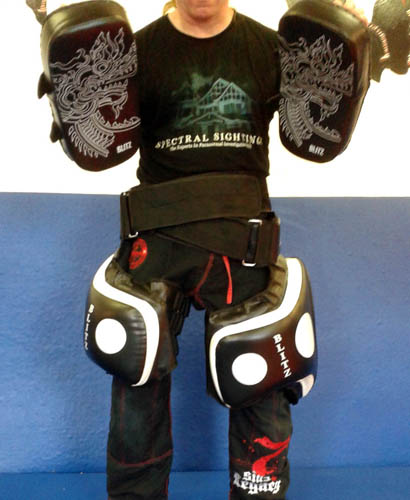 Overall Opinion
For somebody training in Muay Thai, Kickboxing, MMA or other combat sports, the Blitz Sport Thigh Pads are an ideal piece of kit. Gym owners and coaches will find them such a useful tool to get more out of their students and fighters whilst the strikers themselves will feel more comfortable making contact with a part of the body, even if it is more cushioned! The Thigh Pads are quite bulky in size to store so if you've got a gym you can keep them at, that's probably the best place to keep them. I feel the pads give an extra dimension to learning, especially when teamed up with a pair of thai pads, as you can really experiment with combinations at speed without hurting your coach in the process. Having held many a thai pad against my leg in the past, I can also say how I much prefer wearing the Thigh Pads to receive kicks, especially off powerful kickers. A thai pad against the leg does little to dull the pain whilst the Thigh Pads really do absorb much of the power leaving a minimal impact on the wearer.
Wonderfully made, robust piece of kit, the Blitz Sport Deluxe Thigh Pads are a must-have for instructors looking to improve their striking coaching service and for martial artists and fighters to give their training partners a more authentic striking experience that they can use to build up power, speed and accuracy.