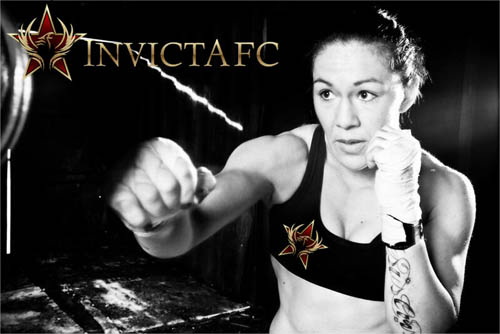 At a press conference yesterday in California, Cris Cyborg's fight manager Tito Ortiz revealed that Cris has been released from Zuffa and has signed a 3 fight deal with Janet Martin and Shannon Knapp's successful Women's MMA championship, INVICTA FC.
The 3 fight deal will see Cris 'Cyborg' Santos fight in the 145lb division on 5th April for Invicta 5 in Kansas against submission ace and fellow Brazilian, Ediane 'India' Gomes, ranked No2 in the featherweight division. The winner of the fight will then be matched against the current 145lb Invicta FC champ and World No1 ranked featherweight,  Dutch mixed martial artist Marloes Coenen at Invicta 6.
Coenen and Cyborg previously fought against one another at Strikeforce, in which Cyborg defended her belt against the strong, Dutch submission specialist, who was arguably the toughest opponent in Cyborg's career with both fighters evenly matched in their roots of Muay Thai and BJJ.
Signing with INVICTA has left the door open for Cris Cyborg, should she be offered a superfight at 140lb or 145lb against UFC Women's 135lb Champion, Ronda Rousey. Cris Cyborg and her manager stated at the conference that she is keen to fight Rousey and it is just a matter of agreeing on terms between both parties.
Cris is quoted as saying on Invicta's website,  "I am excited to finally get back in the cage and to have the opportunity to fight for Invicta Fighting Championships, which has shown a tremendous amount of commitment to furthering the growth of women's MMA," said Cyborg.  "I will be ready on April 5 for Ediane and I plan to dominate my competition as I've done in the past."
Needless to say, whilst we are all looking forward to the day that Cyborg fights Rousey, we couldn't be more pleased to see Cris Cyborg joining the groundbreaking Women's fighting championships, Invicta FC, and joining the other female fighters in helping to propel WMMA in the right direction.
Tickets for INVICTA 5 will be on sale soon and the fight will be streamed online pay-per-view. For more info, visit invictafc.com