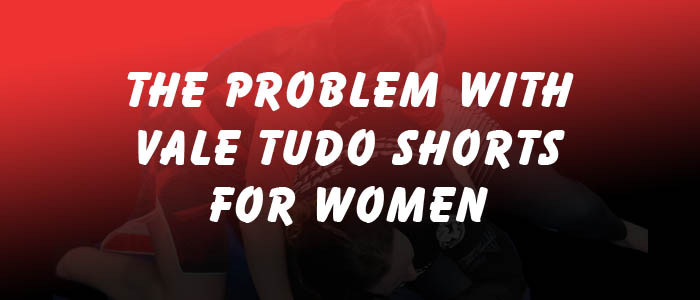 As a woman and a grappler, it has come to my attention when shopping for grappling spats or vale tudo shorts (i.e. anything figure-hugging and lycra) that finding garments that don't accentuate certain parts of the body you'd rather avoid bringing attention to is like trying to locate a needle in a haystack.
When training, lycra can be the most comfortable garment to wear. It doesn't ride up, it stretches if you happen to gain a few pounds and it can even help you move around an opponent easier and provides little grip for your opponent to use to their advantage. I love my pair of Bad Boy VT shorts and I've since been trying to find some extra vale tudo shorts to purchase but I've encountered a big issue and it's mostly to do with seams.
A lot of vale tudo shorts out there cater to men and assume your packing a groin guard and are presented in such a way that the front groin area is in a contrast colour and the seams allow for this 'addition'. Problem is, we ladies don't possess a 'package' so these shorts look daft if worn by us. To offer a solution, some companies out there have made vale tudo shorts for ladies – "GREAT!" Or at least that's what I initially thought…
It's becoming clear that women may not have been considered when making women's vale tudo shorts, as daft as that sounds. Why, I hear you ask? Well, as a woman, the last place I would want a seam is one that goes straight down the centre line of the crotch but this appears to be a pattern that many brands have gone for.
When wearing lycra bottoms with no clothing over the top, we women always check one thing: am I sporting a camel toe? Yes, guys, the "toe" is a real fear and is something which women want to avoid showcasing when they're training at the gym, especially in a room full of guys. So why is it that many sportswear companies and, in particular to this conversation, fightwear brands have decided to create garments that draw attention and accentuate a lady's private area? Surely it has occurred to those in the design department that this may not be a good idea? Well, it appears not as a look through at the catalogue of some of the biggest brands in the fightwear business shows that a centre-line seam is the go-to option – worse still, sometimes with contrast stitching accentuating it too!
If you run your own fightwear brand or designer for one, please take the following feedback on board for when creating lycra leggings, spats or vale tudo shorts for women:
Do not place a seam that goes from crotch to crack. If you do, all it does is make the obvious stand out even more, bunching up and causing the camel toe we seriously want to avoid.
If possible, use thicker material or line the crotch area. This again will stop the lycra from sucking up into crevices, giving us the unwanted crotch cleavage.
If making female fight shorts/board shorts for women, fit a lycra stretch crotch. This stops any seam that may be placed through the centreline from riding upwards, which can cause discomfort. Not only is a stretch crotch more comfortable, it allows full movement without restriction too.
Ladies, I wanna hear from you. Can you recommend any fightwear brands or specific styles of Vale Tudo shorts that DO NOT feature a central seam? Leave a message in the comments below!