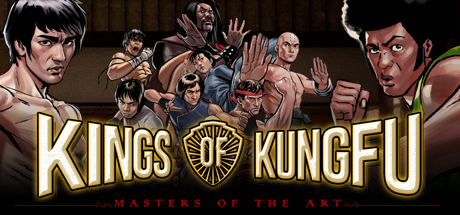 Kings of Kung Fu
Available on Steam
If you love fighting games and martial arts movies, then you'll want to check out a little game available on Steam for Windows, Mac and Linux called Kings of Kung Fu.
Currently in Early Access, so essentially a work in progress, Kings of Kung Fu is already playable with 8 characters to choose from. Though their names you might not recognise, each of the fighters represents stuntmen and stuntwomen who fill in for the martial arts film stars from years gone by. These stuntmen and women are competiting against one another before facing the Red Ronin to be given the starring role in new blockbuster movie, The Kings of Kung Fu. Though Kung Fu may be the title, each character has their own particular style of martial arts from drunken boxing to karate, whilst the style of the videogame itself very much mimics the kung fu films of old, complete with the music and grainy visuals.
The gameplay of Kings of Kung Fu
The artwork and character design in the game is truly amazing and really captures the old kung fu movie vibe. The backdrops too add an extra dimension, often representing a particularly style of location synonymous with a set used on a notable martial arts film. This game really is a love letter to martial arts stars and the movies, and with Jae Lee's passion, I can see this game capturing the heart of many martial artists, movie and fighting game enthusiasts out there.
As the game is in early access, there's plenty of tweaks and changes to be made, including the addition of some extra playable characters that have been requested by current players and followers of the game. Those who purchase the game in its current Early Access phase can bag the game cheaper than it would be upon full release whilst also having input to help shape the game, with Jae Lee Productions an active member in the community hub on Steam.
With Steam achievements and controller support, I can heartily recommend checking out Kings of Kung Fu. It may still need some work on the combat elements but the game is certainly heading in the right direction and is a must for martial arts fans!