There's plenty of gum shields on the market, starting at the cheap-as-chips price of £2 and going up to the region of £20/£30. When I first started doing Muay Thai I figured I needed a mouth guard after being on the receiving end of several jabs to the face and a spinning back fist. I was clearly a noob to the game, after having previously trained in Japanese Ju-Jitsu which besides from throws and submissions, wasn't full contact.
I purchased a boil and bite gum shield for a couple of quid and after boiling it and attempting to mould it to my gum, it just didn't fit right. I had to suck up all the time to keep the darn thing in place and then I couldn't breathe with ease.
Not so long after, I discovered Piranha Guard, who are part of Roots Dental Lab based in the small town of Horwich in Bolton, Lancashire. These guys offer gum shields starting from around £40 upwards. Unlike the boil and bite mouthguards, Piranha Guard specialise in custom fitted gum shields and are used by rugby league and national rugby teams, as well as Mancunian boxer, Ricky Hatton. If it's good enough for the big boys, it's good enough for me!
If you go to www.piranhaguard.co.uk and click on Shop you can choose from a selection of designs, from the Classic plain range for £39.99, the Team Piranha range at £49.99, the Premier Designs including fangs, flags and other cool styles for £59.99 and if you cannot see any design you like, you can Design Your Own gum shield for £69.99, perfect for amateur and pro fighters who want a unique edge or for clubs and businesses.
Once ordered, you'll receive a kit in the post, like this one.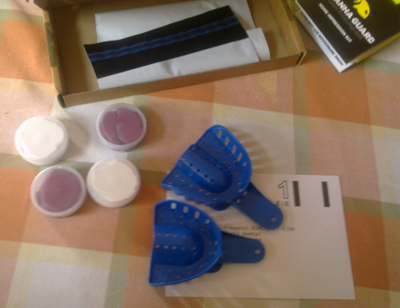 Inside the box is an instruction leaflet, 4 containers of putty (2x white and 2x mauve), 2 plastic impression trays, a plastic bag to put your moulded impressions in and  Piranha addressed packet for sending your moulds back to Piranha.
The leaflet details how to cast your mould and you MUST read this before attempting it, because although you get two attempts at creating an impression, it's best to know what to do and what to expect. As the putty dries out quickly, once you've taken 1x white putty and 1x mauve putty out of the tub you have to mix the putties together, roll into a sausage and place into the front of the tray, pop it into your mouth, align your jaw and bite down in the space of a minute. It doesn't sound long, but is ample enough time provided you've read and understood the instructions first. After biting down, you hold it for about 3 mins, which by then it'll have set. You then give the tray a gentle wiggle up and down to loosen it from your teeth and pull it out.  If you've done it correctly, you should be left with a nice, clear impression like mine below.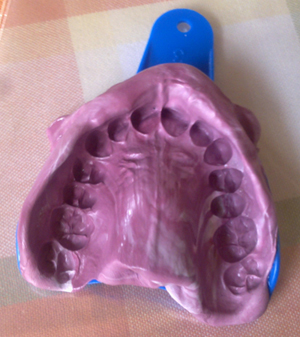 Repeat with the second impression tray, then put both impressions and the empty tubs into the surgical bag, write your details on and send back to the Freepost address with the envelope supplied. Job done!
You then have a little wait of around 7 days until your gum shield, custom fit to you in the style and colour you ordered, is delivered to your door. Look at this beauty!
Yes, they cost a few extra pounds than your bog standard boil n bite mouth guard but you can't put a price on your pearly whites and it's better being protected properly than wearing an ill-fitting product or worse still, nothing at all!
For more info on Piranha Guard, visit their website www.piranhaguard.co.uk