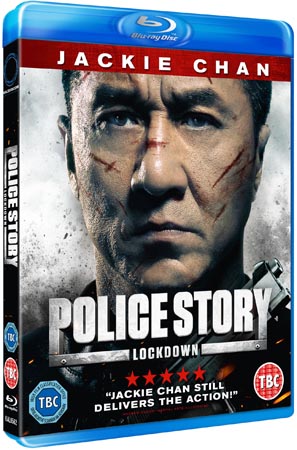 POLICE STORY: LOCKDOWN
Available now on DVD and Blu-Ray in the UK
Meeting up with his estranged daughter at Bar Wu in the heart of a bustling Chinese city, police officer Zhong (Jackie Chan) finds himself walking into a trap set up by the bar's owner, Wu Jiang (Ye Liu). Holding many of the patrons hostage including Zhong and his daughter, Wu demands the release of convict Wei Xiao but what does Wu want with Xiao and with the building wired up with explosives, will any of them make it out alive?
POLICE STORY: LOCKDOWN is a thriller starring martial arts legend Jackie Chan in one of his more serious roles to date. As Zhong, Chan portrays a quiet and reflective police officer who prefers to speak to criminals and negotiate with them rather than go in all guns blazing like his colleagues often do. His approach isn't always successful and sometimes he finds himself having to get up close and personal, showcasing some of his hand-to-hand combat skills, in order to apprehend the culprit but his heart is usually in the right place. His passion for his job, which requires a lot of patience, has put strain on his family life over the years which has led to the breakdown of the relationship between him and his daughter, something which he was hoping to mend at Bar Wu until it became apparent that his presence there was required for a totally different reason.
Wu, played by Ye Liu, is a mysterious individual. Apart from owning a nightclub named after himself, of which he's celebrating its third anniversary, not much is known about him. Apart from a formal introduction, his goals, desire and motive are kept hidden throughout most of the film as both Zhong and the viewer attempts to work out who he is as a person. A few flashbacks detail that at one time he was in fact a boxer, possibly Thai boxer judging from his attire, but that line of work went sour due to match fixing by his bosses. A man with a skilled fighting past could be quite the challenge for Chan's Zhong.
When you think of Jackie Chan, you instantly think martial arts but those desiring such adrenaline-packed scenes from this movie will be left sorely disappointed. Apart from a couple of mini brawls and one extended fight scene in a cage in the nightclub, there's very little in the way of action. Even these few scenes are shot and edited too fast and awkwardly, leaving the viewer unable to gain a fix on what is actually happening on-screen. Despite the post-production visual confusion, Jackie Chan proves he still has the moves as he dives and rolls around the set, dodging out of harms way and using his hands, forearms and elbows to great effect to defend himself as well as serving a bit of punishment himself with armbars and rear naked chokes. However, fans of Jackie Chan action films will be left a little disappointed as the film focuses more on the story and the dialogue, both of which leave a lot to be desired as the story is as fragmented as the editing is.
The main issue I have with POLICE STORY: LOCKDOWN is that the story just isn't interesting. It takes until about 20 minutes before the end of the movie to finally reach the driving narrative with all the previous scenes simply just a mish-mash of back and forth between antagonist and protagonist as the viewer is forced to sit there and watch, scratching their head. The editing leaves the film so badly structured that it actually becomes an endurance exercise to watch the movie which is no fun for anyone. Unfortunately, even the brief action scenes cannot save this effort.
Rating:
Save
Save