When training stand up combat, be it kickboxing, Muay Thai, MMA or Sport Ju-Jitsu, the last thing anyone wants is to cripple themselves from bruised shins or worse. At the same time, you also want to be able to spar and kick with some relative power to know that you're A) performing the technique correctly and B) able to put up a fight and do some damage. However, when sparring you want to do this without hurting your training partner or yourself – after all, this isn't a real fight and you want to still be friends after class is over.
I used to wear the pull-on shin guards, the ones that resemble a sock with foam at the shin and instep, but they lack the protection needed when sparring heavily with opponents. So instead of ploughing on with minimum protection, I decided to look online for a pair of full shin guards and found the T1 shin guards at RDX that seemed to fit the bill. Having never bought from RDX before but hearing good things about the quality, I thought I'd give them a try. Especially as they were slightly discounted too (you know we love a bargain here at Shop4 Martial Arts!).
In this review, I'll be voicing my opinion on the RDX T1 Shin Instep Guards, having had over 2 years experience using them.
RDX T1 Shin Instep Guards
Design
Nobody wants to look like a dog's dinner on the mat so style and aesthetics is usually one of the things that I consider when searching for shin guards online, alongside the price and material. These black shin guards instantly caught my attention thanks to the red and white RDX print detail running vertically down the shin. White and Red 'T-1' print is also visible on the instep whilst the shin guards are lined with shimmering silver RDX logo print on black, moisture-wicking QD-1™ fabric. The shin guards themselves, though originally advertised as leather, are synthetic, made from lightweight nylon and plastic, but feel smooth to the touch. Despite their faux leather structure, they seem to be able to withstand punishment and have so far stood the test of time with my two years of bi-weekly usage.
The RDX T1 shin guards are pretty secure when fastened thanks to two broad straps: one positioned higher up the calf and one lower down. These thick velcro straps are pretty durable and thread through a Quick-EZ™ plastic buckle fastening on one side to then velcro fasten onto themselves. This allows for an adjustable fit for all different sized calves. The instep is fitted with two elasticated straps, one thin and one thick, to fit around the ankle area and the sole of the foot. Whilst most of the straps are plain black, the top calf strap is decorated with an embossed rubber applique.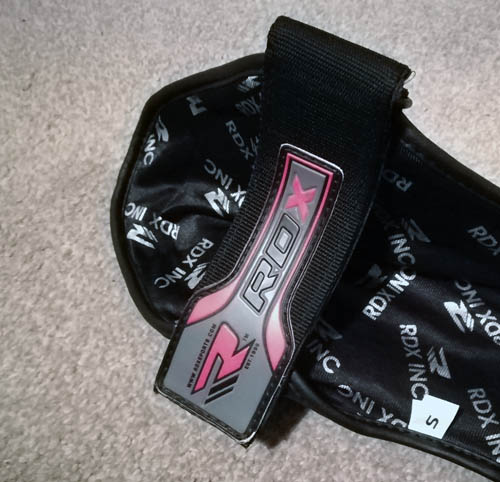 Shin Guards are there to protect your shins and these RDX T1 Leather Shin Guards certainly come equipped with Supremo-Shock Foam™ padding and Shell Shock GEL™ wrapped around the shin and instep but predominately more down the centreline of the shin and instep where the skin is usually at its thinnest at the shin bone. Anyone who's smacked their shin bone in class or outside will know how much this area will hurt if not properly protected.
I opted for size Small due to my short legs and 5'2″ stature although my feet measure 42 EU (8 UK). The Size Small shin guard is 15 inches in length with 13 inches of that padded down the centre and sides. The wrap around section of the shin is 8 inches at it's thinnest whilst 10 inches at its broadest at the top of the shin guard before it cuts a curved shaped where it meets the knee. The instep section measures 7″ by 5″ and also features broad section of padding down the centre. The padding is quite substantial but I can't quick measure it due to the shape of the shin guards – at a guess I'd say around 2cm thickness but could well be a touch more.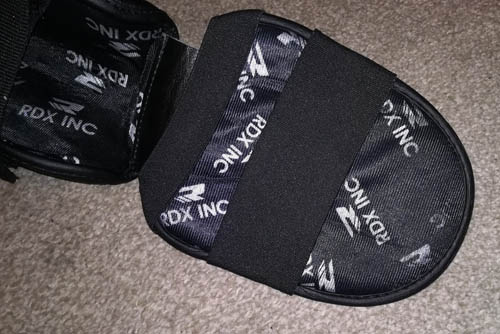 Using the RDX T1 Shin Guards
When I first tried the RDX T1 Shin Guards on, it was like wearing wellington boots. Having been used to wearing the sock style ones, these faux leather shin guards felt enormous . After throwing a few kicks and checking a few in return, the protection was certainly evident. It really felt strange, however, when we would train sport Ju-Jitsu or MMA style, where we would start stood-up, striking a la Muay Thai, but then get into a clinch and initiate a takedown which resulted in fighting on the ground. Kneeling in the RDX T1 shin guards was a strange sensation. It was like kneeling on cumbersome pillows and felt very odd for the first few classes. However, after a period of adjustment to the fit and feel of these new shin guards, I became quite adept at moving in them and no longer noticed their bulk when transitioning to control positions such as cross body and mount.
As one of the smallest and lightest in the class and facing men more often than women, protection when sparring is paramount. Wearing the RDX Shin Guards, I felt comfortable sparring with the 16 stone men in the dojo where previously I hadn't been as confident in the protection that my old slip on foam shin guards had provided. With the RDX shin guards covering more surface area of my legs with much thicker protection at the points I needed it most, I could easily throw leg kicks without fearing the stinging sensation of having them checked. The protection these shin guards give are more than adequate and even when I land kicks or check those of others, I hardly feel a jot, saving myself a lot of bruises and throbbing legs in the long run. The instep part of the shin guards also covers the toes exceptionally well to protect these delicate joints during sparring.
Overall Opinion

Having now used full shin guards, I am a complete convert and don't think I could ever wear the sock ones for sparring again. Whilst the softer sock ones may be more comfortable for ground fighting due to the tighter fit and reduced padding, they simply do not compare to the levels of protection that leather style shin guards provide – something which is a must when training combat that involves striking with leg kicks.
The RDX T1 Shin Guards may be a fraction of the price of the true leather, Thai-made shin guards but the quality and level of protection that they have is outstanding. Without a pair of leather ones to compare, I can't offer any input on the differences other than suspected durability (if this changes, I will update the review) but, as it stands, these RDX T1 Shin Guards provide enough protection to absorb the blows inflicted upon your opponent as well as the impact of any oncoming kicks you successfully check and defend. The four velcro straps also help to keep the shin guards in place which is an absolute necessity when sparring.
Their lightweight construction, required impact absorption and slick aesthetics makes the RDX T1 Shin Instep Guards a recommended buy for any martial artist looking for full shin guards on a budget. If you're training Muay Thai or other striking sports regularly then a more durable leather alternative may be more suited to your needs. For my usage, I found them to be perfect for my training needs.
Rating: