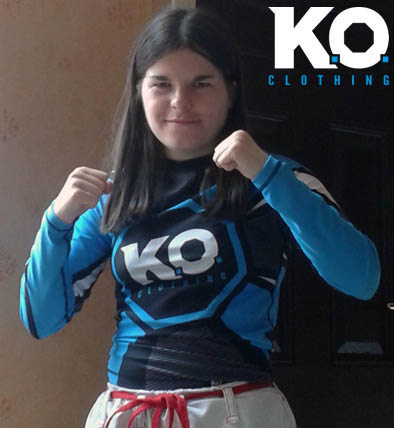 As much fun as it is training in the gi, there are many grappling techniques that would simply not work if we were outside and our opponent was not wearing a jacket of some description. It's for this reason that we train no-gi grappling at weekends so we can get used to fighting without having that fabric to grip onto. So what do we wear instead of a gi jacket? We wear a rashguard, of course, and in this review, I'll be taking a look at Knockout Clothing's K.O. Classic Rashguard.
Knockout Clothing are a British brand that are dedicated to bringing stylish fashion to fitness and combat enthusiasts. As well as providing some brilliant lifestyle wear for down the gym or for wearing day-to-day, Knockout Clothing also produce MMA/BJJ rashguards, spats, boxing vests, boxing shorts and boxing gloves.
Design of the K.O. Classic Rashguard
The K.O. Classic Rashguard is a long sleeved, stretchy top in sky blue and black and includes panels of grey/black stripes and small sections of white. The central design is a black octagon with the brand name K.O. Clothing in chunky white font and smaller sky blue capitals underneath. The coloured design continues on the reverse of the rashguard, which features a giant striped fist in the black octagon with Knockout Clothing text amidst the grey and black stripes on the lower left corner. The raglan sleeved rash guard has secure black stitching at the hem, sleeve cuffs, sides and neck, the latter of which is trimmed in black.
K.O. Clothing have opted to print their washing instructions on the inside of the neck, rather than affix a label, which is something I always find works better in the long run for rashguards, especially for comfort, as there's nothing to irritate the skin or tickle the back of your neck. The hem of the rashguard features a small black label that overlaps onto the inside hem, advertising the brand's website. Whilst this is a nice feature and works well for t-shirts and the like, I can see it getting in the way or possibly caught, particularly if a tip of a finger catches it when grappling. So far, it hasn't become an issue as I've mostly been training with the rashguard tucked into my lower garments. However, if it did, a simple cut at the bottom would allow the label to remain in place but instead of looped, it would be two separate flaps which would prevent anything from being caught.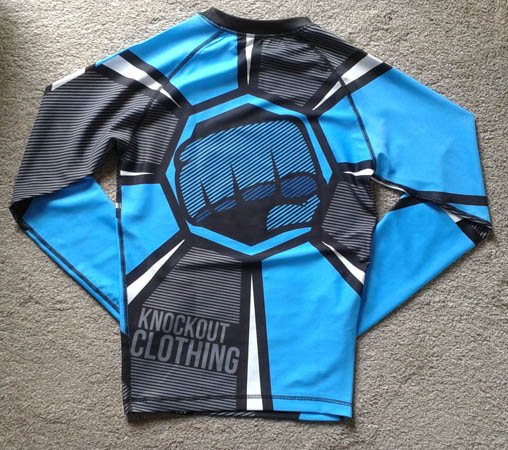 Fit of the K.O. Classic Rashguard
Though the rashguard I was sent is a size Small, which is my usual size of unisex rashguard (if they don't have XS), it is quite smaller than most other fightwear manufacturer's version of Small. For a petite female at 5'2″, this is great thing because not only is it a good length for me on the sleeves but it also fits nicely on the body. Whilst it's not skin tight on me (I didn't expect it to be, being a unisex fit), it's fitted but slightly loose without looking ridiculous or oversized. The only place where the proportions seem a little generous compared to the rest of the rashguard are the biceps/triceps area. The Small rash guard would benefit from someone with bigger guns than I to fill out the upper sleeves and with the fabric being quite stretchy anyhow, this wouldn't be a problem to accomodate extra muscle in other areas for those looking for a tight, second-skin fit.
Made from 80% polyester and 20% spandex, the rashguard is rather stretchy in the body and arms to slide over your curves and muscles, although the hem stitching limits the stretch of the hem somewhat compared to other rashguards without hem stitching.
Below are the measurements of the K.O. Classic Rashguard in size Small
| Size Small | Measurement |
| --- | --- |
| Chest | 16.5 inches |
| Length from nape of neck (back of top) | 23.5 inches |
| Sleeve Length (shoulder to cuff) | 26.5 inches |
The washing instructions on the inside of the neck advise to hand wash the rashguard only. This is the first time I've come across a rashguard advising this method of cleaning the garment, so I threw it into the washing machine regardless at 30 degrees like my other rashguards to see how it'd hold up. As I thought, it washed incredibly well with no ill effect and has done so since. With a sublimated design, there's nothing that can peel off except maybe the washing instructions themselves which seem to be printed onto the inside of the neck in a vinyl type application. Vinyl has a tendancy to crack and peel over time, particularly when its affixed to a stretchy fabric as used for the rashguard, so it won't suprise me if that happens to the washing instructions (though they are firmly affixed at present), but hey, it saves the laborious task of handwashing. Hang it on the maiden to dry and voila, it's ready to train in!
Training in the K.O Classic Rashguard
Summer is not good for gis at all. So when the opportunity presented itself to shed the gi in favour of no-go attire, I decided to test the K.O. Classic Rashguard for the first time. Rolling around, drilling armbars and ankle locks and executing the truck and twister on my training partner, the K.O. rashguard was both comfortable and soft against the skin. Though it was a hot day and the rashguard is long sleeved, the rashguard kept my body cool whilst training and wicked the sweat away from my upper body. The rashguard worked well to not only keep my sweat off others but also keeping their sweat off my skin too. The last thing I want is other people's sweat rubbing and dripping onto me. The long sleeves protect me from contracting any bacteria from others or the mat, although the mat is cleaned daily and we've never had any infections, not even like staph or the like, contracted at our gym.
As the rashguard does not feature a rubber grip trim on the inside of the hem, it does ride up your body when you move if the hem is resting directly against your skin. However, if you wear it so the hem is overlapping other clothing, such as MMA shorts, underwear or spats, the tighter hem of the rashguard clings to that to give it a bit of grip which stops the rashguard from riding up. I've worn the rashguard whilst grappling, both over MMA shorts and over underwear whilst tucked into my gi bottoms, and found no issues whilst rolling. It's comfy, doesn't roll up and you can continue to train without having to worry about it at all, whether you're rolling or doing a spot of MMA training such as striking, takedowns and sprawling.
Every time I've worn this rashguard since, it's continued to keep me comfortable and when I'm wearing a rashguard that I don't need to keep pulling at or altering, then I can concentrate on my technique. This is paramount when drilling and sparring in preparation for competitions and I fully intend to compete in no-gi more often after securing Bronze in my first and only no-gi competition earlier this year. When competing, an effective and well-fitting rashguard, such as this, is what I need to help me perform to the best of my ability.
During the colder days and Winter months, I can see that this rashguard will come into its own. Whilst it already serves its purpose, the rashguard helps to keep the muscles warm between training so you don't seize up when listening to instruction. During colder weather, this is really important as it's so easy for your body to begin to cool. Having recently taken up Combat Submission Wrestling classes in addition to Ju-Jitsu, I look forward to testing it out later in the year and posting an update to this review, as surprisingly our weather in the UK has been rather hot in recent weeks.
Overall Opinion
I really love the simple yet stylish design of the K.O. Classic Rashguard. The tone of blue is quite striking, especially coupled with black, and the octagon detail and fist design on the back give it the extra punch to set it off. The rashguard is very eye-catching and the use of the blue, black and white colours represents the brand very well. The smaller fit of the rashguard is fantastic for petite built females and males who often struggle with standard Small sizes, even if it's not as skin tight on myself as they're meant to be. Whilst the rashguard could benefit from a grippy inner hem trim to prevent the top from rolling up, there doesn't seem any ill effect if worn over a lower garment for the rashguard to cling too.
The K.O. Classic Rashguard is very well made and feels substantial which is important when buying training clothing. It's not thin or flimsy. It feels like a high quality rashguard that will last and withstand training sessions in years to come. Though it may be missing the little extra features, the quality certainly matches the bigger branded martial arts rashguards on the market.
K.O. Classic Rashguard is available from www.knockoutclothing.com and is priced at £25.
Rating: