In December, grappling guru and former Shooto champion and MMA fighter Erik Paulson will be holding a seminar at MC Kali Group in Wigan, a gym which is run by the very talented CSW instructor Mel Corrigan who's grappling students often medal at grappling events such as Grapple Nation. Being a level 3 CSW coach under Erik Paulson, Mel annually hosts seminars with Erik which is great for us Northerners as it's quite often the only North-West England seminar on Erik's UK tour.
Often running around 3.5-4 hours, Sensei Erik Paulson usually warms the class up with some solo and partner drills before getting into the heart of the techniques. Anyone who has an interest in or trains in Combat Submission Wrestling (CSW) will know there's a hundred-and-one ways to do things and if one way fails there's always something else to try instead. Erik's way of teaching techniques in a chain or flow which link together but also have alternative routes should any fail is one of the many reasons I love CSW. When Erik is teaching the techniques, they're often easy to copy and memorise thanks to having a common theme such as working from the knees or attacking the back. Some seminars I've been to involving other martial arts instructors contained such a wide range of technique with little in common that it was hard to remember what we'd just been learning. Not with Erik though.
During Erik's 2016 seminar, we were taught 10 techniques to initiate grappling from the knees which involved adapting stand-up takedowns and throws to the knees as well as techniques incorporating panantukan wrist and elbow control to manipulate our opponent. We learnt how to get out of a sticky situation should an opponent sprawl and gain the top position and what to do if our opponent decides to turtle up on all fours.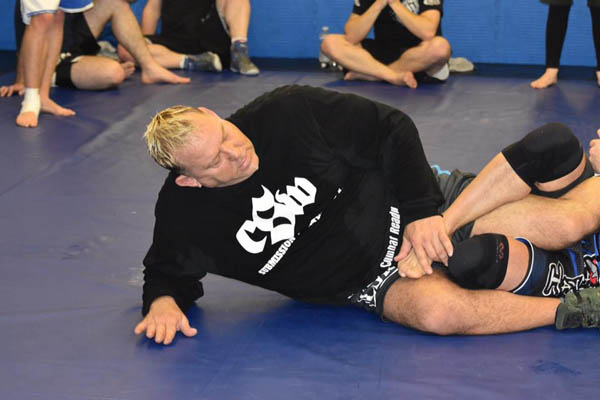 Having drilled these techniques with our partner repeatedly and discussed which ones we liked the best, we moved on to passing guard and explored 8 different ways to get past our opponent's legs. We performed some of the basic passes that are shown in CSW Level 1 as well as exporing some others that our opponents might not necessarily expect or see coming. One of my favourites involved coercing an opponents legs into a specific position before sliding into mount.
At the seminar in 2014, Erik taught some neat submission drills involving d'arce chokes, chicken wings and V-arm locks – all nasty, all of which worked a treat and many of which I've taken onboard in my grappling game since and have executed numerous times when rolling. Having that balance between position, defence, counter and submission is important for your overall game. As they say: position before submission.
During the seminar, Sensei Erik often discusses his experience in fighting, teaching, training fighters and working with other martial artists. His tales have everyone gripped as he imparts his knowledge and entertains with stories from his illustrious career as a martial artist, fighter and coach.
Watching Erik on the screen, such as on YouTube or his instructional DVDs, is impressive and his ability is just as mindblowing in real life. Watching Erik perform a staight leg lock on one of Mel's students with such lightning speed and accuracy was definitely one of those jaw-dropping moments which really makes you want to push yourself even more to be able to achieve such skill. Training with Mel is just as inspiring as he too possesses the outstanding skill, speed and accuracy that any martial artist can aspire to attain.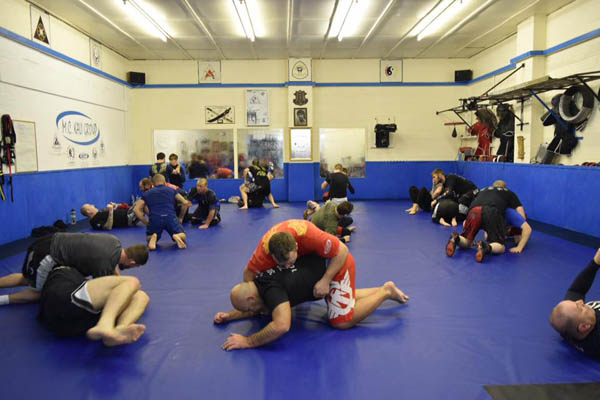 Unlike some seminars which take place in a sports hall with hundreds of people, Erik's seminars at MC Kali Group are quite an intimate affair with 20 or so students in the class (limited places so spaces book up fast!). This means you can clearly see and hear about the techniques being shown with Erik subsequently walking around the dojo observing and giving pointers on technique. This insight is invaluable and to actually have someone you aspire to personally giving you advice is wonderful – something you never get at huge seminars.
One of the main things about the value of a seminar is being able to walk away and say you've learnt something. Each time I've been to one of Erik's seminars, I come away with a selection of new tools, tricks and techniques to try out and incorporate into my grappling game. Sometimes they're completely fresh techniques and other times it may be a technique I've studied in the past but need to dust off and get reacquainted with. Erik's knowledge knows no bounds and being able to enjoy a piece of that in the form of seminars is invaluable. Of course, it's no good walking away from a seminar and never practicing the techniques gained – what's the point of that? Continuing my CSW studies under the fine tutelage of Mel Corrigan means I have the support and knowledge to help guide me into becoming a better grappler. It's thanks to certified instructors like Mel that not only can we train with the originator of the system, but we can receive expert tuition all year round to help us develop, learn new techniques and help solve any issues we may have.
To find out when the next Erik Paulson UK seminar is being held in Wigan, make sure to visit MCKali.com.
Save
Save