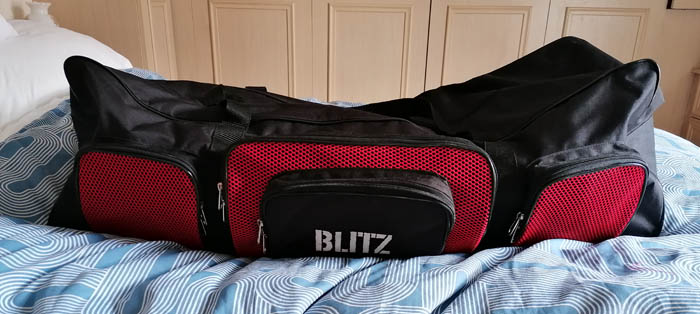 Usually when I'm training at my nearby club, I throw a pair of sparring gloves, shin guards, rashguard and shorts into my rucksack and it usually does the trick for my short commute to the gym. However, when I go on organised trips and martial arts competitions, I need to have everything in my bag including my incredibly bulky gi – sometimes two – along with all my sparring equipment, towel, weapons (if needed) and a change of clothes. Unfortunately, my rucksack ain't a tardis and no matter how I fill it with visions of it looking like a soldiers backpack, I can't get much more than a couple of gloves and shinnies in it. For these types of gym and competition trips, I need something a bit bigger that I'll be able to store everything I need and with a bit of room to spare: a gym holdall.
Perfect for storing more items on the go, gym holdalls are available everywhere nowadays but they never seem to be big enough or durable enough to be able to endure the weight and bulk of what needs to be carried on my martial arts adventures. Can the Blitz Sport Pro Coach Super Bag live up to its name and be just the super bag I need? I decided to put it to the test in this review.
Blitz Sport Pro Coach Super Bag
Design
Measuring 35.5 inches (90cm) in length by 12 inches (31cm) in width with a depth of 12 inches (30cm), the Blitz Sport Pro Coach Super Bag is definitely super in size with a double zip opening the entire length of the holdall with four zip compartments on one side of the bag. These compartments are double zipped with red mesh effect exterior though are constructed the same as the rest of the holdall – i.e. the red mesh effect is an aesthetic design purpose only. The two smaller pockets measure 6.5″ x 7.5″ whilst the middle compartment on the exterior of the bag is larger than the other two at 13″ x 9″ and also has another compartment attached to its exterior (9″ x 7.5″) to store even more stuff should there not be sufficient room.
Inside the bag lies a wooden board (I assume it's wood or at least something reinforced) layer that sits in the bottom of the holdall. This gives the bag it's shape and helps to keep it whilst you load and transport items in the holdall. It's brilliant to prevent anything straining the bottom of the bag but it can be removed if preferred and I do so when storing so I can fold the rest of the bag up easily when not in use.
The whole of the inside of the bag is lined in a wax-feel material that handles any wet training gear nicely so if you've got some rashguards and shorts dripping with sweat or your drinks bottle accidentally leaks, it's not too much of a biggie and can be easily mopped up rather than soaking into the woven fabric of the bag. The pockets on the exterior of the bag are also lined in this waxy-feel material. I tested how the lining reacts to water by splashing a bit about inside the holdall and the water either grouped up into a mini puddle or stayed as droplets, much like it does on wax jackets, allowing me to easily wipe it dry. The lining stretches all the way to hems and is stitched in such a fashion that it appears to prevent leakages or soaking almost, if not, completely.
On the underside, the bag has five little feet that the holdall can sit on so it doesn't touch the grubby floor. After all, we've all been in changing rooms and the like where hygiene isn't the best so this is a nice touch to see.
To carry the bag, the Blitz Sport holdall has a pair of straps that allows you to easily carry the bag by hand.
How much can I store in the Blitz Pro Coach Super Bag?
Going to a few Ju-Jitsu seminars, BJJ grappling competitions, open mats and cross training sessions, I sometimes need a variety of gear at hand and that usually requires a decent sized holdall.
Below is a look at what I have taken with me to an open mat training session afternoon: gi and belt, boxing gloves, boxing boots, MMA gloves, focus pads, kick paddle, thai shorts, gum shield, a few of weapons to train with (nunchaku, rubber knife and tonfa), water bottle, foam roller for when my back goes and a towel to mop up the sweat.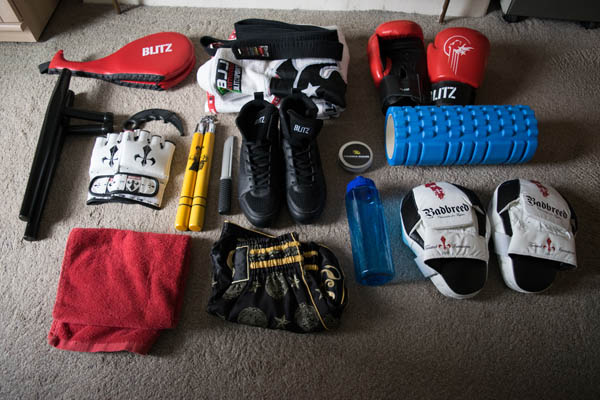 There's not a cat in hell's chance that all this would fit in my rucksack plus I know I'd have to add a fresh t-shirt and a few toiletries to go with this too.
However, fitting all this into the Blitz Sport Pro Coach Super Bag proved not to be an issue. I managed to fit all my training gear shown above, spare clothes and a pair of shin guards into the bag with room to spare. I also utilised the front pouches for my inhaler, gum shield, money, phone and again, had extra room for anything else I wanted to take with me, such as a protein bar.
Overall Thoughts
Having used the Blitz Sport Pro Coach Super Bag multiple times over the last few months for carrying my training gear, I can safely say it's up to the job where carrying a large amount of equipment and clothing is a necessity. It's robust, durable and, most importantly, it caters for all the equipment I need. For those who train in kali who are looking for a holdall to store all their gear and is big enough to hold their escrima sticks, then this bag does the job. For someone who's a team coach, this bag would happily store a few pairs of gloves, shin guards and focus mitts for competition or fight training.
Carrying the holdall to and from the gym is a doddle thanks to the carry straps however it doesn't feature a solo shoulder strap which I definitely think it would have benefitted from especially if carrying long distances where the arms might get tired quickly.
Overall, this bag has impressed me as a martial arts training bag with its attention to detail and useful features such as the waxy-esque lining, multiple pockets and removable board base. I've had holdalls in the past that have ripped on me due to the weight and bulk of the items stored inside it but this holdall from Blitz Sport seems made for the task at hand.
Rating:
Blitz Sport Pro Coach Super Bag is available at Blitz Sport