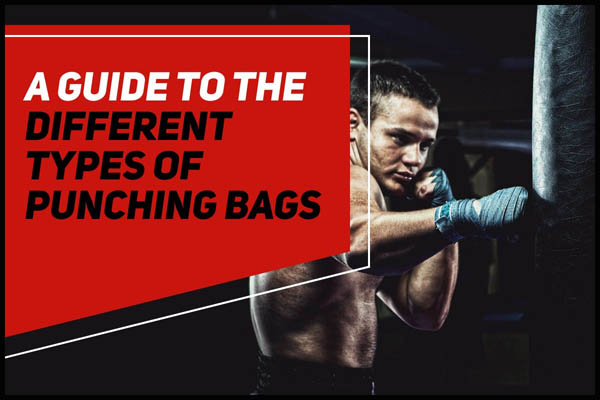 If you're buying a punching bag for your home or you're opening a gym and want to have a selection of different heavy bags on offer, then it's good to have an idea on what bags will be right for your needs.
Though you may not have initially realised it, there's more than a dozen different types of punching bags on the market, some of which are tailored to a specific style or technique.
In this guide, we'll take a look at the different types of punching bags available to help you decide what bag is right for you.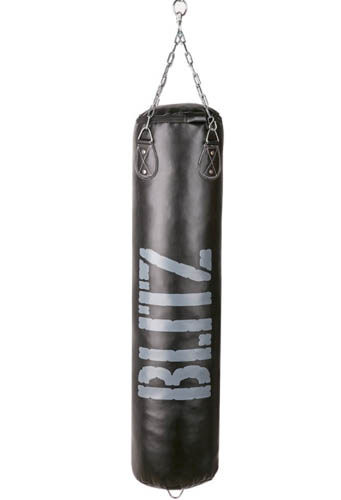 Traditional, Standard Punching Bags
The most common type of punch bags in gyms and homes across the globe, standard punch bags are consistent in diameter and are usually available in 3ft, 4ft and 5ft lengths. They're known as the all-rounder heavy bag due to them being suitable for different disciplines. Whether you're looking to practice your boxing, elbows, knees or kick combinations, these standard punch bags are more than up to the task.
Sometimes you'll find the traditional heavy bags feature a D ring on the bottom of the bag. This is so that they can be tethered to the floor or weighted down which can help prevent excess movement when using the bag.

Banana Heavy Bags
The Banana Punch Bags look like your standard type of punch bags but they're that bit longer in length, usually 6ft. Whilst they're meant to be free-swinging like the standard bags, some gym owners like to have them dragging on the floor slightly. When positioned in this way, the extra length and weight prevents them from moving and swinging in the way that they would if hung higher. Some people prefer this lack of movement when practising their more powerful strikes whilst others like their Banana Heavy Bags hung up higher to free-swing, just as an opponent would move.
These Banana heavy bags are ideal for training those chopping low kicks and cutting power roundhouse kicks.
Like the standard punch bags, banana bags can also have a loop on the bottom of the bag which allows you to tether them to the floor to further restrict swing when being used.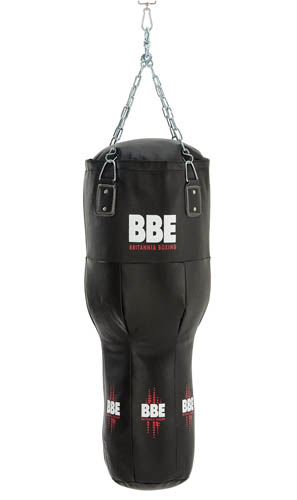 Uppercut Bags or Angle Punch Bags
Shaped like a bell held upright, the Uppercut Bags are used for precisely that – uppercuts. As an uppercut is meant to target the chin which juts away from the body, it's very hard to throw uppercuts on a standard punch bag that is the same width throughout or has a narrow top. With the angle bag featuring a belled top before filtering into a narrow lower, it provides the boxer with the 'chin' to aim for.
Simulating angles better than the standard straight punch bags, the uppercut bag is great for working the clinch and practising head positioning and elbows and knees from the clinch as well. These type of punch bags are also long enough to practice your kicks and other standard moves. Think of it as a punch bag with added capabilities in which to practice on.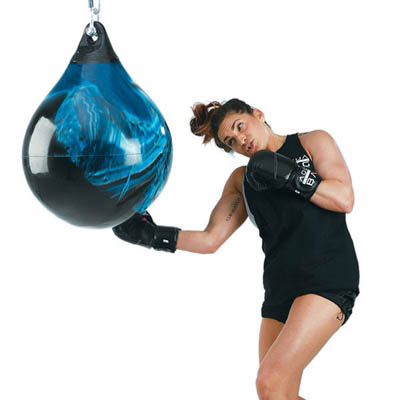 Aqua Bags
A fairly recent addition to the market, Aqua Bags are water-filled punch bags shaped similar to a maize bag. Used for punching, the Aqua Bags eradicate the hard spots you may encounter with sand filled bags or the sagging with cloth-filled punch bags, and can be filled to a desired hardness. By using less water in the bag, you can make the Aqua Bag softer to punch. The official Aqua Bags are constructed to take the punishment dished out to them but cheaper alternatives might have you grabbing for your mop and bucket if you're not careful so always buy the real deal from a reputable stockist.
Lots of boxers and fighters rate these bags and say they're good for practising power punches at 100%. Aqua Bag company stock a sensor which can be attached to some models of their bags so you can even measure your punches using their mobile app punch tracker. Handy!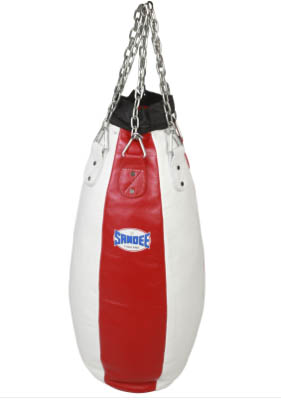 Teardrop Punch Bags
Teardrop bags are punch bags shaped like a raindrop or teardrop, with the belled end at the bottom, similar to an Angle bag but upside down.
Teardrop bags are most suited to close quarter strikes like elbows, hooks, uppercut and knees. By adjusting the chains on the bag so it sits at different heights allows you to use the Teardrop punch bag in different ways. Boxers will prefer it sitting higher whilst Thai boxers will prefer it lower so they can utilise their knees and other techniques.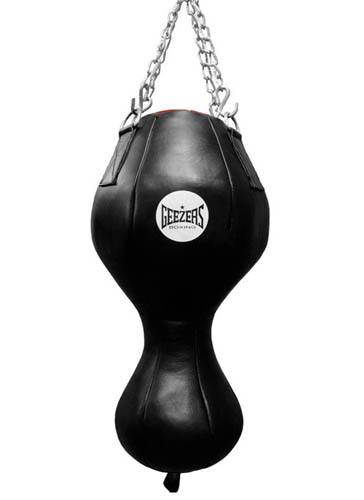 3 in 1 Punch Bags
Suitable for all angles and shots, the 3 in 1 bags are shaped a bit like an hourglass, except the lower belled section is narrower than the top belled section. This allows you to practice uppercuts similar to the Angle Bag. This versatile bag is the perfect shape to practice your full skill set of techniques as it provides the various angles to help you target and hone your boxing skills. You can think of a 3-in-1 bag as a punch bag, Floor to Ceiling and Maize Bag combined.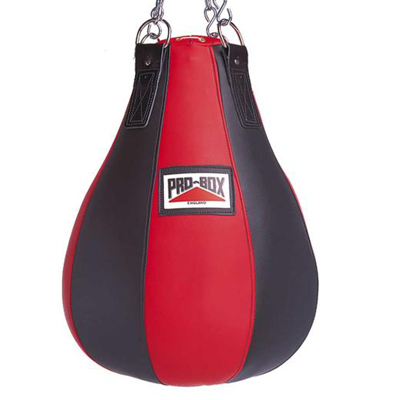 Maize Punch Bag / Maize Ball
Used primarily for defence techniques, Maize Balls are suitable for practising bobbing and weaving, thanks to the height in which the bags are usually positioned.
Maize Heavy Bags come in a variety of shapes though they're all on the short scale and are mostly shaped like a pear or a compressed ball with either a flat or rounded bottom.
These tough Maize heavy bags are hardy and can take a wallop, with the shape suited to receiving jabs, hooks and especially uppercuts.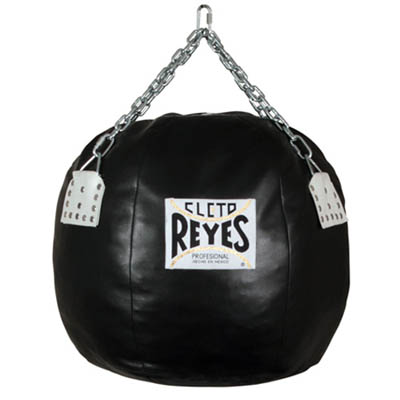 Wrecking Ball Punch Bags
Shaped almost like a perfect circle and a relative of the maize bags, wrecking ball bags are most suited to uppercut and hook punches. Swinging on the chains it's held up by, the Wrecking Ball punch bag is useful to simulate an opponent's head and so you can utilise the different punch and elbow techniques to master your movement and strikes.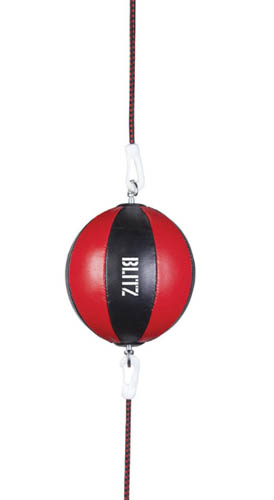 Floor To Ceiling Balls
Unlike most of the other types of punch bags which are suited to practising your power punches and kicks, Floor To Ceiling Punch Bags are tailored to improving your speed, agility and accuracy. Also known as Double End Bags, these bags are tether from the floor and to the ceiling, hence the name.
The shape of Floor To Ceiling Balls can vary – they can be round, teardrop shape or even shaped like a monkey peanut.
Reflexes, timing and skill is everything when using the Double End Bags as you use footwork and head movement, in addition to punching. Unlike most other punch bags, the Floor To Ceiling Bags 'punch back' or at least rebound back at you after being struck. This helps to simulate an opponent punching you back, forcing you to cover or move out of the way.
A fast paced punch bag, Floor To Ceiling Balls are an absolute must for any boxing gym.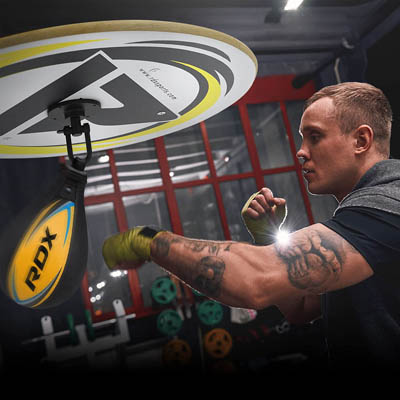 Speed Ball
Attached to a wooden plinth using a swivel mount, Speed Bags are another type of bag tailored to honing one's hand-eye coordination, timing and accuracy. The speed ball contains a bladder which is inflated to the correct size in order to use the bag to maximum efficiency.
To build up the rhythm, the speed ball should hit its wooden platform three times before being struck again.
Hitting the speed ball is definitely a skill that takes patience and perseverance as you try to get into the rhythm of hitting the bag and alternating hands without missing a beat.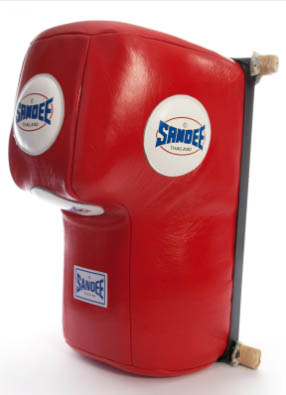 Wall Mounted Pads
Shaped like an upside down L, wall mounted pads are suitable for those with limited space or room in which to train. The angle of the mounted pad makes it suitable for practicing uppercuts as well as your standard jab, hooks and crosses.
Depending on how high you position the wall unit punch bag, you could also use the pad to throw knees too.

Body Punch Bags
Almost shaped like an hourglass, albeit with a rounded bottom half, the Body Punch Bag allows you to work various angles, be it punches, knees or upper body kicks. These bags are great for clinch work and for throwing body shots thanks to the specific contoured shape simulating that of the body.
This type of bag is suited to those who want to experiment with punching various angles, such as uppercuts and liver shots. The Body Punch Bags are similar in style to the 3-in-1 Punch Bags but are more even in diameter in the upper and lower segments.

Body Shaped Punch Bags
Shaped like the torso of a person, the Body Shaped Bag is a brilliant piece of kit for practising strikes with. Rather than having to imagine where a person's natural curves may be, the Body Shaped Bag defines them so you can work those angles more easily. The only downside is that the bag is usually held up with chains and so there can be more movement than you may like when striking this type of bag. Buy the heaviest torso bag you can to limit the movement of the bag when striking.
Freestanding frames or hanging chains from a frame from the wall?
When purchasing a punch bag, you usually end up hanging the bag using swivel mounted chains attached to a bracket, fitted protruding from the wall. However, if that's not an option, there are freestanding frames available on the market that provide the same functionality as a bracket.
Some freestanding frames have multiple stations which means more than one bag can be hung from it at a time. These are more commonly seen at gyms to utilise space more efficiently, providing the opportunity for more people to use heavy bags at once.
Read my post on How To Fill & Hang a Punch Bag >>>>>
Types of Freestanding Punching Bags
Not all punch bags have to hang from chains from a bracket. There's a few different styles of freestanding punch bags that can provide the target you need when honing your striking skills.

Punch Man or BOB Punch Bags
Many companies make variants on the Punch Man, the most popular being Century's BOB. Made from rubber, mimicking the likeness of a man's head, neck and torso, the Punch Man brings a visual flair to striking training and he's quite the specimen too! Mounted onto a plastic base, which can often be filled with water, sand or stone, the Punch Man provides a certain satisfaction when punching him in the mush or reaching for those high kicks.
Like other punch bags that are freestanding and rely on a base to stay upright, the Punch Man is limited in how much power it can take before toppling over. That's not to say it's a pushover but, whatever you decide to fill it with, the heavier the filling the better to prevent it from toppling. Just be mindful though, should it fall and you need to stand it back up or move it, the filled base can make it a struggle.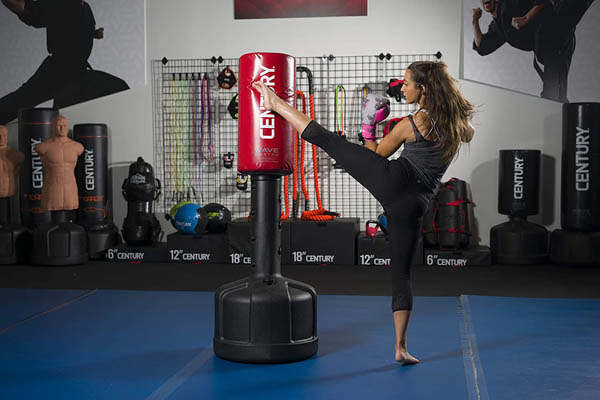 Freestanding Heavy Bags
Most commonly used at home but also spotted in some martial arts gyms, freestanding heavy bags feature a high-density foam bag in which you can punch and kick to your heart's content.
Like the BOB, freestanding punch bags tend to have a hollow base that you fill with sand or water to weigh it down and prevent it from toppling during use. Of course, they can only take so much power before moving or tipping so aren't the best punch bag if you're wanting to practice power punches or kicks.
One of the most popular freestanding heavy bags is the Century Wavemaster. The freestanding nature of the bags allows them to be moved around to a suitable location rather than being restricted by where chains can be hung like traditional punch bags. This makes them suitable for garden use or even at demonstrations.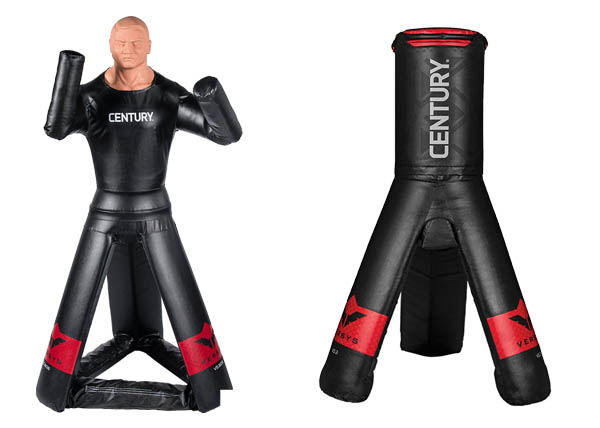 Versys Tripod Striking Bags
The Versys range by fight equipment brand Century is a little different to your average punch bag. It's not designed to take the punching power of a boxer but is perfect for MMA and Muay Thai fighters who are looking to practice leg kicks as well as their arsenal of other strikes. It's even perfect for wrestling and throws!
Weighing in at 100lbs, it's heavy enough to stay upright to a degree but this is definitely one for more fluid training of technique rather than for power unless you're in the mood to pick it up afterwards. The VS.2, VS.3 and BOB range of Versys feature three legs like a tripod in order to keep it standing as you unleash your fury on it.
In the video below, watch Taekwondo black belt and action star, Scott Adkins, showcasing his skills on the Versys. As you can see, a bit too much force will send the Versys on its backside but it provides ample opportunity to test out a range of strikes including groin kicks, spinning kicks, side kicks and punches.

Sparbar
Another relative newcomer on the scene, the Spar Bar is most suited to practising combinations, head movement, bobbing and weaving and footwork, as well as speed, accuracy and improving hand-eye co-ordination. An arm is fixed to a freestanding post that can rotate around the pole. The aim is to punch the arm to force it to swing around the post back around to you, in which you can either duck to avoid being hit, cover, lean out of reach or punch it again to send it in the other direction. This handy piece of kit will certainly improve your cardio and technical ability whilst improving your speed and timing which is needed to master the Sparbar.
Other Striking Pads
In martial arts clubs up and down the country, there's more than just punch bags being used to sharpen striking skills.
Below are a few examples of other pieces of equipment used to practice punches and striking technique.
Makiwara
Though it might not be a heavy bag, Makiwara is used in Okinawan martial arts as a way of training strikes and hardening your fists. Traditionally made using rope wrapped around a post, modern makiwara tend to use leather or canvas-wrapped pad on the end instead.
With such a small target to aim for, the makiwara aims to improve accuracy when practising bare-knuckle strikes, kicks and elbows.