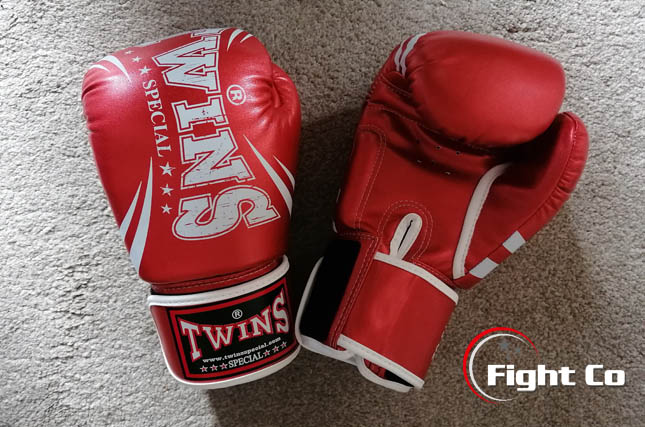 As time goes by, more and more people are becoming aware of the environment. Vegetarianism and veganism is growing as people opt to avoid eating meat and wearing animal hides. This can also extend to the martial arts and sports we love, such as boxing. Whilst many boxing gloves out there are made from leather, there's a growing number of brands bringing out non-leather alternatives.
In the past, these types of gloves were notoriously low quality but as technology and materials have developed, so has the quality to become a durable alternative to leather. That's good news for the animal lovers out there! Not only that, these leather substitutes are cheaper to purchase too, which means gloves can be more affordable for those on a budget.
Muay Thai brand Twins Special are just one of the brands that have a man-made range of boxing gloves and, in this review, I'll be giving my thoughts on the Metallic Red 10oz Twins Special Synthetic Leather Boxing Gloves.
Twins Special Synthetic Leather Boxing Gloves
Twins Special is a name that a lot of Thai boxers will be familiar with. It's a brand known for producing quality boxing gloves, thai pads, shorts and equipment, all made in Thailand, the home of the sport/martial art. Though they're a brand I'm acutely aware of and seen before, I've never experienced their products myself so when I got my hands on these boxing gloves, I couldn't wait to see if the brand lived up to the hype. Not only that, but could synthetic leather impress and be a competitive enough alternative to leather?
For the last few months, I've been putting the Twins Special FBGVS3-TW6 Synthetic Leather Boxing Gloves to the test, to get familiar with them and see just how well they perform…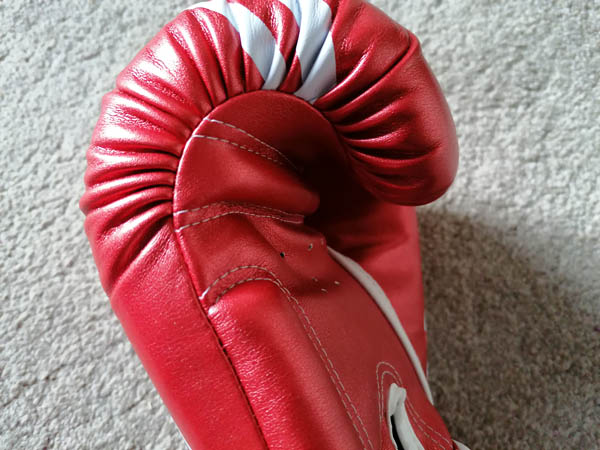 Appearance and Features
I'm normally used to wearing boxing gloves that are plain in appearance, either in a solid matt colour or some kind of print (like the camouflage boxing gloves I've previously reviewed). Some of the gloves have a gloss effect that makes the colour stand out more but none are like these red Twins Special Synthetic Leather Boxing Gloves which have a metallic sheen to them. When light hits the gloves, it's almost as though they sparkle. Even a couple of my pals down the gym have complimented the appearance of the gloves and I have to admit they're rather eye-catching – perfect for those who take pride in the aesthetics of the gloves they wear.
The red variant of the Twin Special gloves is quite striking, and this is only emphasised with the use of the contrasting white for the design of the gloves. White 'Twins Special' collegiate-style text print adorns the back of the gloves, travelling from the back of the hand to almost the fingers where the glove curls. A white trim is used for the cuff of the glove, wrist slit, velcro strap and the of the join between the thumb section to the rest of the glove – a subtle, yet effective decoration. There's also a 'Twins Special', rectangular, black, red and white printed badge logo on the wrist strap, featuring six red and white stars and the brand's website., with the weight of the gloves, 10 oz, printed in white alongside it. With white stripes emanating and tapering off from the edge of the gloves, two on either side, it gives a sporty, 'go faster' feel to the boxing gloves.
The Twins Special Synthetic Boxing Gloves feature a broad velcro strap measuring 3.25 inches (8.25cm) in width and just shy of 10 inches (25.4cm) in length. The gloves are constructed with supportive padding around the circumference of the wrist cuff, a padded bar at the blade of the hand, a padded grip bar at the inside roll of the finger mitt as it meets the palm, and substantial padding at the back of the hand, thumb and fingers.
To improve durability, the boxing gloves are reinforced with double stitching at major stress points including the wrist strap panel, grip bar, wrist slit and blade padding to prevent tearing during use. The gloves also have six holes at the palm to encourage air flow when the gloves are being used. This can also help the gloves to dry out quicker, as does the nylon lining of the glove.
Using The Twins Special FBGVS3-TW6 Synthetic Leather Boxing Gloves
I've used a variety of boxing gloves over the years, some of which have been synthetic, but never have I had the fortune to try out any by Twins Special. From picking them up and inspecting the workmanship to slipping on the gloves for the first time and throwing my first punch, you can tell that they're made to a high standard and quality. There's no rough edges, unfinished stitching or fraying. They look incredible with a shape that feels so natural when slipping them on.
The Twins Special Boxing Gloves are an absolutely pleasure to wear – not too tight and not too loose. Being a lady and having smaller hands, it's nice to find gloves such as these that fit well and don't feel as though my hands are rattling around inside. The finger section is snug enough without being too tight, with or without the use of handwraps. With my hands wrapped, I can easily slide my hand inside the glove, but it feels just as comfortable using them without which is how I tend to train most of the time anyway when using the gloves for only certain parts of a lesson. However, I've also spent time honing my boxing skills and Muay Thai skills during dedicated training sessions and it's been a great experience truly putting these gloves to the test to see how they perform.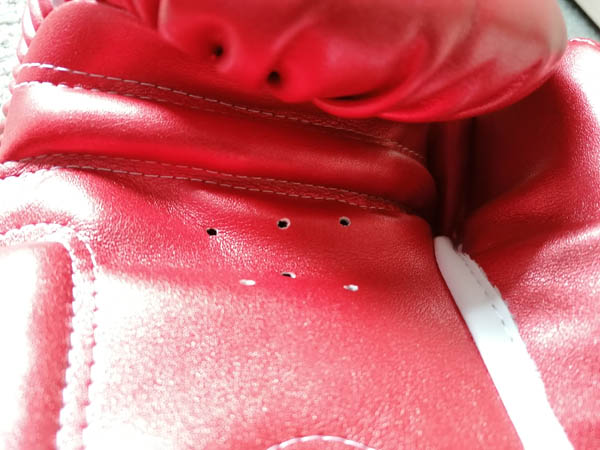 When using the 10oz boxing gloves, they felt comfortable for speed and technique on the bag and thai pads with the glove's padding providing enough protection for my hands without using handwraps. I've also been doing a bit of light sparring in them, practising jab, cross, hook, uppercut and body shot combinations whilst working on footwork, head movement and defensive technique – blocking punches, parrying jabs and covering from jab/cross combos and hooks. Practising clinch work and catching kicks was a doddle and I felt comfortable, protected and at ease when wearing the Twins Special gloves, as though they were an extension of myself which is what you want when boxing. The last thing you want is having to battle with the gloves you're wearing or feel as though they're hindering your performance. This is certainly not the case with the Twins Special Synthetic Gloves. They feel balanced and I felt I could throw my punches with ease.
When sparring in the ring, I found myself working up quite a sweat quicker than usual wearing these particular gloves. Whilst my hands weren't slipping or sliding in the gloves, I could definitely tell they were sweaty despite the perforated palm holes which are meant to improve air flow. When it came to letting the gloves dry out, they seemed to take a bit longer than other pairs I've had too. Perhaps this is down to the synthetic construction as leather is porous and breathable compared to synthetic materials. Some boxing gloves feature a mesh palm which improves breathability but these gloves only have the holes at the palm. The boxing gloves also seemed to retain a slight odour after using them so a spray or something like No Stink Glove Deodouriser would be required to ensure the gloves are kept fresh and bacteria-free.
I found the gloves easy to use fresh from the packet. An advantage they have over leather gloves is not having to break them in before they're comfortable to use. Making a fist is effortless with the thumb positioned quite close to the fingers with a broad strip of material connecting the two together. The thumb section is also easy to manipulate and the finger section of the gloves doesn't require much to open the fist more to grip.
When using the boxing gloves, I was able to tighten the wrist strap enough to ensure the gloves were secure during training. The broad wrist strap is positioned in just the right place and the gloves felt secure at all times. Even though I have dainty wrists, I found these 10 oz gloves a great fit. The shorter, padded wrist cuff is also more to my taste, having used longer ones in the past which seem to get in the way. The shorter cuff is also more suitable when I'm throwing elbows.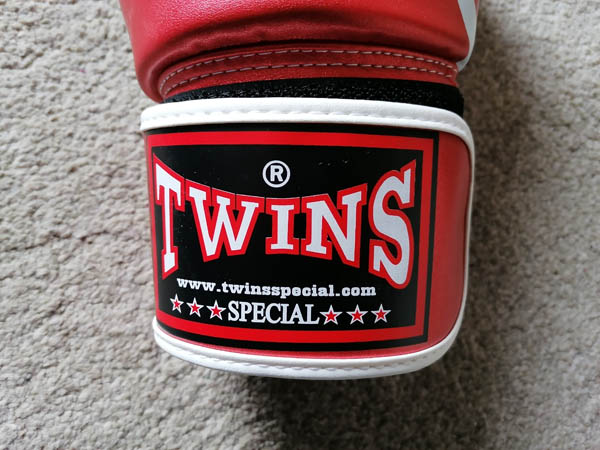 Overall Opinion
The Twins Special Synthetic Gloves are a joy to train with, especially when light sparring with training partners but they're just as much fun when using them on the bag. My only discouraging experience when using them is the fact they seem to take longer to dry out and get a bit hot and sweaty inside the glove quicker than I'd like. However, the quality of the gloves, the design and feel of them when striking and defending is phenomenal. They really are a pair of beautiful gloves and I'm not surprised that Twins Special are one of the go-to brands if this is what they're offering in their more 'budget' range. I can only imagine how good their premium leather boxing gloves are like to use.
Whilst PU gloves are never going to be able to fully rival leather boxing gloves in terms of durability, these synthetic gloves do seem to hold up under punishment and haven't shown any sign of stress yet (no rips or tears). If you're serious with your Muay Thai, boxing or martial arts and are looking for gloves that you'll be using for hours at a time, multiple times a week, then leather boxing gloves are still the premier choice. However, these synthetic leather boxing gloves are perfect for vegans and those who care deeply about animal welfare, opting for gloves that are man-made rather than made from animal hide. They're also ideal for Thai boxers who want a pair of quality Twins Special gloves at a more affordable price (these are £65+ whereas leather ones are £100+ in comparison) for training or even just for hitting pads.
Twins Special FBGVS3-TW6 Synthetic Leather Boxing Gloves are a great all-rounder pair of boxing gloves that seem up for all types of punishment, from bag work and pad work to sparring. They've really impressed me so far and I look forward to continue putting them to the test to see how durable they are over an extended period of time.
Rating:
The Twins Special Synthetic Leather Boxing Gloves are available in metallic red and other colours from FightCo.