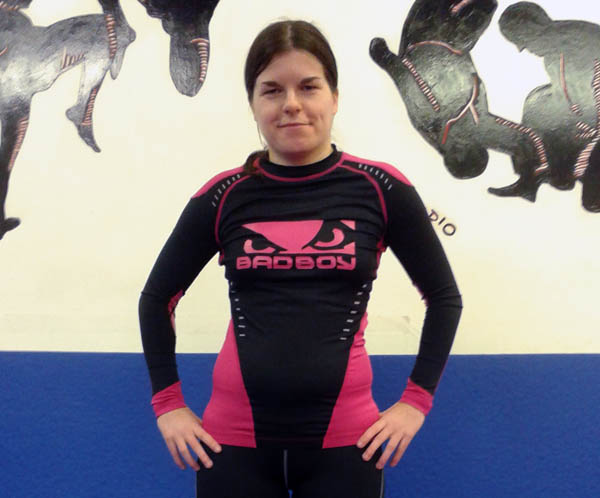 On weekends and sometimes during the week, I like to train in no-gi grappling. When you train in the gi all the time, you can sometimes forget how to grip people by their limbs instead of their gi jacket lapel or sleeves which is why specific training is important. In no-gi, most people, myself included, opt for a rashguard and shorts or spats to fight in as the gi jacket and pants are not allowed.
In this review, I'll be discussing my thoughts on one such garment suitable for no-gi grappling and MMA, the Bad Boy Ladies Long Sleeved Sphere Compression Top.
Design of Bad Boy Ladies Sphere Compression Top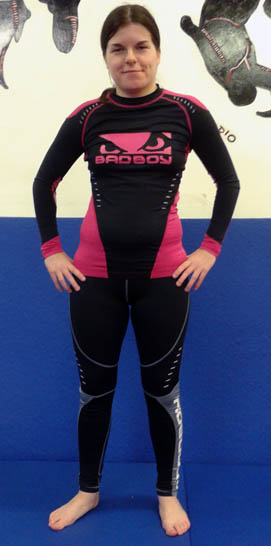 The Bad Boy Ladies Sphere Compression Top is a super stretchy and incredibly soft 90% polyester and 10% spandex garment in black with pink panels on the torso, shoulders and sleeves. The top features elasticated sleeve cuffs and reinforced flat stitching along all the panels that don't irritate the skin or aggravate when rubbed against. Along the front of the shoulders towards the start of the sleeves and on the torso are a column of seven grey reflective strips which are perfect if you decide to venture out in the darkness at night for a jog or wish to train outside. This is the first time I've seen reflective strips used on a top that's aimed at the martial arts market and I think it's a great addition.
The front of the chest is adorned by a large print of the Bad Boy eyes logo in pink vinyl whilst the back of the compression top features white Bad Boy text vinyl print across the back of the shoulders and neck. The result is a very eye-catching, bold design yet simple at the same time. The back also sports a large, black mesh panel that is half the length of the back to allow the top to breathe better and for the wearer to stay cool when training.
What has really impressed me about the Ladies Sphere Compression Top is that the inside hem of the top has a rubber trim. It's not sticky to touch as such, but what it does is stick to your skin or bottom garment to stop the rashguard from riding up when you are rolling. This is the first time I've come across this in a rashguard and I have to congratulate Bad Boy for their innovative design. Every rashguard should have this!
Size and Fit
I find it incredibly hard to find a rashguard that fits me well. Being a woman and with most of the rashguards on the market aimed at men's physiques, the smallest sizes are still too big and hang a bit loose, rather like a t-shirt. Rashguards, or compression tops as they are also known, are meant to be tight to the skin or fitted enough not to be baggy to help keep the muscles warm when training.
Bad Boy's Sphere Compression Top for ladies has answered my prayer. I chose size Small which fits ladies size 10-12, which is what I usually wear in ladies tops anyhow, and it fits brilliantly! It sits close to the skin, has the correct arm length and is overall, a wonderful fit. It's not super skin tight and has a few wrinkles that an ampler bosom would probably fill but it's tight enough to be a superb fit for me!
Those looking to find their right size in the Bad Boy Ladies Sphere Compression Top should check out the specific size chart for this garment. I've copied it below for easy referral.
| Size | UK | EU |
| --- | --- | --- |
| XSmall | 8-10 | 36-38 |
| Small | 10-12 | 38-40 |
| Medium | 12-14 | 40-42 |
| Large | 14-16 | 42-44 |
| XLarge | 16-18 | 44-46 |
Normally I'd wear a size Medium in ladies tops, as Medium is usually 10-12, but in this particularly style, and probably because it's a rashguard/compression top, the 10-12 is a size Small. So do choose the correct size for you.
Here are the measurements of the size Small Sphere Rashguard.
| Size Small | Measurement |
| --- | --- |
| Chest | 17.5 inches |
| Length from nape of neck (back of top) | 25 inches |
| Sleeve Length (shoulder to cuff) | 27.5 inches |
The washing instructions are printed on the inside of the neck, rather than on a label, something which Bad Boy has started doing of late. I think it's a great idea because labels have a habit of itching or irritating the back of the neck.
The washing instructions advise to wash cold, with no softener, to tumble dry low and not iron. I resist tumble drying any of my martial arts clothing, particularly rahsguards. Instead I always hang dry on the clothes maiden so prevent shrinkage. That always does the trick nicely.
Wearing the Bad Boy Sphere Compression Top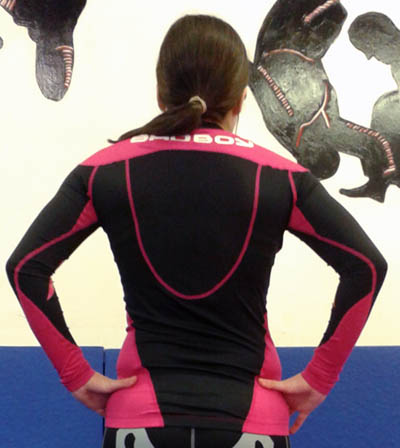 In the winter months, it's easier to get cold so occasionally I choose to wear a rashguard underneath my gi jacket for extra warmth. I have a gi jacket that itches a little (thanks to the decorative inner tape) so I always have to wear something underneath the jacket to protect myself and I find a compression top the best thing to use. The Bad Boy Sphere Compression Top is a snug fit so it doesn't get in the way nor feel bulky under my gi jacket. I sometimes get a bit of eczema too on my inner elbows and wrists, particularly during the winter season, and wearing this long sleeved rashguard prevents the rough gi top from rubbing the delicate skin.
For the majority of the time, I use the rashguard for no-gi grappling. The Bad Boy Ladies Long Sleeved Sphere Compression Top is such a comfortable rashguard. Because it fits to my body better than any of my other rashguards, it keeps my body and muscles much warmer during those inactive moments such as kneeling and listening to instruction. When actually rolling, it doesn't get in the way and neither does a draft go up my back thanks to the rubber grip at the hem. I can keep rolling without a care in the world about my rashguard and that's how it should be.
I love to get a good sweat on at Ju-Jitsu and even when I've been grappling for a couple of hours, the Sphere Compression Top wicks the sweat away so I feel cooler and don't overheat. My body throughout the training remains at a good temperature and I think the mesh panel on the back of the top does a great job of allowing the rashguard to breathe. Equally important, I don't sweat on my teammates and I don't make contact skin-on-skin with them either because of the long sleeved rashguard protection. It also helps prevent receiving abrasions from other people's garments or worse – a mat burn!
Keeping cool and comfortable is what I require from a rashguard or compression top when training. I don't want to have to be preoccupied with a garment when I should be concentrating on my technique. Fortunately, Bad Boy know this and have created an outstanding piece of technical wear that does everything you'd want from a rashguard, so much so you don't even realise you're wearing it.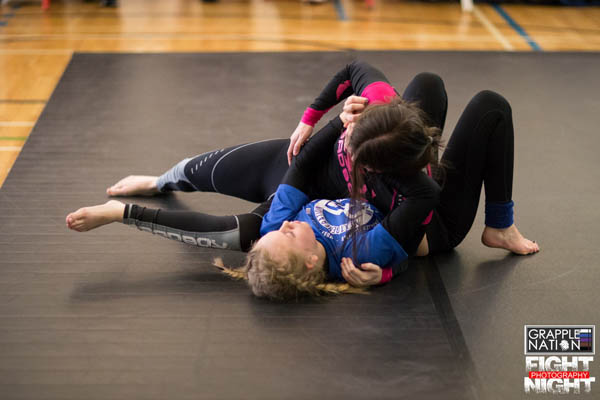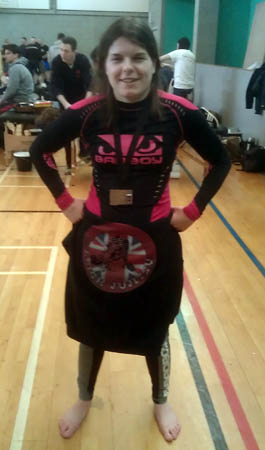 I truly hope that all Bad Boy's future compression tops are as good as the Sphere and that they'll continue to make a women's range to fit our shape, because the female martial arts clothing market is one that is still lacking quality and diversity compared to the mens, especially when the manufacturer's can't quite get the women's sizing right. Bad Boy have smashed it though and have shown that ladies clothing can be done properly and feature more than just pretty artwork.
Overall Opinion
A striking pink on black design with a fantastic fit and innovative features, the Bad Boy Ladies Sphere Compression Top is a phenomenal must-buy! I've never been this excited in a women's product for years. It's comfortable to wear at all times, whether you're competing, sparring in the gym or wearing it underneath the gi for added protection or comfort. If you're a lady grappler looking for a great fitting, high quality rashguard, this is the one!
Rating:
Bad Boy Ladies L/S Sphere Compression Top is available from BadBoy.com