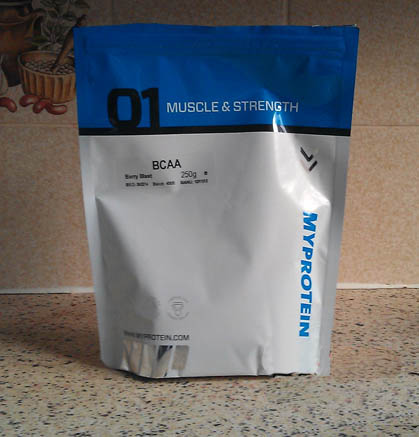 When training a lot at Ju-Jitsu, which I have done recently, it's easy to become fatigued and run down. It's during and after training when your body requires nutrients to help feed, recover and repair the muscles. Some of these essential nutrients are amino acids. Unfortunately, the body cannot synthesise these and requires them from another source: food. But what if you aren't taking enough from food? Then you need BCAA ( Branched Chain Amino Acid) supplements.
In this review, I'll be taking a look at Myprotein's very own amino acid supplement, Myprotein BCAA in Berry Blast flavour.
Myprotein BCAA Berry Blast Mixability and Taste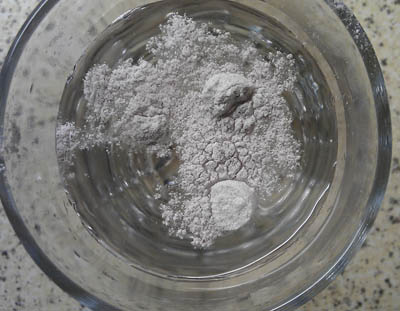 Opening the bag of Myprotein BCAA, the berry smell of the light pink powder is quite strong and fruity. The powder is fine in texture but clumps together a little in the pack. The BCAA pouch label recommends to use 5g of BCAA with your preferred amount of water or fruit juice. I've opted to use half a pint of water to mix in with 5g of Myprotein BCAA, which is equivalent of two heaped small scoops of the powder. The small scoop comes included with the pouch but it is rather small so if it's not sitting on top, make sure to have a thorough look for it as it'll be hiding no doubt!
I recommend stirring the BCAA powder with the water, but unlike protein powders, you'll have to stir this mixture quite a bit. It's common for there to be powder remaining on top of the mixture after stirring, so keep on stiirring until it's disappeared. It'll take a little while but it will dissolve.
When the mixture is fully dissolved, you'll be left with a pink tinted drink. The smell of the BCAA drink is not strong as the powder inside the pouch but you can still sense the berry scent. The taste is pretty delicious, taking the sweet berry flavouring, turning the water essentially into a flavoured drink. Depending on how much water you add, the strength of the flavour will differ. With half a pint, there's just enough to flavour it to make it a refreshing drink.
Ingredients
Myprotein BCAA Berry Blast flavour contains Branch Chain Amino Acids (L Leucine, L Valine, L Isoleucine), Citric Acid, Colour (Beetroot Red, Anthocyanin) and Flavouring Sweetner (Sucralose). Each 5g serving of BCAA contains 2.5g of L Leucine, 1.25g of L Valine and 1.25g of L Isoleucine.
As the BCAA is made in a facility that handles milk, egg, soya, gluten, crustaceans and products thereof, those with allergies to these products should avoid just incase.
Overall Opinion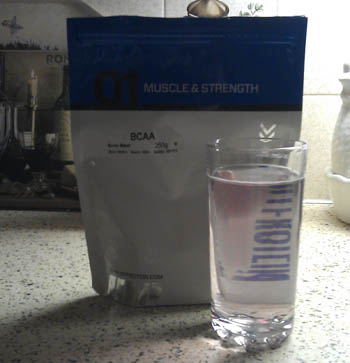 As with most supplements, it's hard to see whether they make any actual difference or not to your body. Only time will tell providing you don't introduce any other new supplements at the same time. What I do know is that Myprotein BCAA Berry Blast is a decent supplement that tastes great. Whilst mixability could be better, quite a few BCAA's that I've come across have similar issues.
Perfect for before, during or after training as a way to recover and rebuild muscle tissue, amino acids are an important nutritional part of one's diet, especially if you are heavily into your martial arts or weight training where your muscles are being worked often. If you don't get enough amino acids into your body via food, having them available in this tasty supplement is quite handy. As someone who no longer drinks fizzy pop anymore but craves that sweetness, the Berry Blast BCAA drink also hits that right spot and quenches that sweet thirst in a subtle way. Adding BCAA's to your protein shake would be good too, though I've not tried this as yet as I'm not sure chocolate protein and Berry Blast flavours might mix that well. However, with unflavoured or similar flavour protein, it's most definitely worth a shot!
Myprotein BCAA is available in Berry Blast, Blue Raspberry, Grape, Lemon and Lime, Orange, Raspberry Lemonade, Sour Apple, Tropical and Watermelon in 250g and 1kg sizes and Unflavoured in 500g and 1kg sizes.
Myprotein BCAA Berry Blast 250g is also part of the Myprotein Fight Stack