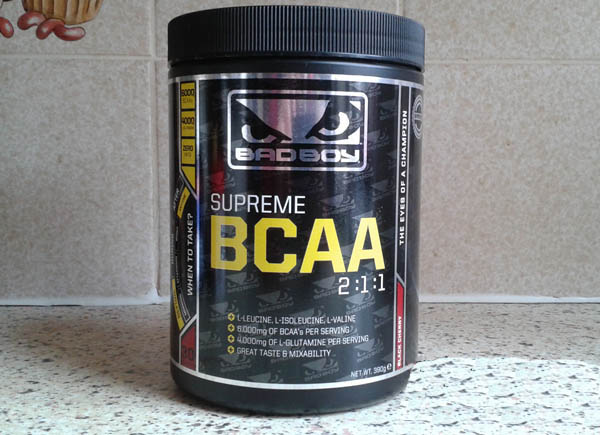 Martial arts brand Bad Boy have recently launched their own nutritional supplements line including pre-workouts, whey protein and BCAA. Produced in black plastic tubs bearing their iconic eyes logo, Bad Boy have not only made a statement with their supplements but also with their labelling.  With easy-to-read stats about the supplement including ingredients, directions of use, nutritional benefits and the optimum time to use the supplement, Bad Boy have provided the consumer everything they need to know before they buy. As each supplement is different and has different effects on the body, the large 'When To Take' indicator is very helpful indeed as a quick reference, especially for those who casually use supplements. I wish more brands would take on board what Bad Boy have done with their labelling as I've known other brands to feature the bare minimum, forcing buyers to look online for the full supplement specification.
In this review, I'll be taking a look at Bad Boy Supreme BCAA 2:1:1 in Black Cherry flavour.
BCAA (Branched Chain Amino Acid) supplements contain essential nutrients, amino acids, that the body needs but cannot synthesise. Whilst these amino acids can be found in certain foods, it's much easier to consume a BCAA supplement to ensure you're refueling your body of the nutrients it needs.
Bad Boy Supreme BCAA Black Cherry Taste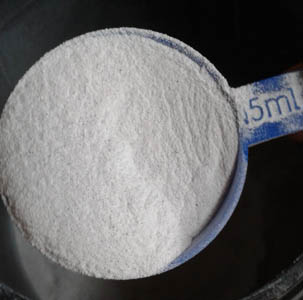 Opening the 390g 30 servings tub of Bad Boy Supreme BCAA 2:1:1, the ultra fine powder is an off-white colour with a pink cast throughout, emitting a noticeable, pleasant black cherry aroma.
Thankfully, a 15ml scoop is included with the tub and was found on top so no digging around! The label advises to add 12.5g (1 level scoop) to 250ml of water and to shake well. You can also use a half pint glass and stir with a fork if you prefer not to use a shaker.
BCAA's generally don't mix as well as whey powders, so be patient and continue to stir. I also like to keep mixing as I'm drinking, so no powder settles at the bottom of the glass or shaker. However, if you're drinking the BCAA mixture all in one go, you'll be okay with the inital stir/mix.
After about 15-20 seconds of mixing, the BCAA drink is pretty much dissolved and the water turns a strong pink colour with a little white froth on top which soon disappears. Now for the taste test.
The Black Cherry Bad Boy BCAA is extremely smooth in texture with no lumps or clots of power and no bitty taste. The taste is quite strong but not too sweet, making it a delicious, refreshing drink to quench your thirst during training or as use as a recovery drink afterwards.
Nutritional Value and Ingredients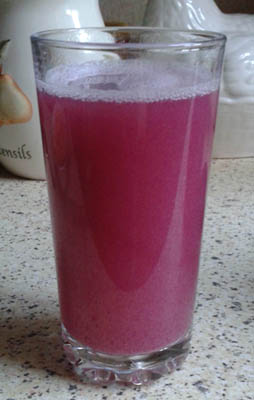 Containing a blend of 6,000mg of L-Leucine, L-Isoleucine and L-Valine, combined with 4,000mg of L-Glutamine, Bad Boy Supreme BCAA 2:1:1 is ideal to maximise muscle protein synthesis resulting in improved definition and lean mass. With no fats and low sugar, the BCAA drink is an excellent supplement to provide energy during workouts and training, especially when feeling fatigued or if you're looking to get more out of your training session.
This particular BCAA supplement also contains potassium. Potassium is usually found in fish, beans, potatoes, yoghurt and bananas, so if, like me, you find yourself without those foods regularly in your diet, then the potassium content is a more than welcome addition as it aids healthy functioning of cells, kidneys, heart and muscle nerves. But that's not all! The BCAA powder contains Tricalcium Phosphate too which increases the body's calcium levels.
Bad Boy Supreme BCAA 2:1:1 contains a blend of L-Leucine, L-Isoleucine and L-Valine, L-Glutamine, Flavouring (Black Cherry), Citric Acid, Malic Acid, Tricalcium Phosphate, Magnesium Citrate, Anthocyanin, Potassium Chloride, Trisodium Citrate, Inulin and Sweeteners (Sucralose and Steviol Glcossides).
The supplement is manufactured in an environment which handles milk, soya, gluten and egg, so if you have allergies to those particular foods, this isn't the supplement for you.
Per 13g serving, pretty much equivalent to one serving (12.5g), Bad Boy Supreme BCAA provides 188Kj (45kcal) of energy, 0g of fat, 0.96g of carbohydrates, of which 0.00g are sugar and 0.96g are starch, 0.07g of fibre, 10g of protein and 0.01g of salt.
Overall Opinion
Bad Boy Supreme BCAA 2:1:1 is the strongest flavoured BCAA drink I've consumed but also the tastiest. Though I drink a lot of water, I do love flavour, so its powerful Black Cherry taste really hits the spot and adds that liquid kick I sometimes need to wake me up, not just at training but between meals and especially the day after training when I'm feeling exhausted. Containing those necessary amino acids, I've found the Bad Boy BCAA drink to be the ideal recovery supplement to aid speedier repair of damaged muscle tissue after training.
The inclusion of sodium, potassium, calcium and magnesium in the specially formulated rehydration matrix which replaces lost electrolytes is also an added bonus, especially for me as I've been known to experience body shaking.
The refreshing Bad Boy Supreme BCAA 2:1:1 is also available in Pineapple Twist and Raspberry Blast flavour from bodybuilding.com
Rating: