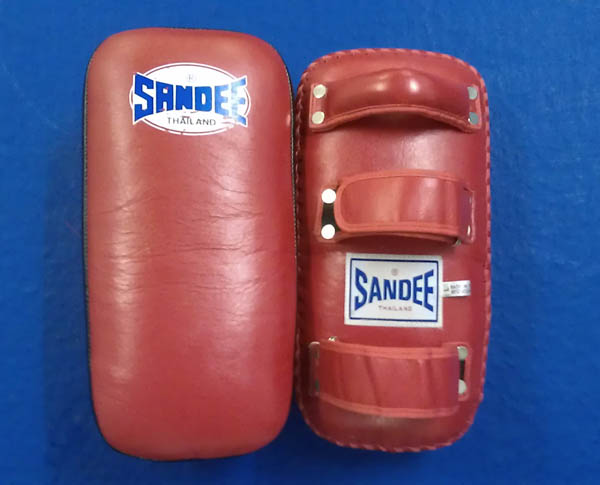 When training martial arts such as Muay Thai, kickboxing, MMA or Ju-Jitsu, it's important to use proper quality equipment to ensure you get the most out of your training. Ever heard the phrase "you get what you pay for"? Well, this is certainly the case for thai pads. Used for striking, thai pads are a fantastic piece of kit to train punches, elbows, uppercuts, knees and kicks but if you have a poor pair of thai pads, you can not only hurt yourself when practising your striking but also injure your training partner too.
In this article, I'll be reviewing Sandee Large Thai Pads.
When I first started out training, I foolishly bought a cheap pair of unbranded thai pads off eBay. Not knowing how long I was going to continue Muay Thai for, I didn't want to commit to spending a lot of money on something that might end up in a cupboard. So I bought a pair of cheap thai pads and they were rubbish – no surprise there! I knew deep down that if I wanted to train, be it short-term or long-term, that I needed to stick my hand in my pocket and fork out for a pair of decent thai pads otherwise I might as well not bother. So I went down to my local MMA stockist, which was FightShop in Bolton, and bought a pair of Sandee Large Thai Pads. At that time, there were two sizes of Thai Pads being made by Sandee – Small and Large. The small have one strap and one handle and are quite small, whereas the Large are a bit longer than your standard size but perfect for the job and for taking punishment. This purchase was the best decision I have ever made in buying martial arts equipment.
Design of Sandee Thai Pads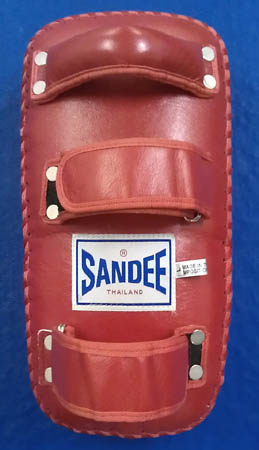 Made in Thailand, the Large Sandee Thai Pads measure 15.5 inches long and 8 inches wide, with a depth of approximately 4 inches. They 're quite a weighty pair of pads, weighing in at 1.5kg each.
Constructed from cow hide leather, the front panels are stitched to the side panels whilst the side panels are lace fastened to the back. The leather is smooth and shiny with no rough edges.
The pads are properly filled with extra thick layers of cloth-fibre webbing and foam to provide a sturdy target that absorbs the strikes.
The front of the thai pads feature the Sandee logo printed onto the leather. After a few uses, the blue and white logo will begin to wear off, as you can see from my photograph above, but this shouldn't bother you as it's the quality of the pads what matter.
The back of the thai pad features a sturdy leather handle to grip the pad with and two adjustable, jumbo leather straps that hook through stainless steel buckles and loop fasten upon themselves with velcro. These can be adjusted to fit snuggly around your forearms when holding the pads which is a great feature as they don't slip and slide around when holding them for your partner. The handle and straps are firmly secured by stitching and riveted to the thai pad and mine have never shown any sign of coming loose.
Sandee have seemed to use the colour red for as long as I've known about them which prompted me to buy the red and black colourway. The red/black is no longer available as far as I'm aware but the current colours of Sandee Thai Pads include red/white, black/white, blue/white and black/yellow.
Unlike some pads, Sandee Thai Pads are always sold in pairs from the manufacturer.
Training with Sandee Thai Pads
Every lesson at Ju-Jitsu, we train our jabs, crosses, elbows, hooks, front kicks, roundhouse kicks and knees to improve our striking. Also training in Muay Thai from time to time, I love nothing more than a workout on the pads to improve the power of my strikes, especially my kicks. Having my training partner hold the Sandee Thai Pads whilst I strike them is such a wonderful thing. Whereas some thai pads with inferior padding will swallow up your leg or fist when you kick or punch, leaving a flat or empty feeling for the striker, the Sandee pads have quite a full bodied response with your leg or fist bouncing off the leather pad. There's no chance of me injuring myself when I strike the Sandee pads. They do what they are supposed to do and absorb the strike whilst giving a comfortable robust feeling for the striker, allowing them to train more efficiently.
I can happily train kicks and punches all day with the Sandee pads. Kicking the thai pads is a pure joy when they're of high quality like this. If they're one of the thai pads of choice in Thailand for trainers who work with Thai boxers on a daily basis, then they must be of excellent quality and it's a blessing that we in the UK can benefit and enjoy the brand's superior product.
When I first started holding these Sandee Large Thai Pads for my training partner, I found them a little heavy but only because I wasn't used to the weight. It wasn't long before I could hold them up for a good hour or so without a problem whilst my training partner practised powerful punch and knee combos. The adjustable velcro straps allow for a tight grip of my forearms so the pads won't slip whilst I'm holding them and even if I accidentally let go of the grab handle, the pads remain tight to my forearm and in position. They're also incredible easy to move around because of the tightness to the arm. They almost become one with your arms which allows you to react quicker and get the pads in a different position faster so your training partner can work on speed as well as power strikes.
The ultimate test for the Sandee pads was holding them for my Sensei who's 6ft tall and a powerful kicker. When I hold the club's unbranded PU pads – which are getting tired now with a lack of padding – and Sensei kicks them, I fly across the room. I'm 5'2″ so it's hard for me to hold on the best of times and I feel every strike with the club's pads. One day I brought in my pair of leather Sandee thai pads and asked Sensei to kick them whilst I held them for him. He did his usual powerful roundhouse kick but this time, I could take it. All the power was absorbed by the pad instead of me. I wasn't knocked flying either. Even Sensei commented on how great they felt when kicking them. Not only do they feel good for the person holding pads, but they give a good response and feeling when striking them yourself. And they work for little un's like me holding them for the strongest of the class.
Final Thoughts
There is no doubt that Sandee Thai Pads are tough and durable, which is exactly what you want out of a set of pads. These have lasted me a good few years now and I know they will do well for years to come.
I cannot recommend Sandee Large Thai Pads enough. They're not cheap, now retailing around £100 (as of April 2015), but they are honestly worth every single penny. As I said at the beginning of this review, "You get what you pay for".
If you're looking to buy a pair, make sure to buy from a reputable martial arts equipment dealer or direct from the UK distributor to ensure you're getting the real deal.
Rating: