I'm a big fan of whey protein shakes. They are easy to prepare and give me a much needed boost of protein after a good workout at ju-jitsu, muay thai or MMA session on the thai pads. Whey protein shakes are a good way to feed the body after working so hard, with your muscles requiring protein to repair themselves and to grow.
In this review, I'll be taking a look at the chocolate-flavoured Whey Protein, from new British supplement brand, eProtein, who also produce and manufacture all their nutritional supplements in the United Kingdom.
The sample packet of Whey Protein arrived through the post in a thick, foil-type, 35 grams sachet packet. Upon opening the packet, it was plain to see that the eProtein Whey Protein had a soft texture and a full, delicious, chocolate aroma that diffuses as soon as you pour it from the packet. I poured the powder into the shaker, added water and gave it a good shake. The powder mixed well without lumps for a smooth taste, although there was a tiny bit stuck in the bottom corners of the shaker.
I must admit, I'm not a big lover of chocolate whey powder as it usually makes me feel sickly. However, after trying eProtein's chocolate version, I was pleasantly surprised by its sweetness, which compared with Optimum Nutrition's chocolate Gold Standard whey, is much sweeter and lighter tasting. There was no sickly aftertaste to the protein shake and likewise, it didn't lie heavy on the stomach, which can happen with some other whey proteins I've tried in the past.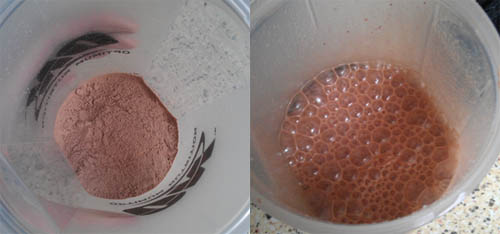 At a snippet of the price of the big brands, eProtein's 2.25kg tubs of Whey Protein are available for £28.99 in chocolate and strawberry flavours.
Let's take a look at those all important nutritional statistics…
The eProtein whey protein Instantised Whey Isolate, with concentrate and hydrolysed whey, has a unique blend of amind acids. In the 35g serving that I tried, there contained 21.6 grams of protein and 154 calories. The sample also contrained 3.5g of fat and 14.2grams of carbohydrates.
The ingredients include: Instantised & Delactosed Pure Whey Protein Concentrate, Whole Milk Protein, Micellar Casein, MCT Oil, Dextrose Monohydrate, Natural and Natural Identical Flavouring, Natural Colourings, Stabilisers (Citric acid, Malic acid), Sweeteners: Sucralose.