It's January, folks. You know what that means! Time to stick to that resolution and get back in to shape for the new year that lies ahead.
Whilst some of us may be experienced or seasoned veterans of the gym or martial arts clubs, we welcome with open arms the newbies who decide to tread the path of a new, healthy lifestyle. As one of only four ladies at our Ju-Jitsu club, I look forward to seeing other females show interest in participating in contact martial arts, as it is indeed a male dominated 'sport'. In fact, martial arts in general is male dominated, so much so that there's not many brands out there who cater to women. One such brand, Bad Boy, have caught onto the fact that women martial artists are looking for something a bit different and have launched a sister brand solely for women called Bad Girl.
Taking the high quality of Bad Boy, they've crafted a range of MMA products to suit the female fighter, complete with a feminine take on their infamous Bad Boy eyes logo.
In this review, I will be taking a look at two of the brand's latest products – the Bad Girl Boxing Gloves and Bad Girl Shin Guards
Bad Girl Boxing Gloves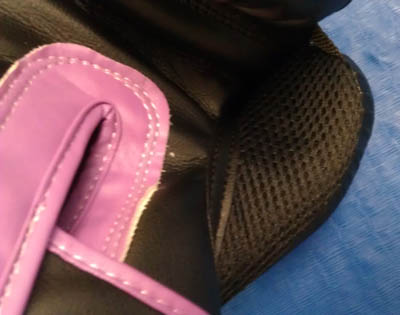 Striking, be it punching or kicking, is a big part of self defence and martial arts. We see it in many sports from Muay Thai to Karate, Ju-Jitsu to Boxing, and of course, Mixed Martial Arts. When sparring with a partner, we have to ensure we're kitted out properly. This is where boxing gloves come in, Not only do they protect the user's hands but also stop them from giving their training partner a few black eyes and a broken jaw. Nobody wants that!
The Bad Girl Boxing Gloves are the first and only boxing gloves from Bad Boy's new female range. Available in purple or blue, Bad Girl Boxing Gloves are 10 oz in weight and are made from a durable composite leather, which is soft and smooth to touch. The gloves are pretty evenly padded with 1.25″ thickness of compression foam across the knuckles, back of the hand and also feature a padded bar across the back of the wrist to give the extra support it needs.
The thumb of the gloves is attached to the main part of the glove and features a lightweight air-flow mesh which allows your hand to breath during use and helps to regulate the temperature inside. Nobody likes sticky, sweaty hands and this aspect does a good job of keeping the hand cooler.
The gloves are double stitched at prone stress points, such as the inner curve of the glove and glove opening, to prevent tearing. The gloves are also nicely finished off in a purple or blue trim at the wrist, opening slit and strap, respective to the chosen colourway. This is a great touch and ensures there's no rough edges, to make the gloves both presentable and comfortable.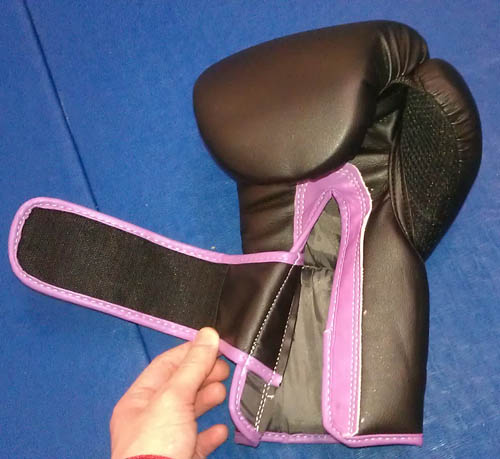 The fit of the gloves is quit a snug one, with the glove allowing a little bit of movement but not to the point where the hand is swimming around. The glove features a smooth lining making it comfortable on the skin when using, and makes it easier for the glove to dry when it inevitably gets sweaty during training. The 2.4 inch wide single, velcro-fastened wrist strap allows the glove to be tightened accordingly for secure fit and support.
Eye-catching with the purple or blue trim and accents on black, the gloves are quite simple yet stylish in design. The back of the glove features the Bad Girl logo which is similar to the iconic Bad Boy eyes logo. The Bad Girl logo uses the same premise, albeit with eyelashes. As someone who isn't overly keen on pretty-girly designs, these gloves are a fantastic choice. The logo is pretty trendy without going over the top, with the BAD text in bold, chunky capitals and the word Girl in contrasting purple or blue script underneath. The Bad Girl text is also repeated on the end of the velcro wrist strap for added effect.
Training with the gloves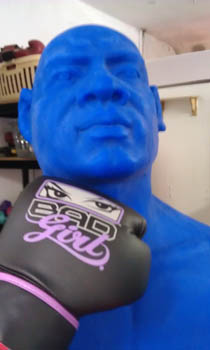 Using the Bad Girl Boxing Gloves on the heavy bag, it was evident that I couldn't put too much force in without my knuckles taking a little bit of pain. However, they were fine when striking the BOB training dummy, with its soft construction. Therefore, I'd advise for heavy bag work to use a pair of handwraps underneath the gloves, just to give the knuckles that bit of extra protection and support, after all, these are only 10 oz gloves.
During light sparring, the boxing gloves were up to the challenge, keeping my hands relatively cool whilst I jabbed and looked for an opening. The shape of the glove, which resemble more of a bag glove than a boxing glove, allowed me to grip my opponent's limbs much easier for takedowns, something which is harder to do when wearing the more bulbous-shaped gloves. The lightweight construction also made them a joy to wear, with the added comfort making it easier to increase the speed when necessary.
Overall, the Bad Girl Boxing Gloves are a great quality glove for the price of £29.99, ideal for newcomers to boxing, MMA or Muay Thai, as well as those who partake in kickbox aerobics. For heavy bag work where you intend to strike with power, these may not give the protection needed without wearing a pair of handwraps underneath, but they're certainly suitable wearing on their own when striking on a training dummy or a few rounds of light sparring.
Bad Girl Shin Guards
Ever sparred without shin guards? I have, and it's painful. It was only a few weeks ago when I had a nice shiner on my shin from my kick making contact with a training partner's well-timed check. This is why when sparring with relative intent, it's always best to use a pair of good shin guards to protect from injury.
Bad Girl Shin Guards are constructed from dense foam which helps protect the shins when sparring or even during padwork or heavy bag work. I find that the foam shin guards are much more flexible and easier to move in than leather shin guards, particularly if you're doing stand-up sparring which can lead to ground fighting, such as when training MMA or the likes of Sport Ju-Jitsu.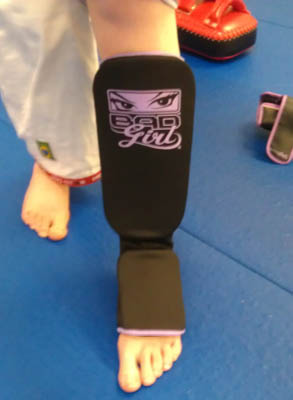 When you're getting geared up for a sparring session, the last thing you want to tackle is a load of straps, which makes the Bad Girl shin guards a dream choice. Pretty much like a knee-high sock, albeit containing foam, you just slip the shin guard on and off with ease – granted, you may need to give it an extra tug when you're hot and sweaty after an intense sparring session.
Like the Bad Girl Boxing Gloves, the shin guards are available in purple or blue, and are trimmed in their respective colourway at the shin and instep hems as well as the ankle. The Bad Girl logo is also present in the respected colourway, (in our case purple), on the front of the shin guards.
In terms of fit, the shin guards feel pretty comfortable to wear, with the 4″ wide, 5 inches long instep reaching the toes. The 5 inches wide, 9.75 inches long shin section does cover the shin but falls about an inch short at the knee. Depending on how you like the fit of shin guards, these are a bit shorter than I'd like them to be, but do the job that is needed of them. No doubt they're great for my short legs, and for teenagers and smaller women. I cannot possibly comment on these for someone who may have long legs, but if that's the case, they will most likely be too small.
Made in Pakistan, these are a neat pair of shin guards that come packaged in a resealable, popper-fastened packet to store in when not in use. As they're made from foam, they're much cheaper than the leather shin guards too, at a price of £19.99.
Update
There is one problem though with these shin guards that I only discovered after a year of wearing them and that is they "melt". If you've been sparring and got hot then you may find your feet and legs are decorated with black marks when you remove the shin guards. It's as though as whatever is inside these shin guards have melted onto your leg and in some cases it takes a few showers and a good ol' scrub to get the marks off your legs. I've previously owned a cheap pair of non-branded black shin guards that were essentially the same style as this and they didn't "melt" or leave marks so I'm disappointed that Bad Girl's shin guards have reacted in this way.
Both the
Bad Girl Boxing Gloves and Shin Guards
can be purchased separately from the official Bad Boy website, or you can purchase them as part of the
Bad Girl Starter Bundle
which includes the 10 oz boxing gloves, foam shin guards, Bad Girl boil and bite gum shield and Bad Girl 2.5m handwraps for £49.99 in either purple or blue colourway. With both of the products I've reviewed totalling this anyway, it's a fantastic deal to take advantage of, with the bonus of the gum shield and handwraps which are too important pieces of kit when training, especially when sparring. It's also a saving of almost £15 on the RRP of £64.96.