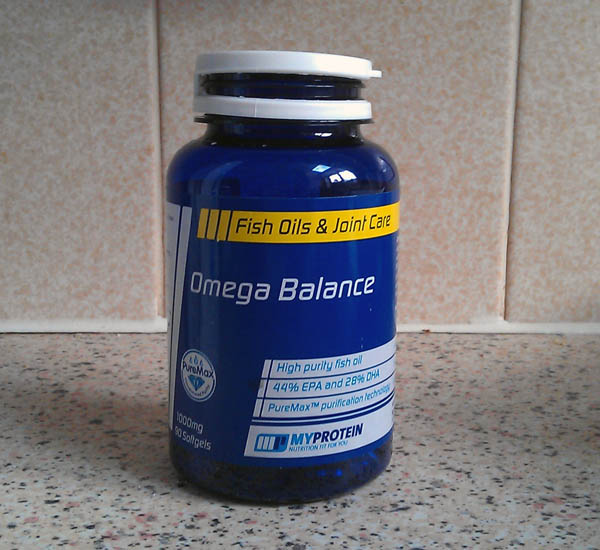 Ever wake up with stiff joints, aching knees and bones? I do quite often after training, so what better way to help those joints than Myprotein Omega Balance 1000mg softgels, which I'll be reviewing in this blog post.
What is Myprotein Omega Balance?
Omega Balance softgels contain high purity fish oil to maintain good health and wellbeing, with its minimum of 85% Omega 3.  Omega 3 is known for its association with healthy joints, heart and circulation as well as general wellbeing. The softgels also contain a 3:2 ratio of fatty acids  EPA (eicosapentaenoic acid) and DHA (docosahexaenoic acid) which are linked with maintaining a healthy brain, eye and heart, and quite possibly encourage the use of fat as an energy resource rather than glucose. Myprotein state that each softgel contains at least 360mg of EPA (44%) and 240mg of DHA (28%).
The ingredients list on the back of the tub mentions Concentrated and purified Omega 3 Fish oil, Vitamin E (Antioxidant) and Softgel (Gelatin, Glycerol).
Myprotein Omega Balance has been created using PureMax™ purification technology whch ensures that the product that we consume is of the highest quality, removing any environment pollutants, creating a pure and potent fish oil supplement.
Omega Balance Softgels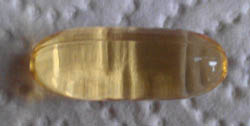 The Myprotein Omega Balance softgels are quite big in size, but very easy to swallow. They are transparent with a yellow tint and measure an inch in length. As they're a softgel, they don't feel awkward to swallow as hard tablets can be.
Myprotein recommend consuming 1 softgel, 1-3 times a day with meals and that is exactly what I've done. This particular tub contains 90 softgels which will last 30 days if taken three times a day. Omega Balance contains a minimum of 710mg Omega 3 for every 1000mg softgel, which is high amongst fish oil supplements.
Do they work? It's hard to know for sure, but when I'm taking them, my joints don't appear to be quite as stiff and I've not had any knee pain when using them, which is something I suffer from frequently.
I rememeber as a child my mother would feed me full of cod liver oil capsules for help with my knee issues, and I remember hating it, because even though it was capsules instead of liquid, they still tasted awful and would often burst in the back of my throat whilst swalllowing. Yuck! The good thing about Omega Balance capsules is that you can't taste a thing, and they remain intact as you swallow them.
Maintaining healthy joints is important, especially if you do martial arts where there's a lot of grappling involved, and taking these joint care fish oil softgels just makes sense. At £11.99 direct from Myprotein, Omega Balance is a well-priced supplement to aid overall health.
Tubs of 250 capsules are also available, with the Omega Balance softgels having a 18 month expiry date should you wish to stock up.
The capsules are also available as part of of Myprotein Combat Bundle, as shown below.