Ho ho ho! When November rolls around, you know it's time to dig out those festive jumpers.
What was once an awkward past-time forced upon you by a well-meaning grandmother has since evolved into an annual celebration of Christmas cringe. From strolling through town to working in offices and shops across the globe, people don their silliest and funniest Christmas sweaters to celebrate the season, and in the grappling world it's no different!
Combine your two passions and share your love of yuletide celebrations with a BJJ Christmas jumper! It's perfect for hitting the streets with or showing off at the office Christmas party. Or if you're feeling full of Xmas cheer, why not indulge in a Christmas BJJ rashguard to wear on the mats to display your pride for the holidays whilst mother's milking your opponent.
Below are some of the best BJJ Christmas jumpers and rashguards of 2022.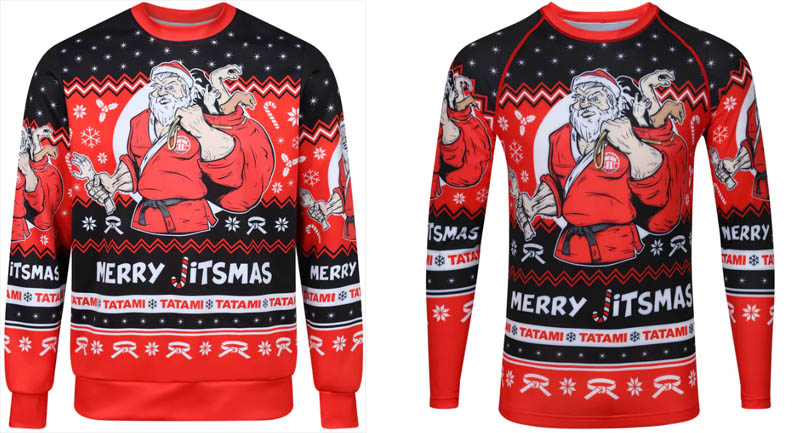 Tatami Fightwear BJJ Father Jitsmas Christmas Jumper and Rashguard
No, it's not Gordon Ryan but with the sack full of limbs Santa Claus is carrying you could have mistaken it for him. This black and red BJJ-inspired design sees Father Christmas in a red gi firmly gripping a sack full of arms and legs from the opponents he's submitted all year, complimented with a Merry Jitsmas greeting. There's stars, snowflakes, candy cane and belt details to give it a festive feel. Available as a jumper and a long sleeved rashguard.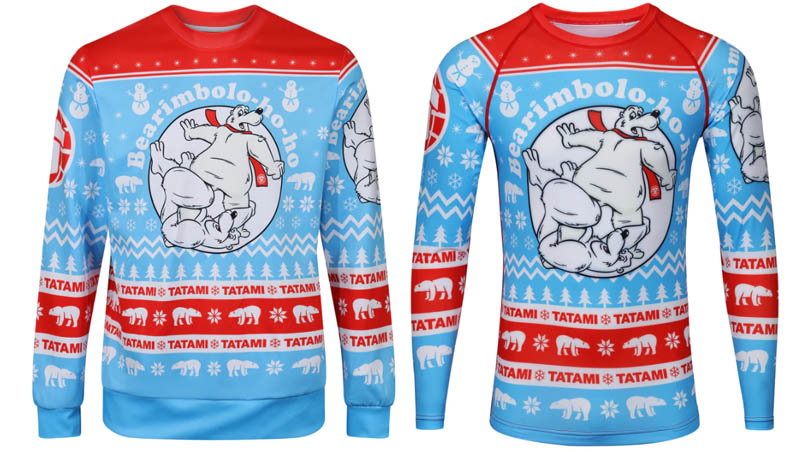 Tatami Fightwear Bearimbolo BJJ Christmas Jumper and Rashguard
For the true BJJ fanatic, this polar bear design takes a pun on the ol' Berimbolo technique for a Christmas message that will warm any scrooge's heart on the mats. Icy blue with white and red detail, including images of fir trees, snowmen, snowflakes, stars and polar bears, this frosty yet fun Bearimbolo Christmas BJJ design is available as a long sleeved rashguard and jumper.
Kids jumper and rashguard versions also available of the Bearimbolo design.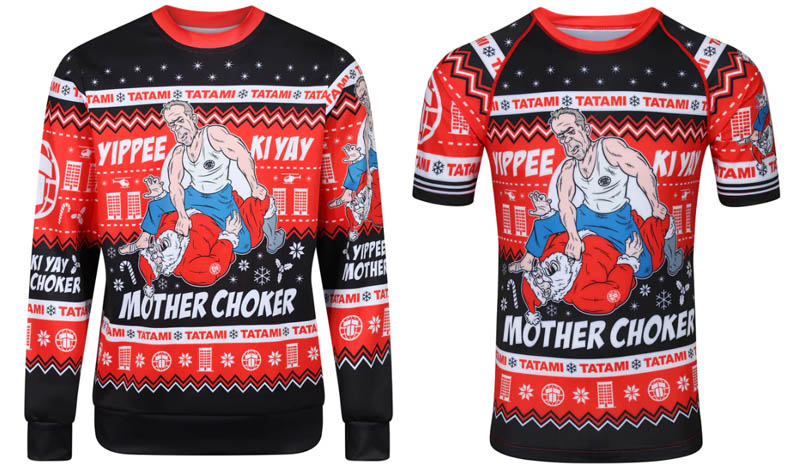 Tatami Fightwear Yippee Ki-Yay Christmas Jumper and Rashguard
Nothing says Christmas time more than the action movie Die Hard playing on the TV so Tatami Fightwear have come up with the genius idea of combining BJJ, Christmas and Die Hard together for their 2022 Christmas jumper and short sleeved rashguard design. See a rippling biceped John McClane inspired character mounted upon a panicked Santa as he grips him ready for a beasting with the words Mother Choker underneath. This red, black and white design, adorned with snowflakes, zig-zags and even a Nakatomi-plaza inspired high-rise building, will surely be the talk of the gym.
Tatami Fightwear After Midnight BJJ Christmas Jumper and Rashguard
Poor ol' Gizmo ain't having a great Christmas in Tatami Fightwear's Gremlins' inspired Christmas Jumper and Rashguard. The ugly, green Stripe has got his hands on cuddly Gizmo and got him in a rear naked choke. As they say, don't let them roll after midnight! With microwave, snowflakes, fir tree and gremlin face details, this green and red Christmas BJJ design is available as a jumper or short sleeved rashguard.
Kids jumper and rashguard versions of the After Midnight design are also available.
Tatami Fightwear Kids Rolling Christmas Jumper and Rashguard
An exclusive for the kids, this Rolling Around The Christmas Tree BJJ design shows two elves having a grapple, with one clearly getting the upper hand (or should that be arm) with an armbar. Not content with submitting his friend, he's got his mobile phone out for a selfie to no doubt post it all over social media! This green and red fun design for the junior grapplers in your life features elves, snowflakes and star details. Available in kids sizes only as a jumper or long sleeved rashguard.