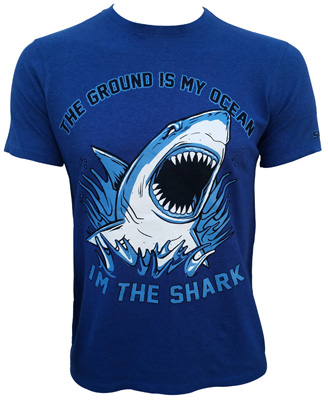 When out of the gym, I like to wear t-shirts. Fitted or unisex, I don't mind, but they usually bear prints of things I'm interested in: martial arts, motorcycling, movies and music.
Martial arts clothing brand Submission Fight Co. have recently added two new BJJ designs to their roster of t-shirts, and in this review, I'll be reviewing the Submission Fight Co. 'The Ground Is My Ocean' Shark t-shirt.
'The Ground Is My Ocean' T-Shirt Design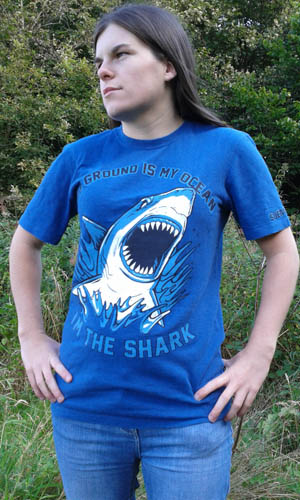 Whilst I like Brazilian Jiu-Jitsu and grappling t-shirts, I often prefer the subtle nod designs rather than an in-your-face picture of someone being armbarred. 'The Ground Is My Ocean, I'm The Shark' t-shirt falls into the subtle category (to those who don't train in grappling) with a slogan which originates from something said by Carlos Machado:
After the clinch, it doesn't matter what happens, one way or another, we're going to hit the ground, and we'll be in my world. The ground is my ocean, I'm the shark, and most people don't even know how to swim."
The use of the hungry shark splashing out of the water on the front of the dark blue t-shirt is a great design, screen printed using light blue, dark blue, black and white inks, with contrasting colours for the text and text outline which surrounds the main design. The shark also appeals to my love of Jaws and the copious amount of Sy-Fy and Asylum low budget shark movies out there. Double score!
The left sleeve also features the Submission Fight Co. logo just to give that extra bit of detail, which is a nice touch.
What makes this t-shirt extra special compared to other t-shirts is the fact that it is made of 55% hemp and 45% organic cotton, creating a lightweight, durable tee. Earlier this year, Submission Fight Co. had a problem with their hemp gi. The factory producing them hadn't been entirely honest with the owner of Submission Fight Co. which led to the company discovering that the hemp gis were not hemp at all. Despite this blow to Submission Fight Co., who would have paid specifically for hemp gis, the company handled the issue professionally and offered to take care of all customers who were affected. Having never bought a hemp gi from them, I've never experienced it first hand, but with my experience in fashion retail and a keen eye on martial arts brands, I took note on how well the company handled it. Which now brings us to the new hemp t-shirt in question. After being burnt previously, Submission Fight Co. have been extra vigilant on making sure the hemp t-shirts actually contain hemp with a majority percentage and you can find the fabric analysis lab report below (or read the full report here)
Sizing and Washing
When I'm buying t-shirts for myself, I usually buy a ladies size 12 (ladies medium for my 34″ chest) or size small in unisex. T-shirts from the USA usually come up a bit bigger than the UK ones, but I still opted for the small from Submission Fight Co. as that's the smallest size they make, anyway!
Slipping the t-shirt on, it comes up a good fit, not unlike the UK sized t-shirts, and isn't too baggy either. It hangs just the way I prefer for unisex t-shirts, with the sleeves coming to a good length on my arms and the length of the t-shirt past the hips.
I took measurements prior to washing and after washing the t-shirt for the first time to check for any shrinkage which usually occurs with clothing.
|  Size Small | Pre-Wash | Post-Wash |
| --- | --- | --- |
| Chest | 20 inches | 18 inches |
| Length from nape of neck (back of t-shirt) | 27 inches | 26.5 inches |
Due to the nature of the fabric, the washing instructions, which are printed onto the inside neck of the t-shirt fabric rather than a traditional label, state that the t-shirt must be washed cold and hang dried. I washed the t-shirt on a delicate wash, cold at 700 spin for around 20 minutes and it came out smashing, so if you're wondering what setting, try that or as close as you can get to it. I then hung it from the clothes maiden to dry and was delighted to see that there's no creases which means you don't need to iron it! Awesome!
Feel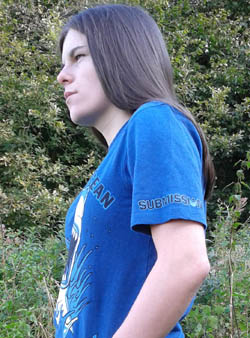 The hemp/cotton blend Submission Fight Co. Shark Hemp T-Shirt is really quite comfortable to wear. Comparing the fabric of the t-shirt to that of your traditional jersey cotton, the 'The Ground Is My Ocean' tee is more natural in appearance. The hemp/organic cotton blend is rather soft, like a normal t-shirt, except it feels a bit different, but not in a bad way. This t-shirt feels much more natural than the 100% cottons and almost feels primal, which suits the shark design rather well!
Overall Opinion
The Submission Fight Co. 'The Ground Is My Ocean' Shark Hemp T-Shirt is a pretty cool BJJ t-shirt that sets itself apart from its competitors due to both the fabric content and design. It's sharp and funky, in a great colour which earnt me a few compliments, when wearing it about town, from both BJJ fans and non-fans alike. With my love for ground grappling, it's a pretty solid design to reflect my passion and I like that the washing instructions are printed onto the t-shirt to avoid that awful chafing you can sometimes get with labels. At $39.95 (approx £24 GBP), this t-shirt may be a tad dearer than Submission Fight Co.'s other non-hemp t-shirts, though when compared with the usual price of BJJ t-shirts from other brands, Submission Fight Co.'s hemp ones are priced pretty much the same as standard cotton.
The 'The Ground Is My Ocean' T-Shirt is definitely worth checking out if you're after a t-shirt that's different, is subtle in message yet striking in image and constructed from a unique, comfortable and strong fabric.
The Submission Fight Co. 'The Ground Is My Ocean' Shark Hemp T-Shirt is available from Submission Fight Co. website.