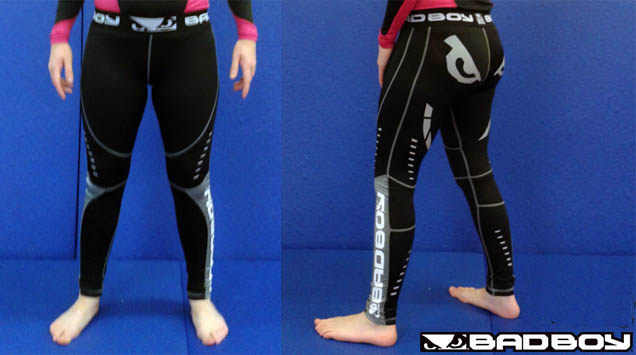 Training in Ju-Jitsu, we cover groundwork, looking to improve our skills in grappling our opponent in the hopes to submit them. Whilst mostly we train in the gi, there are times when we ditch the gi for a more realistic approach, as if we were out on the street and the fight went to the floor. For this, most of us train in no-gi clothing. Whilst some people go bare legged with a pair of board shorts, others don a pair of tight leggings known as compression leggings or grappling spats, either worn alone or with board shorts over the top.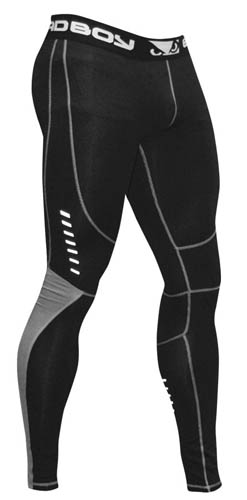 In this review, I'll be taking a look at the Bad Boy Sphere Compression Leggings.
Bad Boy Sphere Compression Leggings Design
Made from 90% polyester and 10% spandex, the black Bad Boy Sphere Compression Leggings are stretchy and and soft to touch. The leggings have a wide elasticated waistband, decorated with Bad Boy text and logo, which is secure and tight enough to keep the leggings up and in place whilst training. Nobody wants a flasher! The spats feature reinforced flat stitching throughout in grey and grey panels on the side of the calves. The left grey calf side panel sports white Bad Boy text and logo print, which is a nice decorative touch.
Much like the Bad Boy Sphere long sleeved compression top, which I previously reviewed, the Sphere Compression Leggings feature rows of reflective strips on the calves, back thighs and front thighs. This is ideal if you're wearing the leggings whilst running outdoors in the evening and will help you to be seen and keep safe.
From a design point of view, the most-eye catching part of the Sphere spats are the Bad Boy eyes on the bum. With an eye on each butt cheek, this is a cheeky but fun design which I think works wonderfully for these leggings and makes you stand out from the crowd.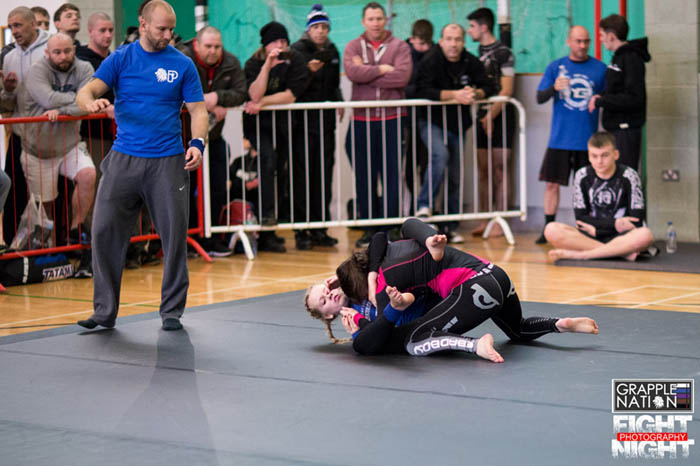 Fit of the Bad Boy Sphere Compression Leggings
As I usually wear size 12 bottoms, I opted for the size Medium in the unisex Sphere Compression Leggings. They are a superb fit on the waist, bottom and legs, tight to the skin acting as a second skin or base layer. They're a touch long in length for me but this is something I always struggle with due to my short legs and stature (I'm 5'2″). It's easy to solve the extra length by just rolling the fabric near the ankle. The tight cut of the foot cuffs means there's no way the extra length can interfere and pass your ankle.
The measurements for the size Medium Sphere Compression Leggings are as follows:
| | Bad Boy Sphere Compression Leggings |
| --- | --- |
| Waist | 26 inches (unstretched) |
| Inside Leg Length | 30 inches |
| Leg Cuff | 8.5 inches circumference (unstretched) |
The fabric content label, which is part of the wide waistband, advises to wash cold with no fabric softener and that you should not iron. I've washed the spats on cold and hang dried them which seems to work best.
Training in the Sphere Compression Leggings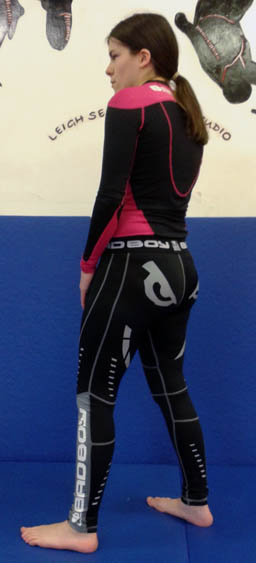 I mainly use the Bad Boy Sphere Compression Leggings during our no-gi BJJ grappling class. Worn on their own or underneath board shorts, they're mighty comfortable and keep me warm during grappling and when we stop to learn some new technique off our instructor. Wearing the spats only, their tightness against my skin and the light fabric make for a snug pair of leggings that you can hardly feel. Drilling techniques from spider guard, triangle submissions and passing guard is no problem at all with the spats allowing full movement of the limbs. Even when rolling with my training partners, where it can get quite hot and intense as we each try to find a better position, the spats' breathable fabric keep my legs cool.
Although my training partners are clean and our mats are cleaned daily, the compression leggings protect my skin from any bacteria and from making skin contact with others which is great if you're training with people who may have skin conditions and is just much more pleasant as you won't get your bare legs covered in other people's sweat and vice-versa. The leggings also prevent you from getting mat burn which can be quite painful as you'll probably well know!
During our regular Ju-Jitsu classes, I sometimes wear the Bad Boy Sphere spats underneath my gi pants, especially if it's a cold day. Though at first you can tell you're double layering garments, the spats are still comfortable and lightweight, allowing you to have full movement during throws, grappling and padwork. The stretchy fabric of the leggings means you'll have no trouble reaching for those high roundhouse kicks to the head, perfect if you train in MMA. During the lesson, the spats keep my muscles warm so I can always perform to my very best..
I recently wore the Sphere spats to my first no-gi grappling competition – Grapple Nation 4 – an IBBJF rules grappling event in Manchester. Throughout my fights, the Bad Boy Sphere Spats kept me comfortable and cool and allowed me to perform to the best of my ability. They were as comfortable as could be and were not restrictive in any way. Dare I say it, it almost felt as though I weren't wearing any grappling leggings at all! 😉 Inbetween my rounds, the Bad Boy Sphere Leggings kept my muscles warm so I wouldn't cool down or seize up. This was really important as I had to be ready at any moment to take back to the mat for the 5 minute matches. During my bronze medal winning fight, I was able to switch positions without any restriction in the spats from side control to mount and to kesa gatame as well as passing guard. There was no pulling anywhere on the leggings and they felt soft against my skin at all times, allowing me full use of my legs without restriction.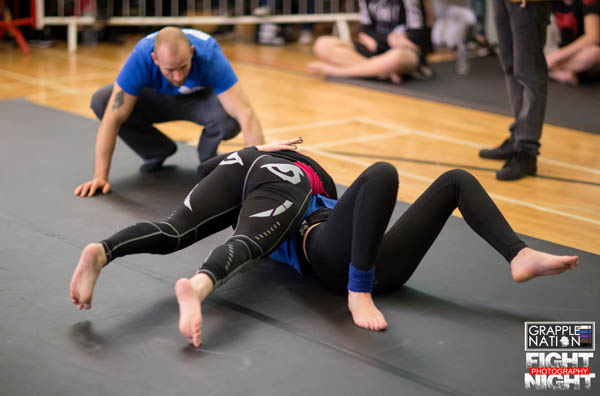 Overall Thoughts
The Bad Boy Sphere Compression Leggings are high quality, durable grappling spats that fit an absolute treat and are so comfortable to wear, whether you're rolling, practising striking, knees and kicks or wearing underneath your gi to keep your body warm when training. The leggings are super stylish with their bum eyes and logo on the left leg, with the right amount of contrast between grey and black. I really like the little reflective strips too in case you do decide to go running at night.
I heartily recommend these impressive compression leggings for whatever your fitness hobbies or goals are, be it martial arts, the gym, cycling or running. They're perfect! Priced at £29.99, they're also cheaper than a lot of BJJ focused spats but do the job just as good.
Bad Boy Sphere Compression Leggings are available from BadBoy.com in black/grey, black/red and black/blue, as well as Ladies black/pink.