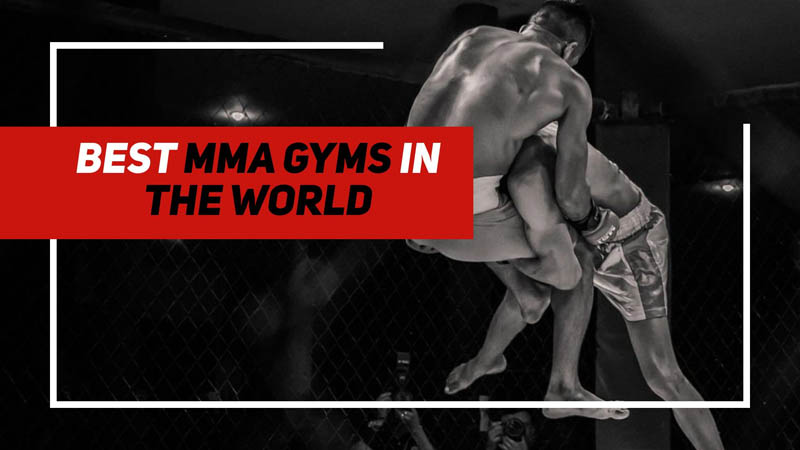 Mixed martial arts is a sport that continues to grow and attract new interest, be it from fans or future fighters. Blending stand-up striking, wrestling and ground fighting, MMA is one of the most exciting sports to watch and train in.
Having looked at the Best MMA Gyms in the UK, I thought it's about time we looked at the global stage to discuss some of the best MMA gyms in the world!
The Alliance, San Diego, USA
The Alliance MMA gym in San Diego, California, counts MMA fighters Dominick Cruz, Phil Davis, Michael Chandler, Angela Hill, Bec Rawlings and Jessica Penne as part of its roster. Headed by coaches Eric del Fierro and former UFC and current ONE Championship fighter Brandon Vera, The Alliance is a gym with experience under its belt with fighters who've stood the test of time and enjoyed enduring careers in the cage.
Allstars Training Centre, Stockholm, Sweden
Allstars Training Centre in Sweden first appeared on my radar thanks to former UFC champion, Alexander Gustafsson. The gym has produced other UFC fighters including brother David and Daniel Teymur, Niklas Bäckström, and Nico Musoke.
British MMA fighter Darren Till has spent time there recently too, partnering with the the gym's resident fighter, Khamzat Chimaev, jointly becoming known as the Smesh Bros.
The fighters at Allstars Training Centre are coached by Andreas Michael and Alan do Nascimento. The gym itself is open to beginners, as well as fighters, with wrestling, BJJ, Muay Thai and Boxing classes providing the striking and grappling skills required for anyone who wants to try their hand at MMA.
American Kickboxing Academy, San Jose, USA
AKA in San Jose, California, is one of the best MMA gyms in the world. Producing such fighters as former champions Khabib Nurmagomedov, Daniel Cormier and Cain Velasquez, American Kickboxing Academy is currently home to star UFC fighter Islam Makhachev. Javier Mendez, Bob Cook and Leandro Viera are the coaches at AKA and run the MMA programme.
Other notable MMA fighters who've trained at AKA include Frank Shamrock who was the gym's first UFC champion in 1997 under the tutelage of AKA owner and coach, Javier Mendez. MMA fighter BJ Penn was also a student of AKA, starting off his MMA career there in 2001.
AKA prides itself on being a family gym and has a fantastic kids programme as well as adult's schedule with MMA, kickboxing/Muay Thai, boxing and BJJ classes on offer.
American Top Team, Florida, USA
Another top MMA gym in USA is American Top Team. Founded by Dan Lambert in 2001, American Top Team gym is based in Coconut Creek, Florida and has produced many MMA fighters who've gone to fight in promotions such as UFC, Bellator, PFL, Rizin, and ONE, with some having even fought in Strikeforce and Pride.
An eye-watering number of MMA fighters call American Top Team their home, including Dustin Poirier, Yoel Romero, Jorge Masvidal, Douglas Lima, Joanna Jędrzejczyk, Amanda Nunes, Kayla Harrison, Kyoji Horiguchi, Adriano Moraes and Yaroslav Amosov.
Mike Brown (MMA coach), Conan Silveira (head coach) and Steve Mocco (wrestling coach) are the main coaches at American Top Team at Coconut Creek with the gym at that location only open to pro fighters, though they have other affiliated gyms under the American Top Team banner that cater to members of the public looking to train.
Chute Boxe Academy, Curitiba, Brazil
Chute Boxe Academy has a reputation for churning out outstanding, fierce MMA fighters including Wanderlei Silva, Anderson Silva, Charles Oliveira and triple promotion champion, Cris Cyborg.
Originally opened up as a Muay Thai academy in 1978, Chute Boxe Academy expanded its offerings to wrestling and submission grappling in 1991 to transform itself into the top MMA gym in Brazil and one of the best in the world. it particularly got a name for itself due to its students' performances in the Vale Tudo circuit.
Founded by Rudimar Fedrigo, Chute Boxe Academy continues to attract fighters, not only in Brazil, but from across the globe. Coaches Rudimar Fedrigo, Mestre Zito, Gerson Schilipacke and Jose Landi are the head trainers at the facility.
City Kickboxing, Auckland, New Zealand
Founded in 2007 by mixed martial artist and kickboxer Eugene Bareman and heavyweight boxer and kickboxer Doug Viney, City Kickboxing has put New Zealand on the map for best MMA gyms in the world, producing fighters such as UFC champions Israel Adesanya and Alexander Volknaovski, as well as top rate MMA fighters Dan Hooker and Kai Kara-France.
Based in Auckland, City Kickboxing offers a complete range of martial arts classes to get involved with, including boxing, BJJ, MMA and, of course, kickboxing.
Jackson-Wink MMA Academy, Albuquerque, USA
Under joint ownership of Greg Jackson and Mike Winkeljohn, Jackson-Wink MMA has a long history of producing quality MMA fighters, including BJ Penn, Georges St-Pierre, Rashad Evans, Frank Mir, Jon Jones and Carlos Condit.
The gym itself was originally established in 1992, when sole owner Greg Jackson founded his own martial arts style, Gaidojutsu, which incorporated elements of Judo, Ju-Jitsu, Catch Wrestling and Muay Thai. In 2005, the gym got a name for itself in MMA circles thanks to the success of their fighter Diego Sanchez who won the first The Ultimate Fighter. It wasn't until 2007 when Jackson partnered with friend and pro kickboxer Mike Winkeljohn to evolve the gym in to Jackson-Wink MMA Academy.
Jackson-Wink MMA is currently home to MMA fighters such as Holly Holm, Claressa Shields, John Dodson, Diego Brandão and Michelle Waterson.
The gym itself, based in Albuquerque, New Mexico, has been named Fighter's Only 'Gym of the Year' twice and even offers people the chance to live and train at the gym with the pro and amateur fighters.
Sanford MMA, Florida, USA
Based in Deerfield Beach, Florida, Sanford MMA was founded by Dutch kickboxer Henri Hooft and American wrestler Greg Jones. Derek Brunson, Gilbert Burns, Volkan Oezdemir, Luke Rockhold and Michael Chandler are just a few of the UFC fighters who train at Sanford MMA. The gym has produced MMA fighters who've gone on to fight in other promotions too, including Bellator and ONE.
Sanford MMA was also home to Kamara Usman until 2020 when he left due to being scheduled to fight teammate Gilbert Burns.
Formerly known as Combat Club and Hard Knocks 365, Sanford MMA is a private gym but does offer some public classes in wrestling and BJJ. The gym's trainers include Hooft, Jones, kickboxer/boxer Jason Strout, Kami Barzini and Corey Peacock.
Tiger Muay Thai, Phuket, Thailand
Established in 2003 in Phuket, Thailand, Tiger Muay Thai counts the likes of Valentina Shevchenko, Petr Yan, Dan Hooker and Loma Lookboonmee amongst its fighter roster.
Providing authentic Muay Thai tuition to those who train there, Tiger Muay Thai welcomes beginners and experienced martial artists alike. It's not just Muay Thai classes they provide though. They also offer boxing, BJJ and MMA classes to deliver all the training you could want from an MMA gym.
With 12 rings, full size MMA cage and plenty of mat space, Tiger Muay Thai has the facilities required for any MMA enthusiast or amateur/pro MMA fighter. They event have an on-site grill and restaurant so you can feed yourself the clean and healthy way to keep your diet on the straight and narrow.