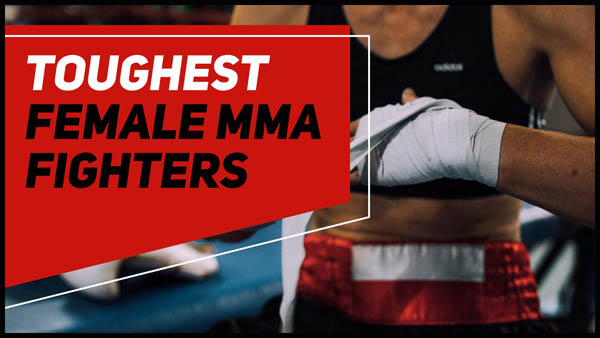 It's time to put some respect on women MMA fighters' names. Having seen countless lists of hottest female MMA fighters articles out there, I decided to write my own article to honour and highlight the incredible work these women do inside the cage. Female MMA fighters aren't models or on the catwalk, they're disciplined martial artists and they deserve to be treated with the same respect the guys do instead of being judged on their physical appearance.
Every woman who sets foot into the cage to test her abilities is a tough individual, of that there's no doubt. However, it can't be denied that there's some female MMA fighters in particular who have excelled in the sport to make fearsome competitors.
So, on that note, let's take a look at some of the toughest and best female MMA fighters to have graced the sport…
Cris Cyborg
Cristiane 'Cyborg' Justino is MMA's only female grandslam champion, having won the champion title in Strikeforce, UFC and Bellator. Previously known for her knock-out brawling style, Cyborg has transformed over the years to utilise her technical ability to systematically destroy her opponents. With her long career in MMA and roots in Curitiba's prestigious Chute Boxe academy, Cris Cyborg remains one of the fiercest female MMA fighters on the planet.
Valentina Shevchenko
17 time world kickboxing champion Valentina Shevchenko took her talents to the cage where we've seen her dominate opponents with her ruthless style. With great striking, Judo and grappling, she's one tough cookie – no wonder she's retained the flyweight UFC Women's MMA belt for so long. Her head kick KO of Jessica Eye at UFC 238 is one that will be remember for quite some time.
Rose Namajunas
Rose Namajunas is the epitome of a fighter. Having held the championship belt once, she fought back to wrap it around her waist once again. Rose's style is always exciting to watch as you never know what she's going to pull out of the box, such as the sick flying armbar. Rose appears to stay calm under pressure and possesses a wide range of skills from striking and submissions to even Kali, as a student under coach Greg Nelson.
Amanda Nunes
Having held the UFC championship belt in two weight classes, featherweight and bantamweight, Amanda Nunes is highly regarded as one of the best women's MMA fighters on the planet. Dangerous stood up and on the ground, Nunes is known for being a determined fighter with knockout power. She's also won gold medals in various BJJ events in the past, such as the Pan Am's and World Jiu-Jitsu Championship, as well as becoming world champion at lightweight and absolute divisions of NAGA.
Joanna Jędrzejczyk
Technical and relentless are two words to describe Joanna 'Champion' Jędrzejczyk. Having started out as a Muay Thai fighter, having gained five world titles amongst other accolades, Joanna went on to dominate in the UFC with six title defence fights. Her brutality and heart are such a joy to watch for any MMA fan as you know, win or lose, she always puts on a show of striking brilliance and perhaps even a submission or two thrown in.
Joanna retired from the sport of professional MMA in June 2022 following her defeat in the rematch against Zhang Weili in the UFC.
Weili Zhang
Weili Zhang impressed audiences throughout the globe when she took on former champion Joanna Jędrzejczyk. The vicious strikes she received and delivered over five full rounds will put their fight down as one of the most intense women's MMA fights ever to have aired. After an impressive first-round knockout of Jessica Andrade to clinch the title, Zhang has the grit and skills to keep her on top of the women's MMA game.
Julianna Peña
A former winner of the UFC's The Ultimate Fighter, The Venezuelan Vixen, Julianna Peña, is known for her submission wins against her opponents, sinking in a rear naked choke, armbar or guillotine to secure a win, but she's also dangerous stood up too. Taking a hiatus to have a daughter hasn't slowed down Peña one bit as she continued to dominate on her return to the cage, even securing an upset by defeating Amanda Nunes for the UFC bantamweight championship title.
Ilima-Lei Macfarlane
As a former Bellator Women's Flyweight Champion, Ilima-Lei Macfarlane had a tremendous unbeaten streak until she faced Juliana Velasquez, a fight she lost by decision. Known for her submission prowess, Ilima-Lei is a fearsome competitor and, though injury may have caused some absence from the cage, looks to continue to put on some of the best performances in her division.
Denise Kielholtz
She may be a successful competitive Thai Boxer but Dutch MMA fighter Denise Kielholtz has had great success in the cage too with various submission wins to her name in addition to a knockout in 43 seconds. Signed to Bellator initially for their Kickboxing division where she became Women's Flyweight Champion, Denise transitioned into Bellator's MMA division and has proved she's more than just a striker.
Juliana Velasquez
Undefeated in MMA at the time of writing this article, Juliana Velasquez is the Women's Flyweight Bellator Champion for good reason. She's a tour de force in dealing out punishment to her opponents, whether it's stood up or ground n pound. She's also shown she's got a great chin and can take a knock with plenty of incredible scraps to her name. Having started her martial arts career in Judo at the tender age of four years old, Juliana is no stranger to competing and has even shown her Judo skills inside the cage.
Vanessa Porto
Having been in the fight game since 2005, Vanessa is a female MMA fight veteran with a superb record to her name. Having fought in various promotions, including Invicta FC and Bellator, she used her years of experience to fight her way to a title shot where she clinched the Invicta Flyweight Championship title.
https://www.youtube.com/watch?v=BDSVmvHizrs
Angela Lee
With a history in competing in pankration and folkstyle wrestling, Angela Lee is one of the toughest female fighters in the world. The youngest person to ever win a world title in mixed martial arts, Angela is the Bellator Atomweight Women's MMA Champion and was unbeaten with a nine-fight win streak before suffering her first ever loss. She's successfully defended her title and is known for being lethal on the ground when it comes to submissions.
Kana Watanabe
Having fought in numerous promotions, such as Rizin and Bellator, Japanese female MMA fighter Kana Watanabe has a impressive pro fight record and went on a 8-win streak before succumbing to veteran Liz Carmouche. Approaching the cage as a Judoka, having competed and won in various championships including the All Japan Junior Championship, Kana's throws and grappling prowess has been her strongest asset when overcoming opponents.
Xiong Jing Nan
The inaugural ONE Women's Strawweight World Champion, Xiong Jing Nan is a devoted martial artist, having accomplished international boxing status, representing her country China on the world stage, and embracing the grappling art of BJJ before moving into mixed martial arts. Her skilled striking game has earned her numerous knock out finishes, both KO and TKO's, and she's earned a reputation for throwing punches at unusual angles, such as hammerfists. Xiong Jing Nan was the first female MMA fighter to stop Angela Lee in her tracks, though they since had a rematch where Lee won via submission. Perhaps we'll see a third match between the two top fighters.
https://www.youtube.com/watch?v=qOm3hZExrhY
Stamp Fairtex
Having held both the ONE Women's Kickboxing World Championship and ONE Women's Muay Thai World Championship in the Atomweight division, Stamp Fairtex is an athlete not to be messed with. Since transitioning into MMA in 2019, Stamp has shown that her skills lie not only in striking having gained submission wins. The Thai fighter may have trained in Muay Thai since the age of 5, but at the age of 18 she began training in BJJ at Fairtex gym in Pattaya, which has provided her with ground game to round her mixed martial arts skillset. She has shown she can survive under pressure against more experienced grapplers and isn't afraid to dish out some killer kicks to her opponents.
https://www.youtube.com/watch?v=2Hi-6dnOjXg
Alyona Rassohyna
Known for her first round armbar submission wins, Ukrainian female MMA fighter Alyona Rassohyna has shown her physical toughness when faced against champion strikers though has confidence in her submission abilities to find a submission when it counts. With a controversial first fight where Alyona won via guillotine despite her opponent claiming she didn't tap when it was visible she did, and a split decision for Stamp in the rematch, many fans hope that a third fight will be on the cards between Alyona Rassohyna and Stamp Fairtex to settle it once and for all.
Ham Seo-Hee
With over 15 years in the women's fight game, Ham Seo-Hee is an experienced kickboxer and mixed martial artist. With a fighting style similar to that of MMA legend Wanderlei Silva, the South Korean has been nicknamed Hamderlei Silva and has fought in numerous promotions throughout her career including Rizin, Jewels, ONE and UFC. A fantastic all-round fighter, Ham Seo-Hee continues to utilise her years of experience in the cage to succeed over her opponents.