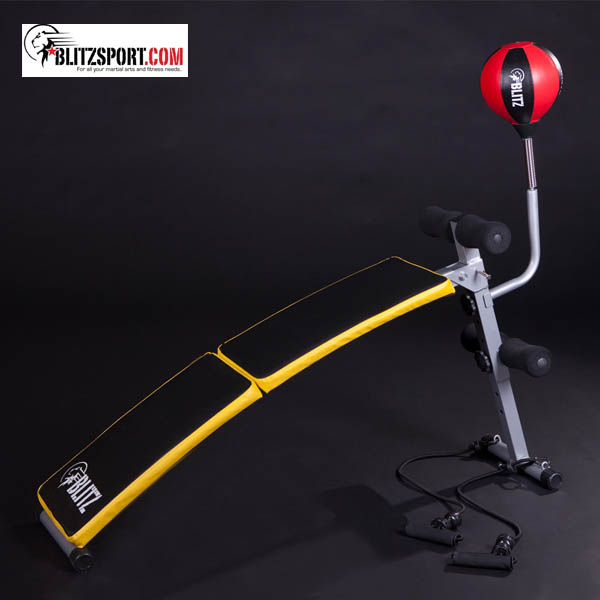 Home gym equipment can save you a lot of time and money. Think of it this way: you don't need to pay the monthly gym membership, you don't have to wait for someone to get off the equipment you want to use and you never have to leave the house. Score! The only problem is space – that can be an issue that will determine whether you have a whopping piece of equipment permanently erected in your house or not. If you're looking for a nifty piece of kit that can fold away, then the Blitz Sport Sit Up Bench With Spring Speedball may just be for you!
What is it?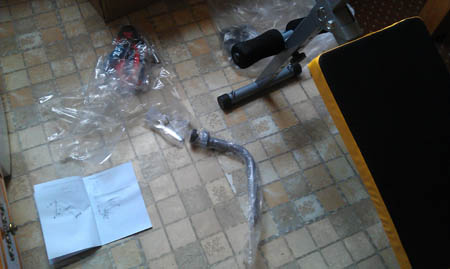 The Blitz Sport Sit Up Bench With Spring Speedball is an adjustable bench with vinyl speedball attachment. The kit is delivered in pieces in a box with an instruction manual and all necessary bolts and spanners to help you put it together. It took me around 15 minutes to set the bench up and the great thing is, if you want to store it somewhere, there's no need to take it all to pieces. Just simply move a bolt and unscrew a fixture and the bench collapses, making it easier, compact and less cumbersome to store.
The speed ball arrives flat but the kit comes with a pump with a nifty inflation needle hidden in the handle, so you can pump the ball up and fix to the spring and bench.
The bench also comes with elasticated resistance bands which can be clipped to the bottom of the bench and used appropriately.
The Blitz Sport bench board itself is quite comfy at 1.5 inches in thickness and 11 inches in width. It consists of two sections of padded board, each at 19.75 inches in length, combining in a 40 inches length board when it is fully extended into position.
As I mentioned, the bench is adjustable in height, so you can work at the minimum of 15 inches off the ground in height to a maximum of 22 inches to get the angle that suits you and your training the most.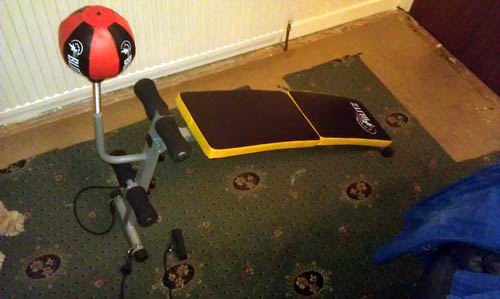 What can it be used for?
The great thing about the Sit Up Bench is that it's multi-purpose. The bench aspect of it can be used on its own or with weights to perform sit ups, leg raises and a whole lot more, with even a range of exercises detailed in the instruction booklet. The bench comes with a vinyl speedball that is attached at the top and can be used in conjunction with situps (sit-up and strike), or you can position yourself upright, with your legs and ankles entwined with the bench pillars, to sit and strike the speedball.
The bench height position can easily be adjusted on the main frame and is sturdy once screwed tightly in place. As I usually perform many sit ups and the like at Ju-Jitsu, I found the bench ideal to get some real practice in at home. The range of movement of my body, lying flat against the bench, then sitting up really worked my core and the added bonus of striking the ball after a situp was great to introduce the striking aspect of my training.
In the manual, it says that the bench will cater to persons up to 100kg in weight. I'm a mere 55kg so I had no problems with it.
Overall Opinion
The Blitz Sport Sit-Up bench is versatile in its usage which makes it a fantastic piece of gym equipment for the home to squeeze in that extra bit of training. Whilst sit-ups using the floor are fine, the angle of the board makes sit-ups using the bench that much more painful, and you know what pain equals… gain!
There's lots to like about this bench, especially the fact it can be easily packed away if need be. The speedball and resistance band attachments add a bit of fun and diversity to this bench, which makes it an ideal gift to someone who's into martial arts.
The Blitz Sport Sit-Up Bench with Spring Speedball usually retails at £49.99 but is currently in the sale at £35.99 on Blitz Sport's website.