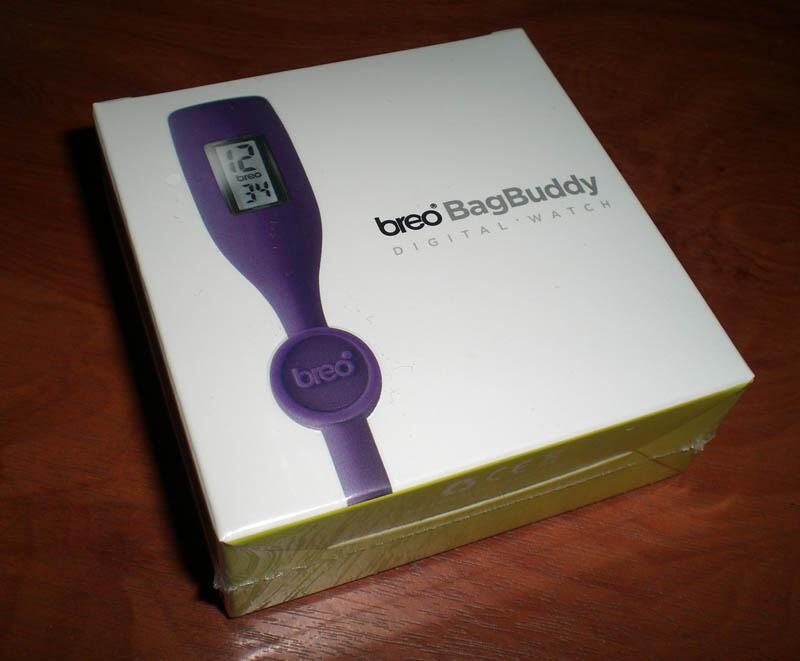 Ever been out somewhere where you've not bothered wearing a watch because at some point or another you'll have to take it off? We've all been there, whether it be the beach, swimming or going to the gym, it's a pain in the bum having to have a wrist watch that may get damaged by the surroundings and having to remove it as soon as you're there.
Thankfully, there's a solution to this problem: Breo.
Breo are a British company who sell watches of all shapes and styles to the public. Their latest watch is the Breo Bag Buddy.
Made of a soft, silicon based rubber, the Breo Bag Buddy threads through itself to attach to any loops on your person, be it clothing or bag, and has a digital display which tells the time.
The time can easily be set by using a ballpoint pen and pressing the two small indent buttons on the back of the Bag Buddy. The watch allows you to set both the time and date, with the time default set to view by the user.
As someone who no longer wears a watch but still likes to know the time, the breo Bag Buddy is a perfect piece of kit. I've worn it going out for walks by threading it through the loop of my jeans, and down to the gym by threading it through the loop on my gym bag. I love the fact that you don't know it's even there, as you're not wearing on your wrist, but when you need to the know the time, it's readily available.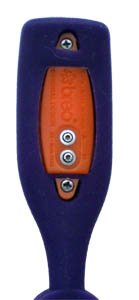 The LCD digital display measure 1cm in width by 1.5cm in height and is very clear to read. When the watch battery eventually depletes, it can easily be replaced by going to your local watch repair shop to fit a replacement SR626S battery. The back of the watch is screwed on with two screws, so it'd just be a matter of undoing them and replacing the battery inside, should you wish to do it yourself.
The Breo Bag Buddy comes with a 12 month warranty and is delivered free to the UK when you purchase from their official website.
Available in four colour ways: black, blue, purple and mint, the Breo Bag Buddy is a handy little gadget that doesn't intrude on your lifestyle but gives you a grand benefit. Imagine if you went out for the day and relied upon your phone to tell the time. You might find you run out of battery whilst you're out, and then what? With the Bag Buddy safely attached to your bag or belt loop, you'll have a handy back up, making sure you always know what time it is and are never late.
Being lightweight (15g) and water resistant to 5ATM, the Bag Buddy is also ideal for going swimming. You can attach it to your swim bag and store it in the locker, and when you return after a swimming session, you won't need to worry if some water accidentally gets on it. The Bag Buddy also works in temperatures between -10c to +50c.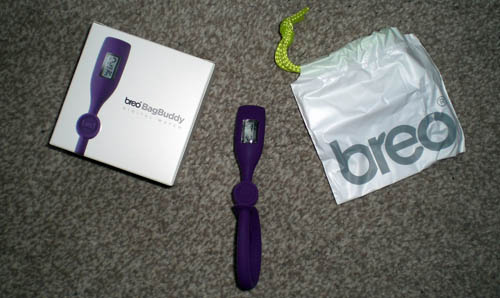 The Bag Buddy is delivered in a cardboard parcel box, wrapped inside with green tissue paper. The little breo Bag Budy box inside contains instructions on how to set the watch, a little drawstring bag to store the watch when not in use and the Bag Buddy digital watch in your preferred colour.
I really like the Breo Bag Buddy. Being super flexible and the ability to loop it through pretty much anything is a pretty nifty idea. I never take a watch to the gym and often rely on gym clocks (usually of which there's only one) to tell the time, which can sometimes be wrong. This digital bag watch takes the effort out of wearing a watch, particularly if you don't like wearing things around your wrist. The main great thing is, if you attach it to your bag, you can just leave it and you'll never go out without knowing what time it is as you're Bag Buddy will be right there where you left it – on the bag. It's ideal for those who compete in BJJ tournaments or sport Ju-Jitsu competitions who need to clock-watch and make sure they arrive for their fights on time.
The Breo Bag Buddy is available for £15 with Free UK delivery from breo.com