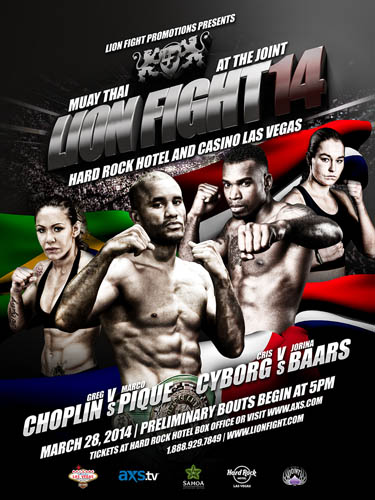 Cristiane Cyborg Justino is set to fight for the Lion Fight Muay Thai Welterweight Title after her blistering debut performance last year against Jennifer Coombs (see below video)
Chute Boxe fighter Cris Cyborg will be returning to Las Vegas to take on Jorina Baars at Lion Fight 14, which will air live on AXS TV.
If Cyborg wins the fight, she will be a champion title holder in two sports, having already won the Invicta FC Featherweight title.
The full rules Muay Thai LION FIGHT 14 event will take place at The Joint inside Hard Rock Hotel & Casino on Friday, March 28, 2014. Doors open at 4:15 p.m. PT; the first bout starts at 5:00 p.m.